Meet Evan Favaro: Custom Bike Builder + 

Entrepreneur
Episode #19 of the Motorcycle Knuckle Busters podcast. Enjoy the ride…
Episode #19 of the Motorcycle Knuckle Busters podcast. Evan Favaro, Owner of Speakeasy Motors, is also the Former Creative Director / Fabricator of Orange County Choppers. He is currently working on his newest project, Speakeasy Motors Whiskey Co.
This bike is named after Evan's grandmother. This Yamaha XS650 shows Evan's builder chops with a bike that features a custom frame, frontend, saddle, exhaust and controls to name a few.
Evan Favaro of Speakeasy Motors built a custom Electric Chopper for the Flying Piston Benefit in 2021. His canvas for choice on the build is the The IRONe 16 Harley-Davidson electric bike. 
About Motorcycle Knuckle Busters Podcast
Motorcycle Knuckle Busters on Apple Podcasts. A weekly podcast for the motorcycle industry. We often have different guests and discuss the latest news within the motorcycle community. Flying Piston Benefit loves the Motorcycle Knuckle Busters Podcast in general and Meet Scott Jacobs Podcast specifically.
About The Flying Piston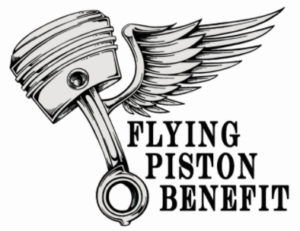 The 2022 Sturgis edition of the  Flying Piston Benefit Builders Breakfast is produced by Marilyn Stemp of Iron Trader News and Jeff Najar of Green Forest Brand.  Our work raises awareness and funds for non-profits and individuals in the motorcycle community, vets, and kindergarteners.
For more information, please contact marilynstemp(at)gmail.com, 828-205-8482. To get involved with the Piston, click here.