Meet Scott Jacobs: The Original Harley-Davidson Artist
Episode #24 of the Motorcycle Knuckle Busters podcast. Enjoy our next guest, Scott Jacobs…
Scott Jacobs is an American painter known for his photorealistic work of Harley-Davidson motorcycles. He became the company's first official licensed artist in 1993. Born in New Jersey, Jacobs currently lives with his family in South Dakota.
He's been a Harley-Davidson licensed artist for almost 30 years. He continues to create original, transcendent works of photorealistic art.
Scott's images can also be seen on many objects from limited edition graphics to Franklin Mint Collector Plates, coffee mugs, beach towels, clocks, and many others. In 2010, he released his second coffee table book, The Art of Scott Jacobs — The Complete Works which showcases works as early as the late 80s.
Scott Jacobs' Fine Art Gallery and Vintage Motorcycle Museum is located on Main Street, Deadwood, SD.
About Motorcycle Knuckle Busters Podcast
Motorcycle Knuckle Busters on Apple Podcasts. A weekly podcast for the motorcycle industry. We often have different guests and discuss the latest news within the motorcycle community. Flying Piston Benefit loves the Motorcycle Knuckle Busters Podcast in general and Meet Scott Jacobs Podcast specifically.
About The Flying Piston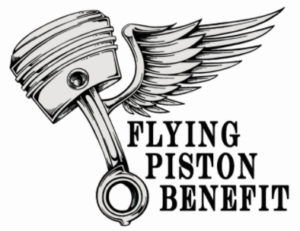 The 2022 Sturgis edition of the  Flying Piston Benefit Builders Breakfast is produced by Marilyn Stemp of Iron Trader News and Jeff Najar of Green Forest Brand.  Our work raises awareness and funds for non-profits and individuals in the motorcycle community, vets, and kindergarteners.
For more information, please contact marilynstemp(at)gmail.com, 828-205-8482. To get involved with the Piston, click here. 
But wait, there's more:
We have more interviews with artists that have provided outstanding art for the Flying Piston Benefit. Click here to see more artist interviews.