Tiny Custom Striders 2021 Class
See the 2021 Class of Tiny Custom Striders at the Buffalo Chip inside Crossroads at Flying Piston Benefit Builder Breakfast on Sunday, March 8th from 9:30-11:30 a.m. It's a strong class of customizers this year and they include:
Past Builder Classes
About Flying Piston Tiny Custom Striders – CLASS I: The first class of Flying Piston Tiny Strider Customs in 2018 included: Rick Fairless, Paul Yaffe, Brian Fuller, Pat Patterson, Jody Perewitz and Kirk Taylor. See the bikes here.
About Flying Piston Tiny Custom Striders – CLASS II: In 2019: Brian Klock, Todd Gilby Gilbertson, Xavier Muriel, Roy & Nikki Martin, Devin Henriques, Eric Herrmann, Steve Reed, James Washnok, Count's Kustoms' Horny Mike and Jessi Combs – plus Motorcycle Missions. See the bikes here.
About Flying Piston Tiny Custom Striders – CLASS III: In 2020: Lena Fairless, Savannah Rose, Joann Bortles, Ashmore Ellis, Cris Sommer Simmons, Ron Finch and WomenRidersNow. See the bikes here.
Our Media Partners
We couldn't do what we do without the support from the motorcycle community and our media partners. We appreciate the love!
Pictures from Past Events
New for 2021 Sturgis
We are excited about what we have put together for our 2021 Flying Piston Benefit Builders Breakfast Sturgis.  Added to our breakfast and silent auction includes an event photoshoot provided by Jack Mcintyre, (12) custom skateboards painted by artists from across the US and sponsored by Gnarly Magazine, and (7) custom Strider balance bikes that are customized by custom bike builders.
Watch the Flying Piston Facebook page for details.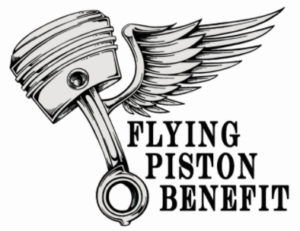 About Flying Piston Benefit: The Flying Piston Benefit is produced by Marilyn Stemp of Iron Trader News and Jeff Najar from Horsepower Marketing.
The team raises awareness and funds for keeping our sport thriving by introducing riding skills at the kindergartner level. Beneficiaries include Motorcycle Missions and AllKidsBike.
To get involved contact: the team or Marilyn Stemp, 828-205-8482, marilynstemp@gmail.com.