Cognito Moto's Devin Hentiques Builds Flying Piston Strider for 2019 Builder's Breakfasts
Devin Henriques at Cognito Moto started as so many others do, from a pure love of motorcycles. He began building, customizing and creating parts and motorcycles that took his passion for motorcycles into a business in 2012.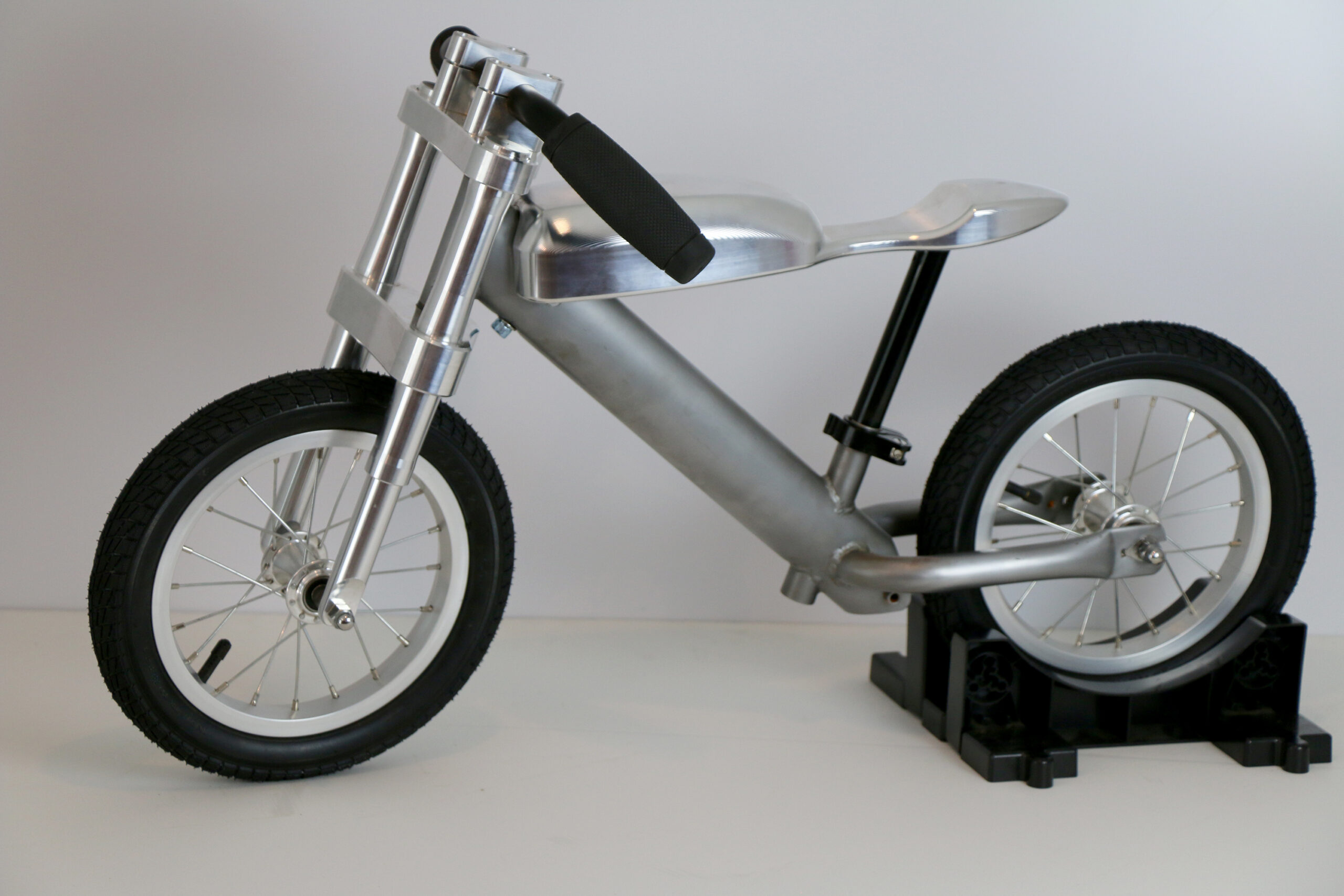 About a year ago, while on her 5th Motorcycle Missions build, Krystal Hess began working with Devin. He'd generously donated his time, expertise and parts for her Motorcycle Mission builds – projects that provide a therapy benefit to our veterans and first responders.
It was Krystal that introduced Devin to the opportunity to be part of the Flying Piston Benefit at the Buffalo Chip in Sturgis, which benefits both Motorcycle Missions and AllKidsBike. Because of his relationship and support of Motorcycle Missions Devin was eager to sign on to customize a Strider Bike project.
He also has two children, ages 3 and 5, who were already loving their own Strider bikes.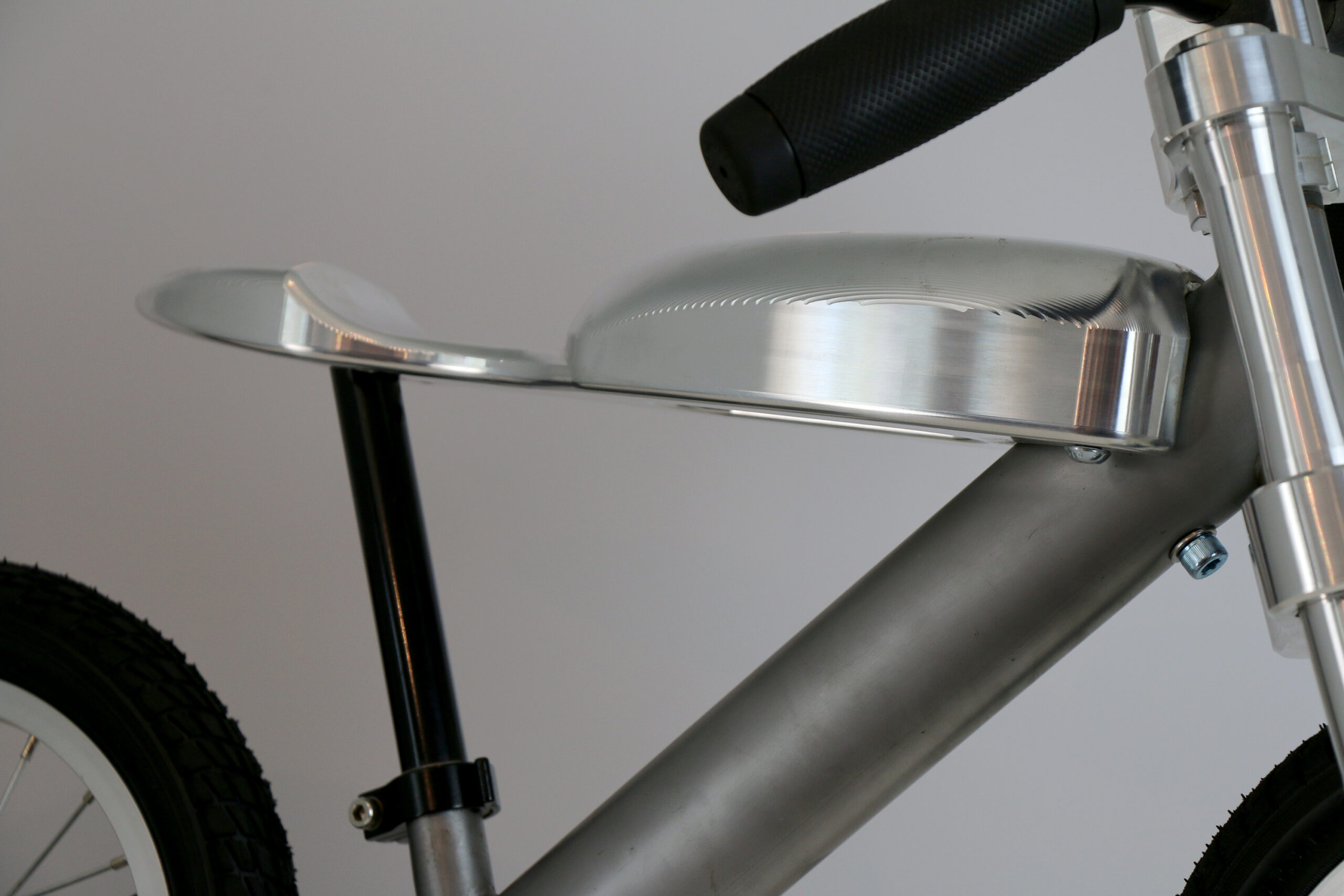 Devin Hentiques Builds Flying Piston Strider – Devin didn't have a lot of time but knew he wanted to create a bike in the likeness of his signature style, the café racer. He machined the tank and the seat and stripped and inverted the front forks to give the Strider Bike the look he was going for.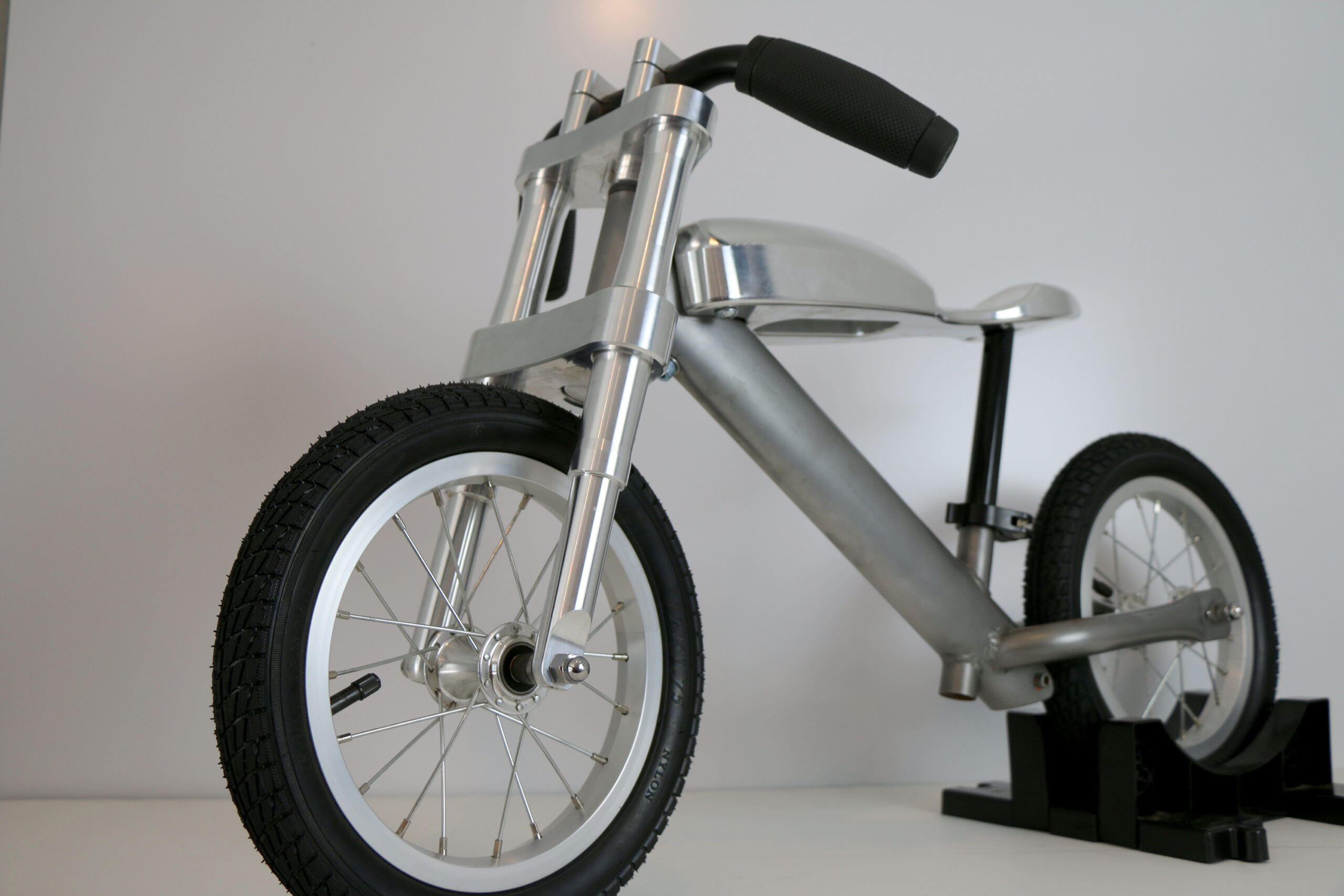 The solid alloy components belie the tiny custom's small size. It's a heavyweight! Devin agrees and admits that the bike is not necessarily functionally on par to be a daily rider for a young child – but it does get plenty of attention with its sleek good looks. And that ultimately benefits the charities Devin supports.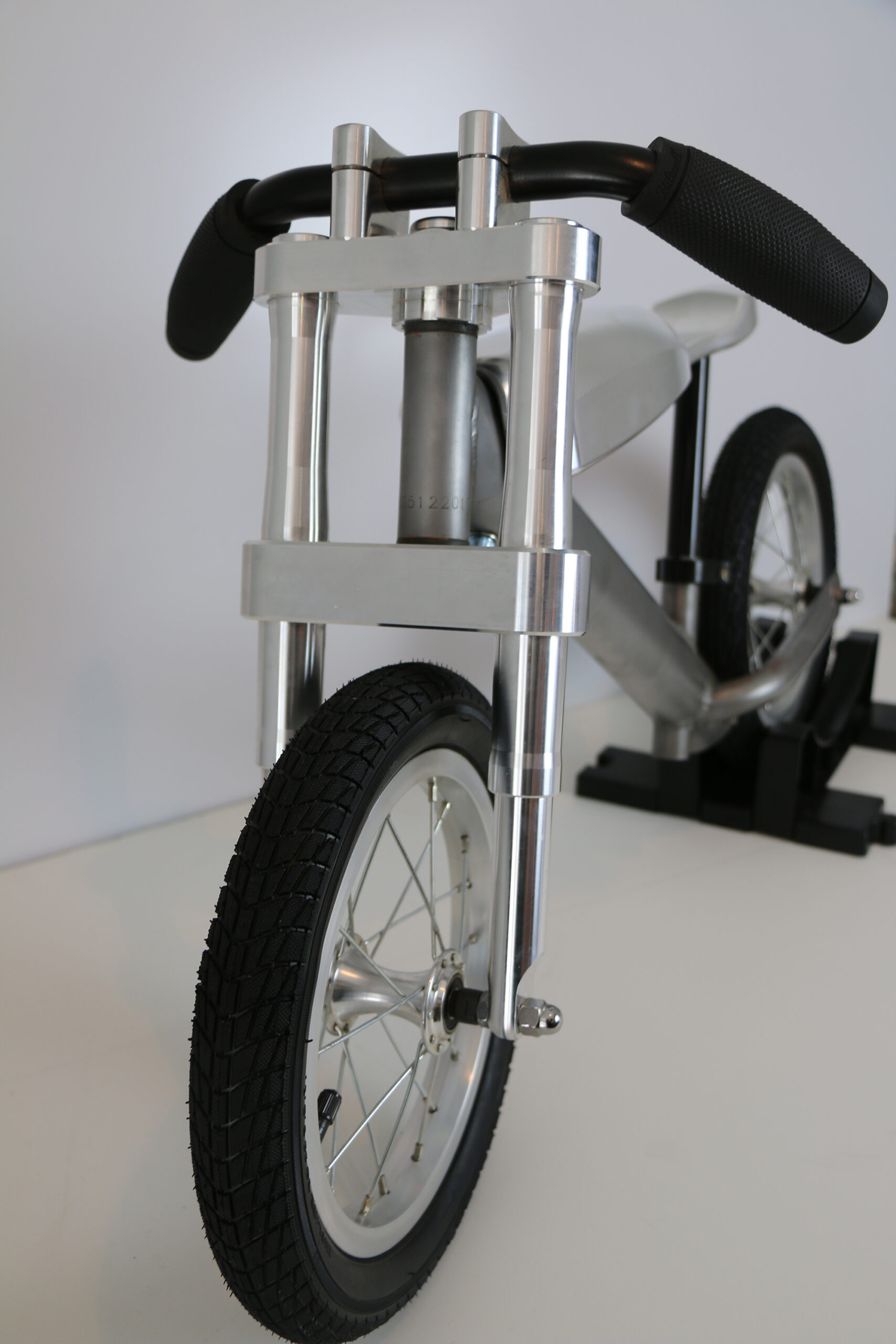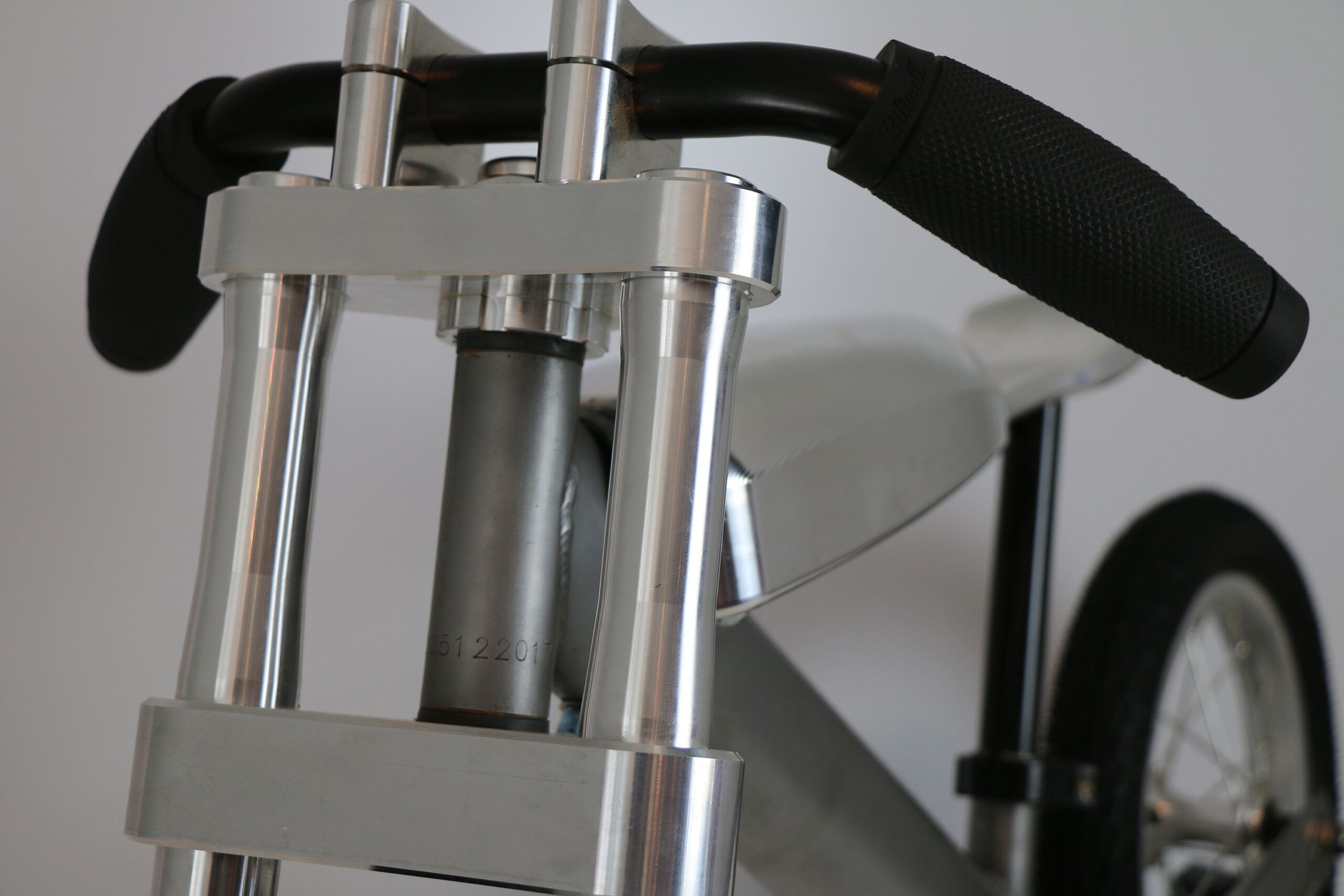 Flying Piston Benefit Custom Strider Class of 2019
The 2019 star Strider builders are Steve Reed, Xavier Muriel, Devin Henriques, Brian Klock, Jessi Combs, Roy & Nikki Martin, Eric Hermann, Todd "Gilby" Gilberson, Count's Kustoms, James Washnock,  and Motorcycle Missions.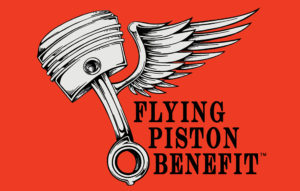 About Flying Piston Benefit: The Flying Piston Benefit is produced by Marilyn Stemp of Iron Trader News and Jeff Najar of Horsepower Marketing. The event and silent auction supports veterans issues and the motorcycle industry through fundraisers for non-profits and individuals.
Each Flying Piston Benefit provides a silent auction that is art-oriented and also includes unique and collectible items.
Each event also doubles as an industry get together where enthusiasts, businessmen and women, custom builders, athletes, and artists come together to socialize, enjoy breakfast and support a worthy cause.
To get involved, contact Marilyn Stemp at our contact page or text her at 828-205-8482.
Watch the Flying Piston Facebook page for our latest updates.
About Strider: Strider designs lightweight bikes that build two-wheeled balance, coordination, and confidence in children. Strider is helping kids learn to ride and developing new motorcycle riders through the AllKidsBike movement which makes bike-riding a part of the kindergarten curriculum. www.allkidsbike.org, www.striderbikes.com.
Auctioned Off at Mecum Auctions
The 2019 class of Strider Rider Customs were auctioned off by Mecum Auctions during their auto and motorcycle event. (www.Mecum.com) The 2020 class of builders started after the auction. Check them out here. 
Story by Diane "Shadow's Wife" Jones