NATIONAL MOTORCYCLE MUSEUM Closes September, 2023
WHATS NEW: The non-profit National Motorcycle Museum is closing this year, a month after the Sturgis Rally.
WHY IS IT IMPORTANT: It's a time capsule of motorcycles and memorabilia.
NOTE: Consider adding a stop to your itinerary before or after Sturgis,
CONTACT: 102 Chamber Dr., Anamosa, IA, United States, 52205 – 319-462-3925
The History, Established in 1989 – The National Motorcycle Museum was founded in 1989. Engineers, racers, bike builders, tuners and others as far back as the late 1800′s built the groundwork for what motorcycling has become. The National Motorcycle Museum's goal is to present their passion, and ours, through fine interpretive exhibits built around a fine collection of machines and historical objects from around the world.
More than 400 rare and vintage motorcycles dating back to 1902 on display; along with thousands of photos; motorcycle memorabilia; and large toy motorcycle collection.
American, Japanese, British Bikes over the past 100 years – The museum contains a collection of motorcycles over the past 100 years as well as thousands of photos, postcards and posters. The bikes come from all over the world are on display from:
America

Japan

Briton

Other European nations
In 2010, the museum moved its collection of more than 300 motorcycles to a much larger building, and celebrated a grand re-opening in June 2011. 
We hope you plan a visit to the National Motorcycle Museum this summer to check out all it holds before it closes permanently on September 4, 2923.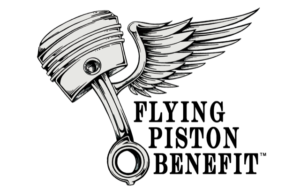 About the Flying Piston Benefit Team
The Flying Piston Benefit Builders Breakfast is produced by Marilyn Stemp ofIron Trader News and Jeff Najar of Green Forest Brand.  Our work raises awareness and funds for non-profits and individuals in the motorcycle community, vets, and kindergarteners. Our funds are directed to All Kids Bike and Motorcycle Missions.