2023 Motorcycle Packing Tips for the Crazy Weather in Sturgis, SD
If you haven't been to Sturgis then you really don't know crazy weather. In August, there's a 19% chance of rain on an average day. And on the average day it rains or snows. Snow? Yes, snow. We've also seen hail the size of golf balls.
The average day has 14.0 hours of daylight, with sunrise at 5:56 AM and sunset at 7:58 PM. It's somewhat humid at 53% (relative humidity), which could be described as comfortable. With an average high of 87°F (30°C) and a low of 59°F (15°C), it generally feels pleasantly warm with a gentle breeze.
Suggestion: Consider packing warm and cool weather riding attire. There is nothing worse than being caught in a hail storm with only a t-shirt..
Motorcycle  Packing Tips and Checklist for the 2023 Sturgis Rally
Listed below is a set of items we suggest you bring with you on a trip. The best policy is to keep it simple and pack light with items that you need. Also,  you will almost always bring something back. You'll need to leave a little room for the return trip.
RIDING GEAR
Helmet (If you do not normally wear a helmet check the map for the laws where you will be
traveling to and through.)
Skull cap for wearing with a helmet
Leathers – Boots/Jacket/Chaps/Gloves/Vest
Glove(s) for different weather
Rain Gear (Jacket, Pants, Booties, and Bike Cover) – Weather can change quickly here. Always prepare for the unexpected.
Clothing – Keep it simple, a couple pairs of jeans
(2) Merino wool t-shirts, 2 Jeans, Underclothing, + multiple t-shirts
At least one sweatshirt, fleece, shorts, sweats, or something for rainy days, cool nights, etc…
Waterproof bag
Cloth for wiping down seats due to rain, etc…
Small soft cloth for cleaning riding glasses/goggles/shields
Clear lens riding glasses/goggles for night, rain, etc…
Sunglasses
BIKE
Flashlight
Zip ties
Extra Bungee Cords & Straps
Tire gauge and tire repair kit
Bike Lock
Tools – Basic tool kit for road side emergency repairs.
Knife (pocket or belt loop style)
Battery charger
FINANCIAL – DOCS
Cash – Even in a digital world, having it on hand is necessary.
AAA Card – for towing
Bank Card
Insurance card – Make Copies
Motorcycle registration – Make Xopies
ELECTRONICS
GPS
Smart phone
12V cellphone
Charging adapter
PHARMACY
Toiletries & Sunscreen
Lotion-Chapstick
Bandaids, hand sanitizer
Prescription medication
Pain reliever (Aspirin, Tylenol, Ibuprofen, etc…)
MISC
This Checklist is now in the PDF Format 
To make it easier for you, we made the checklist printable.

Just download the checklist here and then print it out.'
Making Everything Fit
Back in the day, Dally Parton had a wardrobe malfunction at the CMA Awards. When asked about it, she said, "My daddy says that's what I got for putting 50 pounds of mud in a five-pound bag!"
So, you want to make sure you put the right amount of stuff in the space you have and not over stuff your bags because that can lead to unintentional consequences. In order to get ready for your adventure, we have a few suggestions:
Do not pack the day before—Take your time and plan ahead
Before you pack, take your bags & secure them to your bike to make sure everything fits & can be secured
NOTE—light merino wool will keep you cool and warm
Rolling your clothes takes up less space than folding them
Less Is More—Pack the bare essentials
Develop a System—a system allows you  to find the things quickly and easily
Bring an Empty Bag—You will be bringing stuff back, plan for it
But Wait, There's More
Check your bike – Before you begin an adventure, take an afternoon and conduct a Road Trip Inspection on your bike. When you prepare your motorcycle, keep in mind the amount of miles you will be accumulating on your trip. If you recently replaced fluids, remember you may be adding thousands of miles to these fluids in the course of a week. The same applies to your tires, cables, spark plugs, air filter, etc.

Click here to download the MSF Inspection Checklist. 
Be prepared for breakdowns by carrying the correct tools for your motorcycle. If you are riding with a group, it is usually only necessary for one or two of your members to have tools.
By following these steps, you have a good chance in getting to your destination and back with minimal inconvenience.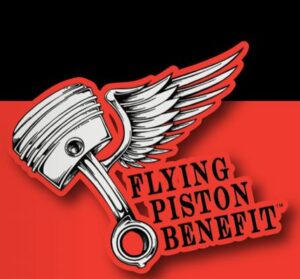 The 2023 Sturgis edition of the  Flying Piston Benefit Builders Breakfast is produced by Marilyn Stemp of Iron Trader News and Jeff Najar of Horsepower Marketing.  Our work raises awareness and funds for non-profits and individuals in the motorcycle community, vets, and kindergarteners. Our funds are directed to All Kids Bike and Motorcycle Missions.
To connect with the Flying Piston team,  connect with us.