Late Breaking News: Sons of Speed is Canceled for 2022 Biketoberfest
FROM BILLY LANE:
<
I wanted to reach out to anybody who's a part of Sons of Speed who supported Sons of Speed to let you know the race on October 15th is canceled. You know, hurricane IAN just went through Florida and the New Smyrna racetrack got damaged.
And there's so much water on the track and under the track, we're not going to be able to race on the 15th. The track is probably closed till 2023.
They have a lot of water under the ground. It's caused a lot of damage to the track. It's just not safe to ride. And every event there is canceled, even the car racing that they had coming up. All fall races are canceled. And the Sons of Speed is canceled too. So just wanted to let everybody know, this is really really bad news. We're really upset about it, but we will be back in March 2023.
For further >>Sons of Speed updates, click here.<<
Sons Of Speed is a motorcycle race inspired by early twentieth-century board-track racing. Featuring stripped-down bikes with pre-1925 American V-Twin engines and a steeply banked racetrack, Sons Of Speed hearkens back to a wide-open, full-throttle, thrilling style of motorcycle racing.
About The Flying Piston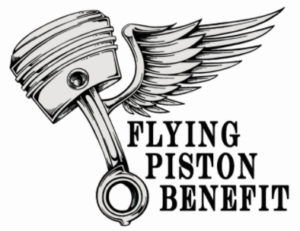 The 2022 Sturgis edition of the  Flying Piston Benefit Builders Breakfast is produced by Marilyn Stemp of Iron Trader News and Jeff Najar of Green Forest Brand.  Our work raises awareness and funds for non-profits and individuals in the motorcycle community, vets, and kindergarteners.
For more information, please contact marilynstemp(at)gmail.com, 828-205-8482. To get involved with the Piston, click here.