Meet Petrol & Iron Artist Billy Lane
Billy Lane will be at the Flying Piston Benefit on Sunday, August 7th @ 8:30 – 11AM at Buffalo Chip Big Engine Bar. He will be signing hero cards and you can even get a photo of you on his new Cool Hand Speed sled..
Hello, Meet Billy Lane
As a child, Billy started out with a love for speed, motors and anything that was loud. It has turned into a lifelong passion. At 52 years old, Billy is still working towards that top speed and horsepower.
In the early 90's Choppers Inc was launched in South Florida and was immediately known for its raw style and innovative design. As Choppers Inc continued to grow, there was the addition of Billy's famous parts line, multiple appearances on Discovery Channel's "Biker Build Off" with Indian Larry & Dave Perewitz and "Monster Garage" with Jesse James.
In March 2017, Billy debuted an all-new vintage racing league called Sons of Speed which was held at New Smyrna Speedway in Florida. Billy still holds 2 annual events at the track each year. What started out with 12 racers at that first event has now turned into a group of 40+ racers that race in several different classes. In Spring 2022, we will see the first ever Sons of Speed Tennessee Jam at the Tennessee National Raceway. Going forward Sons of Speed will continue to add in several new events around the country.
2022 also saw the launch of Cool Hand Speedco, Billy's first ever line of production motorcycles. This has been a project Billy has been working on for years and he was able to give the industry
its first look at this new brand at the Daytona International Speedway in March. Each bike is
hand built, numbered and stamped. They are powered by vintage 1930's era motors with
overhead valve conversions. This is a limited run production and it was a huge success that will continue to grow and evolve for years to come.
That brings us to Summer 2022 & the Sturgis Buffalo Chip®. Billy has been invited to showcase the Cool Hand Speedco Brand at the Crossroads. He will be onsite for the entire 9 days at the Largest Music Festival in Motorcycling®.
Onsite events Billy will be a part of include the Legends Ride®, Motorcycles as Art® exhibit that is curated by Michael Lichter & the Flying Piston breakfast. So, there is no end in sight as Billy continues to grow his brands & push the boundaries in our industry.
Check out Billy Lane:
More Details:
About The Flying Piston Benefit Builders Breakfast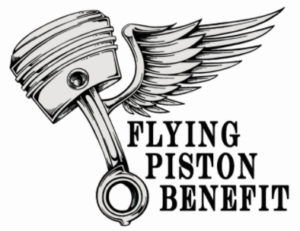 The 2022 Sturgis edition of the  Flying Piston Benefit is produced by Marilyn Stemp of Iron Trader News and Jeff Najar of Green Forest Brand.  
Our work raises awareness and funds for non-profits and individuals in the motorcycle community, vets, and kindergartners.
For more information, please contact marilynstemp(at)gmail.com, 828-205-8482. To get involved with the Piston, click here. Enjoy the rally and we hope the Sturgis Buffalo Chip 2022 Lineup is just what the Doctor ordered.
At The Buffalo Chip – Performances from world-class entertainers are just part of what the Sturgis Buffalo Chip has in store again for 2022. Guests will have the opportunity to experience thrilling events, including legendary rides, powerful freedom celebrations, top-tier bike shows, heart-pounding stunts, white-knuckle racing, worthwhile charity events and so much more. All events are outdoors in an open environment for the safest experience possible. Entertainment is free with camping. A full list of Sturgis Buffalo Chip events is available at BuffaloChip.com/EVENTS.
About Sturgis – The Sturgis Motorcycle Rally is the largest motorcycle rally in the world. It is held annually in The Black Hills and in Sturgis, South Dakota for 10 days during the first week of August. It was started by local Indian dealer Pappy Hoel in 1938. Since its beginning, private area businesses throwing events such as races, concerts, and rides have made, and continue to make, the Sturgis Rally what it is today. 2021 will mark the 81st annual Sturgis Motorcycle Rally.