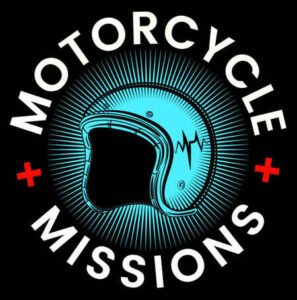 What You Need To Know: Krystal Hess, Executive Director of Motorcycle Missions, creates programs to help Veterans and First Responders to work through their PTS(D) issues. Her latest project comes in the form of a custom bobber motorcycle build.
How it works: The custom bobber motorcycle was built by  a great group of veterans and first responders with Roys Toys Customs donating their shop and providing mentorship to this awesome speed demon, sponsored by Jake at State Farm.
No pay, no play: Anything that revolves around a charity needs a sponsor because of the cost of parts and the cost of travel to gain enthusiasm for the charity. The sponsor for the build is State Farm Insurance.
Jake from State Farm came by to be fitted for the bike, but it turns out he was too short for the controls. He looks bigger on TV… Naw, I'm kidding about that. They didn't see Jake.  If Jake makes an appearance, the fellas said that they would be happy to get a quote.
It all Starts with Steel: To get started, Hess sent out a rigid Kraft Tech steel frame with stock cast wheels. The team assembled and built the bike at Roy's Denver facilities and began a 16 week program each Saturday, working 6 hours a clip to build the custom sled.
When you get Roy and his team collaborating with Krystal Hess, you get a box of chocolates. You don't know what you will get, but you know it will be cool.
"We started from the from the frame and we built this custom sled piece by piece to show the vets and 1st responders how to fit everything together," explained Martin. "Fit, finish, and ridability is a big thing that we do in our shop and I told them, you know, when we do these bikes they got to be right." "So we went over these bikes, every nut and bolt from the from the frame all the way up."
The team from Roys Toys Customs includes son Tony, daughter Nikki, wife Christy and look-alike Mr. Clean, Roy Martin. The all-star members of 1st responders and vets include Brad Orchard, Marine Corps; Andrew Perreault, Army; Chris Denton, Army; Dustin Forgey, Army; Steve Barr, Army; Matt Walker, First Responder; and Devin Marciano, First Responder.
Since the build really started post COVID, the supply chain has sustained issues in getting parts to the crew in a timely manner. You know you have a problem when money and relationships can't solve the issue.
So, what to do? Since Nikki's chopper was disassembled and waiting for paint, Roy cannibalizes a piece here and there. Now Nikki is as picky as her dad, and to say she was not amused would be an understatement. Even so, the show must go on!
The Build 13 Team was learning from a master builder. And it was reciprocated.
"I'm so picky about what I like… I visualize what I want and like," commented Martin. "This time I let  up on the reins and let the group work on stuff. I mean, that was a big growth moment for myself, to trust in the guys and in the process. I realized if I do everything for them, then they're not learning."
The team enjoyed the participation from sponsor State Farm. It turns out that the build became one of the featured items to celebrate the firm's 100th anniversary in business.
Roy said that they didn't do custom bike building in a vacuum; it takes a biker village. After determining the design, Roy broke out his cellphone and started making calls.
One of his first calls was to famed and West Coast painter Taylor Schultz. He shot the  State Farm red paint job. Austin's Matt Hurtado of Working Man's Custom provided the custom saddle. Pure power and sound was provided by D&D Bobcat exhaust. Anything Goes 74 provided a slick oil tank. Of course, Nikki Martin's bike provided all the odds and ends.
The engine began life as a Twin Cam Harley Davidson 96" motor. Roy and the Build 13 team rebuilt the mil including rod bearings, gaskets, pistons rings, and a new oil pump. Besides the engine build, Martin and the team worked with BDL on their new cam cover so they could run a single fire ignition. This approach removes a lot of wires and provides a cleaner look.
The USA-made BDL Cam Cover Conversion Kit for Harley Twin Cam  is a slick unit. Builders can now convert Twin Cam ignitions to earlier Evolution-style electronic ignition. And this allows the use of aftermarket Evo wiring harnesses. The BDL cam cover is made from 6061 T-6 billet aluminum with a polished finish.
MORE Interviews
So after everything has been said and done, Roy showed the bike to outstanding reviews. At the bike reveal at OC BikeFest in Ocean City, MD, one of the largest motorcycle rally on the East coast, enthusiasts loved it and were always taking pictures with their camera phone.
Roy has a truly unique artistic style that is instantly recognizable. It includes over-the-top paint schemes, integrated themes, and bikes that are made to be ridden. Despite being follicly challenged, he uses his creativity and talent to create stunning pieces of kinetic art that leave a lasting impression on the viewer. His style is a blend of modern and traditional techniques, and he is not afraid to experiment with new materials or approaches in creating a distinctive custom bike. Overall, Roy is a true inspiration, showing that being hair-impaired does not define one's ability to create beautiful and impactful rolling art.
Specifications
| | |
| --- | --- |
| Painter | Taylor Schultz, Schultz Designz |
| Paint | State Farm Red |
| Powder Coat | Lee Goldenstein of  Pristine Powder Coating |
| Wheels | Stock |
| Tires | Michelin |
| Brakes | JayBrake |
| Hand Controls | JayBrake |
| Foot Controls | Ryan Gore, Paper Street Customs |
| Engine | Harley-Davidson Twin Cam |
| Exhaust | D&D Bob Cat |
| Cam Cover | BDL |
| Oil tank | Anything Goes 74 |
| Gas Tank | From Roys Toys take off pile |
| Speedo | Nope |
| Handlebars | Drag Specialties |
| Frame | Kraft Tech Frame |
| Seat | Matt Hurtado of Working Man's Customs |
| Seat Pan | Roys Toys Customs |
| Bolt Covers | B – Roys Toys Customs |
| Triple Trees | Pro-One |
| Forks | Stock 41mm with Pro-One lowers |
| Headlight | From Roys Toys take off pile |
Nikki Martin, COO of Roy's Toys Customs, is a custom bike builder herself and happy to work with her dad, Roy Martin, at their shop in Centennial, CO.
Martin also said, "It's definitely has a unique look and we're very happy with the fit, finish, and stance. It'd be typical of something we are building in the shop and would have our name on it."
About The Flying Piston: The 2022 Sturgis edition of the  Flying Piston Benefit is produced by Marilyn Stemp of Iron Trader News & Jeff Najar of Green Forest Brand.  Our work raises funds for non-profits and individuals in the motorcycle community, vets, and kindergartners. For more information, please contact marilynstemp(at)gmail.com, 828-205-8482. To get involved with the Piston, click here. Heading to the Daytona Bike Week or the Sturgis Rally? Well, meet us for breakfast and the industry movers and shakers.
Each Flying Piston Benefit provides a silent auction that is art-oriented and also includes unique and collectible items. The event doubles as an industry get together where enthusiasts, business people, custom builders, athletes, and artists come together to socialize, enjoy breakfast and support a worthy cause.
Companies Worth Visiting