Ron Finch Strider Custom Rolling Mini Art in Classic Finch style
It was Wednesday of Sturgis Rally week, 2019 and people were gathering at the Lodge at Deadwood for the annual Sturgis Museum Hall of Fame induction breakfast. It was a stellar class, too, including Frank Fritz, Ron Paugh and Ron Finch, among others. The Flying Piston was delighted to have the Tiny Strider Customs on display in the lobby that day – they're the perfect eye candy to bring attention to All Kids Bike, a program of the Strider Educational Foundation that aims to get every child on a bicycle in kindergarten PE class.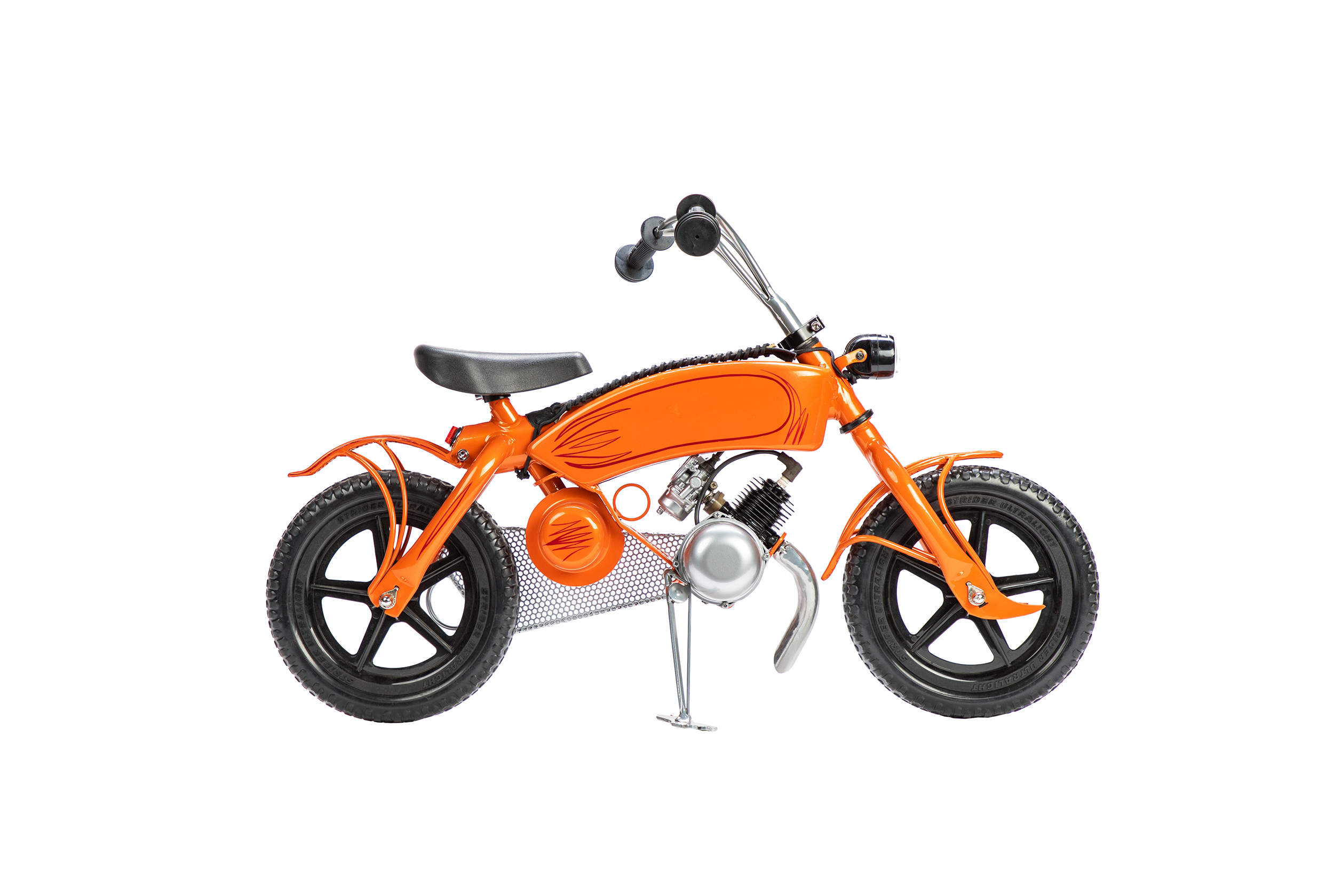 It was especially gratifying to see Ron Finch being inducted into the Hall of Fame. Under the banner of Finch Customs, Ron has built some of motorcycling's most fantastical and functional machines since he opened his shop in Michigan in 1965. But that's only part of the story. Ron's mastery of metal fab, design sensibility and use of color is incomparable. There's a reason he's a two-time winner of Discovery's Biker Build-Off and many other awards. He's an art welder, a painter and a virtuoso creator.
As I congratulated Ron on his induction that morning in 2019, he pointed in the direction of the Tiny Striders and said, "Hey, someone said I'm supposed to talk to you; I wanna build one of those little bikes."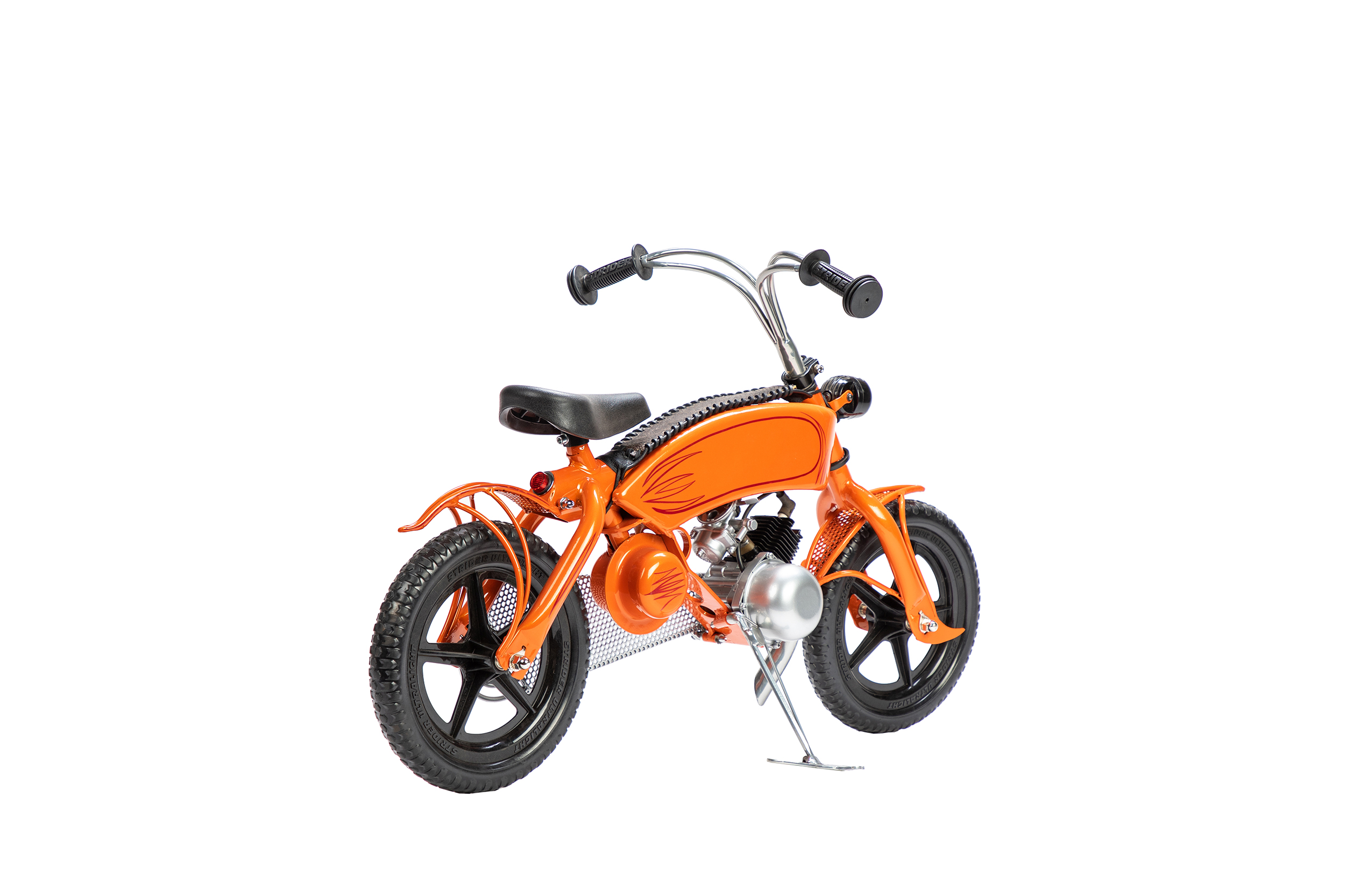 Well, I already had a plan for the next edition of Tiny Customs: for 2020 they'd all be built by women to honor the 100th anniversary of the 19th amendment's passage. But this was Ron Finch saying he wanted to participate, right? Yes, it was, and I caved in immediately. So that's how Ron became the only man in the otherwise all-female 2020 class of Tiny Strider Custom builders.
And when the Finch bike arrived at Strider Bikes HQ the next July, it stopped the show. There's DNA of a Strider bike in there somewhere but you have to squint to see it. Here's a run-down of the build: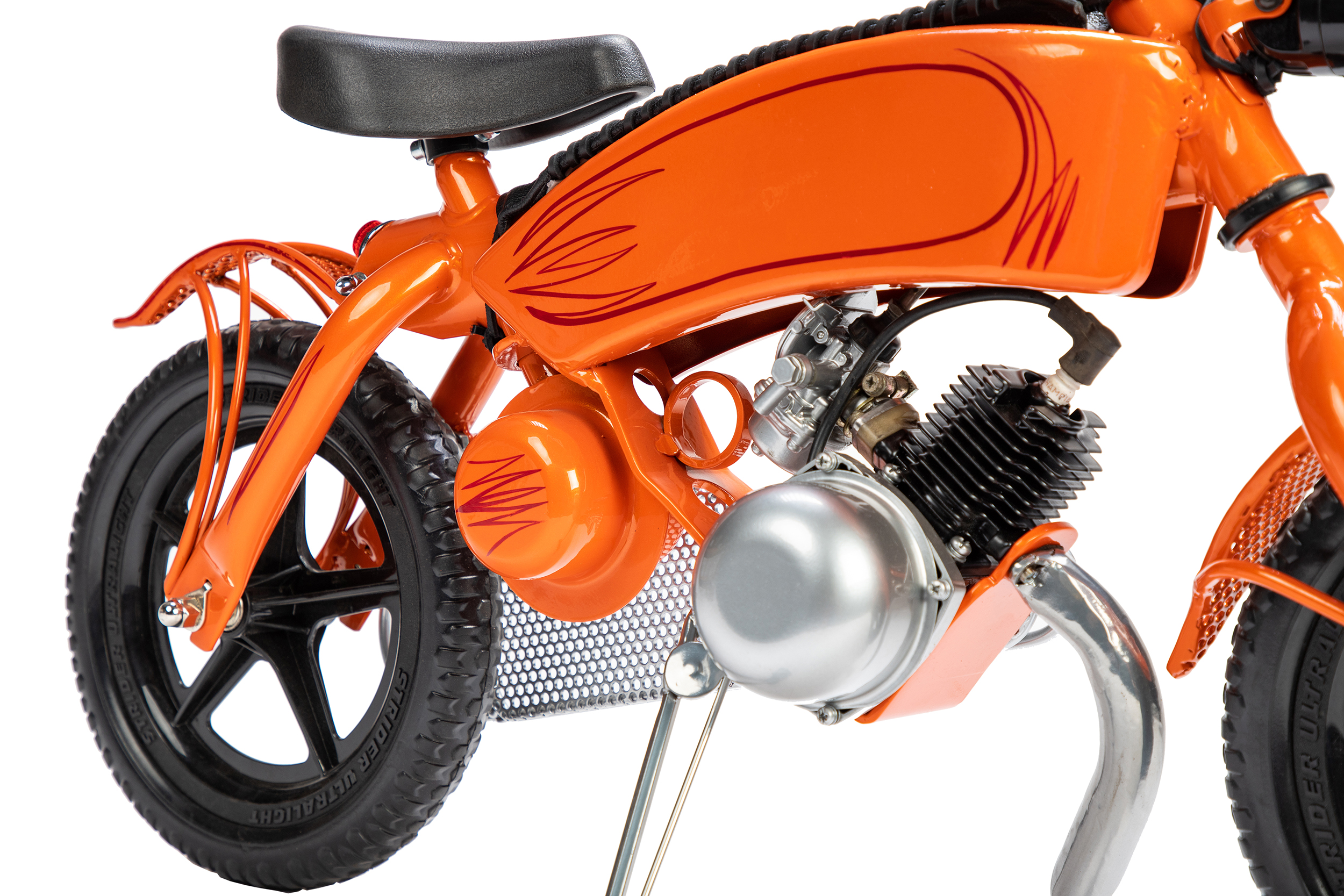 "I used the frame – but it's upside down," said Ron. Why? "It worked better that way."

"I built the fenders from rod and put metal mesh in them." That's classic Finch treatment, right there, along with the rod and mesh guard and the modified fork tubes. Added Ron, "It has an engine from a weed-whacker. It doesn't run, of course, but it looks right. The engine is black powdercoated and the jugs are silver."

"I built the exhaust pipes, too," he said. And the "oil tank," and the handlebars, and the foot-shaped kickstand. Is anything stock? Well, the seat is the same as the one that was on the bike but naturally Ron re-worked it, altering the angle to better fit the new profile. The grips may be the only component left untouched.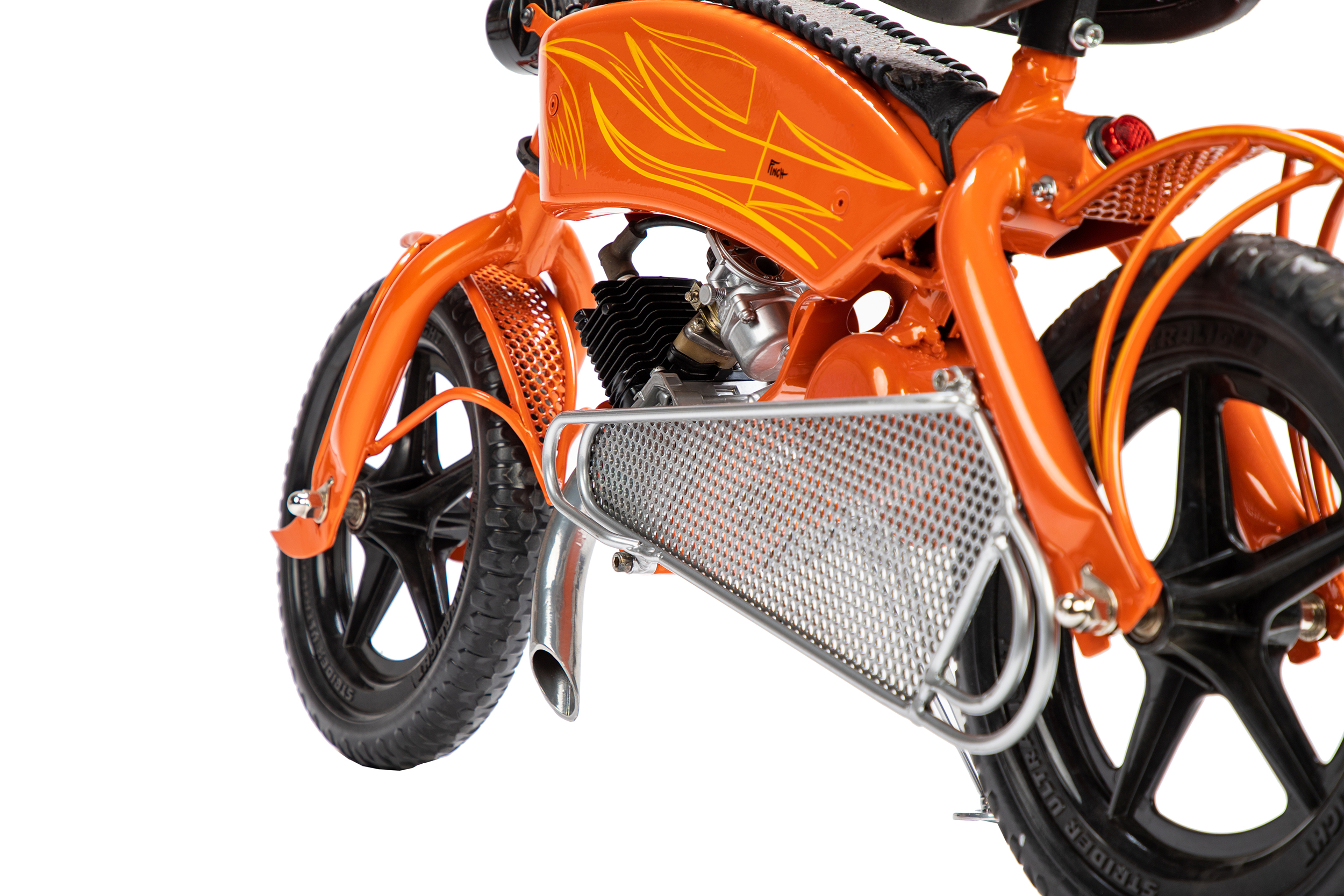 It's painted a vibrant orange, with red and yellow hand pinstriping. A hand-made braided leather bib covers the tank top and looks amazing.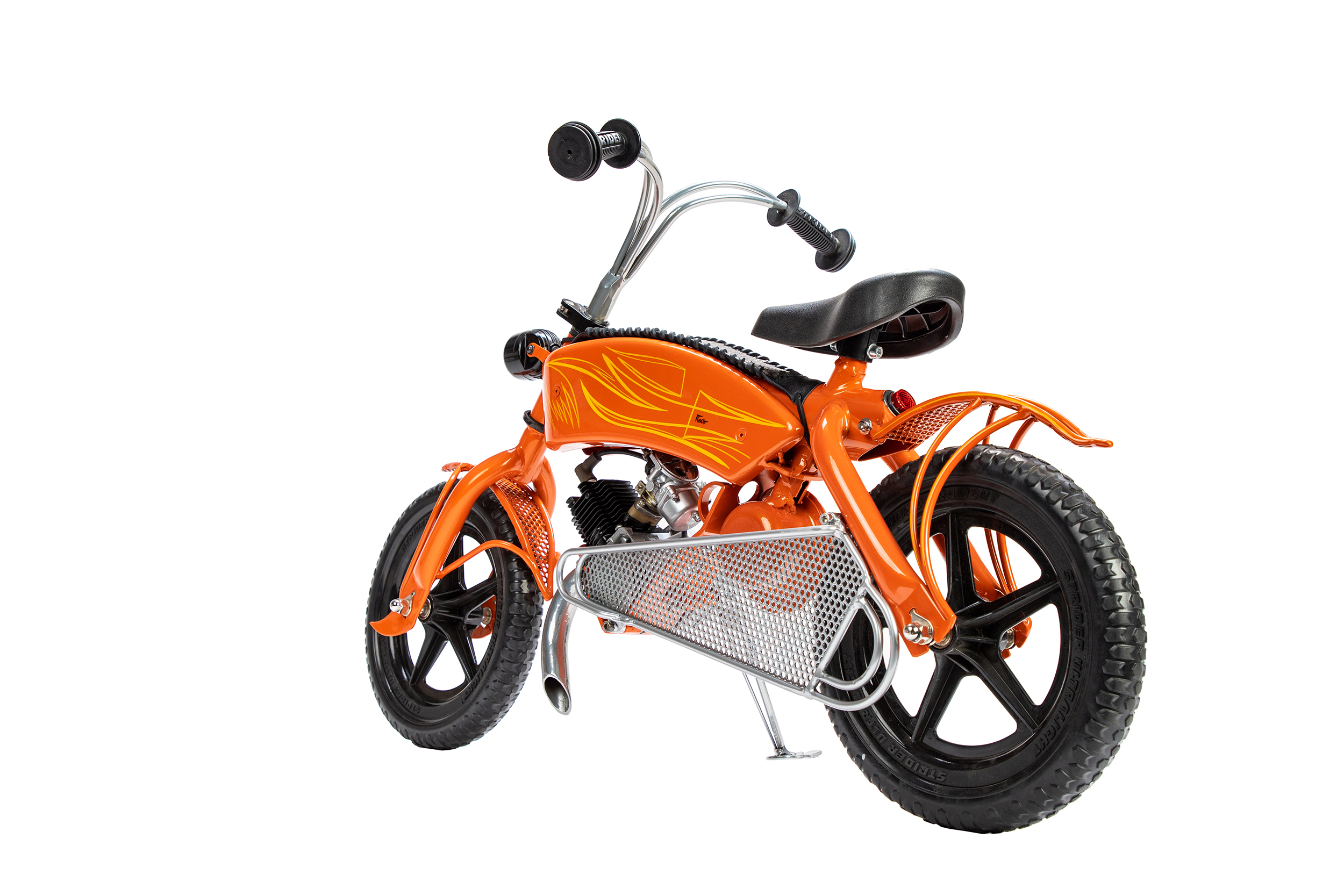 Astounded when I first saw the little bike, I had to ask if he thought, just maybe, he'd gone a little bit overboard. "Well, yeah, I kind of got carried away. But it's just what I do," he explained. True that!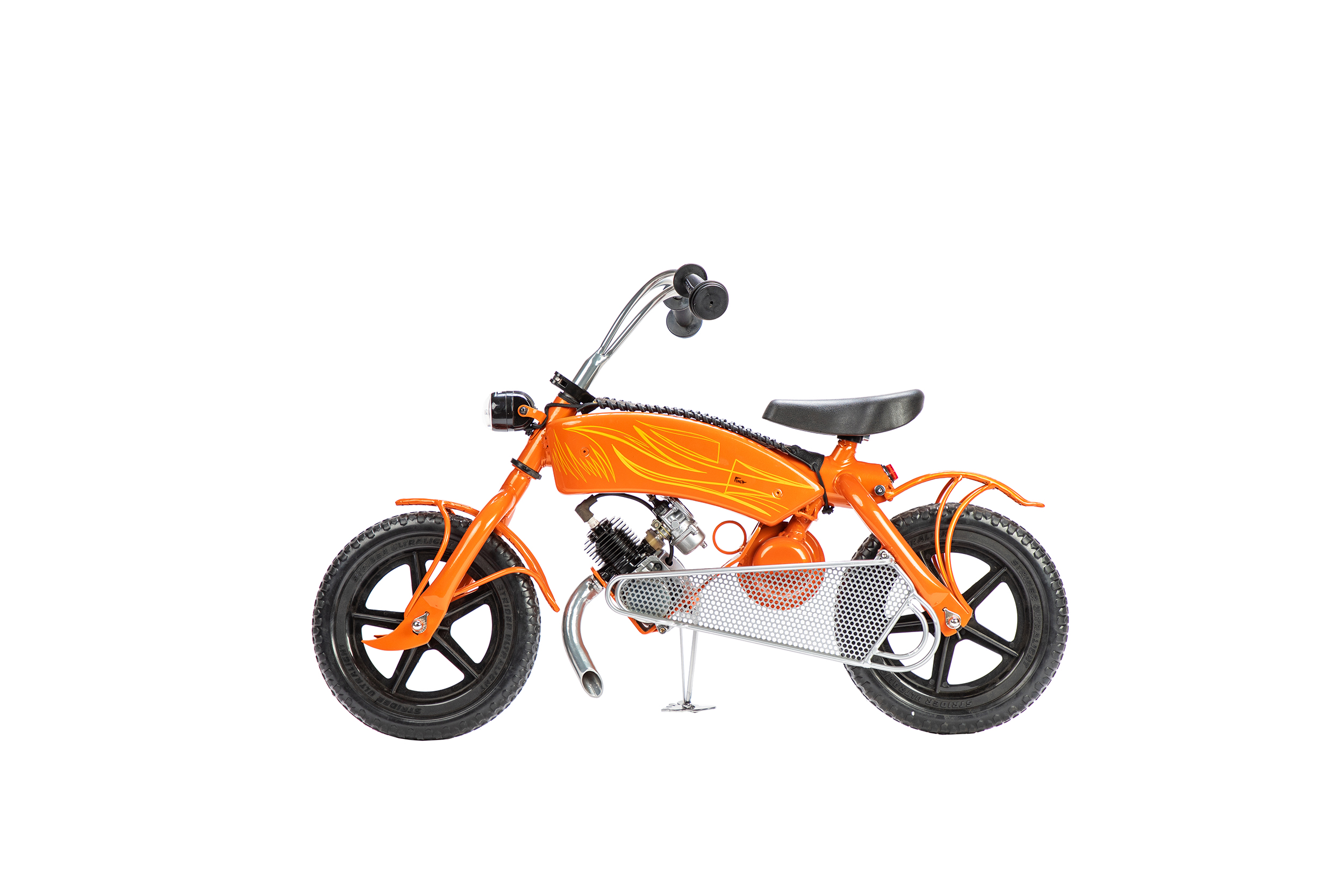 Ron Fin
ch has been guided by his intuition for decades. His metal intricacies combine with distinctive color and paint treatments resulting in moto-art like no other. His work is immediately identifiable and impossible to copy – as this Tiny Custom shows. And we couldn't be happier!
Ron Finch has been building custom motorcycles since 1965, when he opened Finch's Custom Styles Cycles in a small building in Pontiac, Michigan. He has devoted over 45 years to designing, building, and painting custom motorcycles in his own unique style. His first nationally known custom was a 1966 BSA named "Kaleidocycle", which prompted Ed Roth to call him Michigan's Motorcycle Madman. In 1969, Cycle Guide Custom Annual titled their article about Ron "The Fabulous Finch."
In 1968, Ron married Ruth and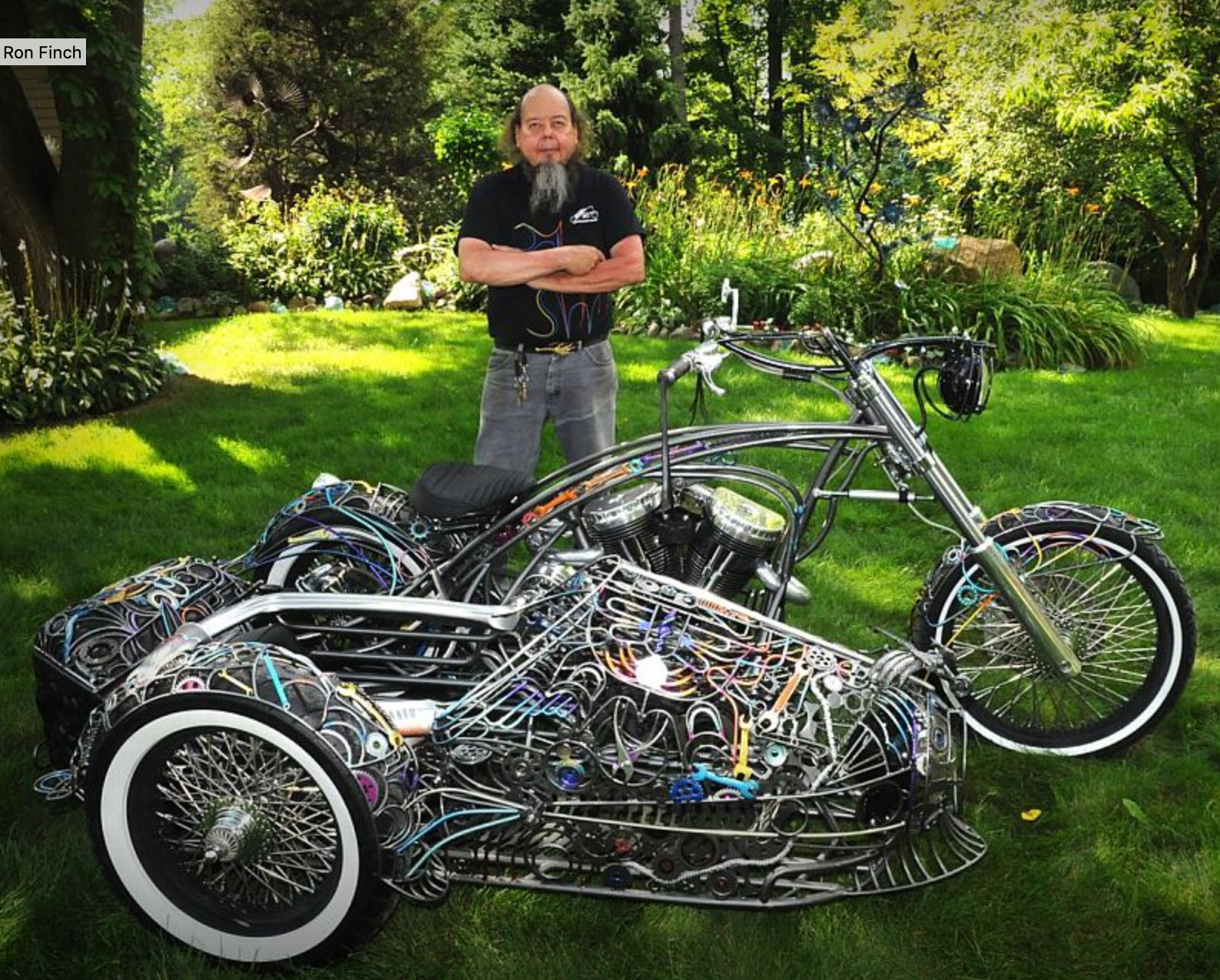 together they built the business. He taught Ruth to ride and built her a custom 1966 Triumph, painted like and named after her favorite treat, a creamsicle. They could often be seen riding together: Ron on his three-cylinder BSA, called "Ron's Rocket," and Ruth on her rigid Triumph chopper.
In 2015 they had the unique opportunity of restoring Ruth's chopper which had been sold many years before. The new owner wanted it restored as it had appeared in Choppers Magazine in 1979. Thirty five years had passed and there were Ron and Ruth, working together once more. They celebrated their 50th anniversary in July 2018 at the studio with family and friends.
Last year Ron was inspired to build his first custom mini bike. He was inducted into the Sturgis Motorcycle Hall of Fame in 2019. Finch's custom motorcycles of many makes and sizes have been appreciated by art lovers in prestigious museums, art galleries, and in shows throughout the US and in Germany, France and Sweden.
Ron celebrated his 80th birthday in March 2019 and continues to work from the studio, painting and building custom motorcycles and art. Labeled as too extreme by some, the work of Ron Finch appropriately proclaims the freedom and individualism that is so often associated with the motorcycle lifestyle.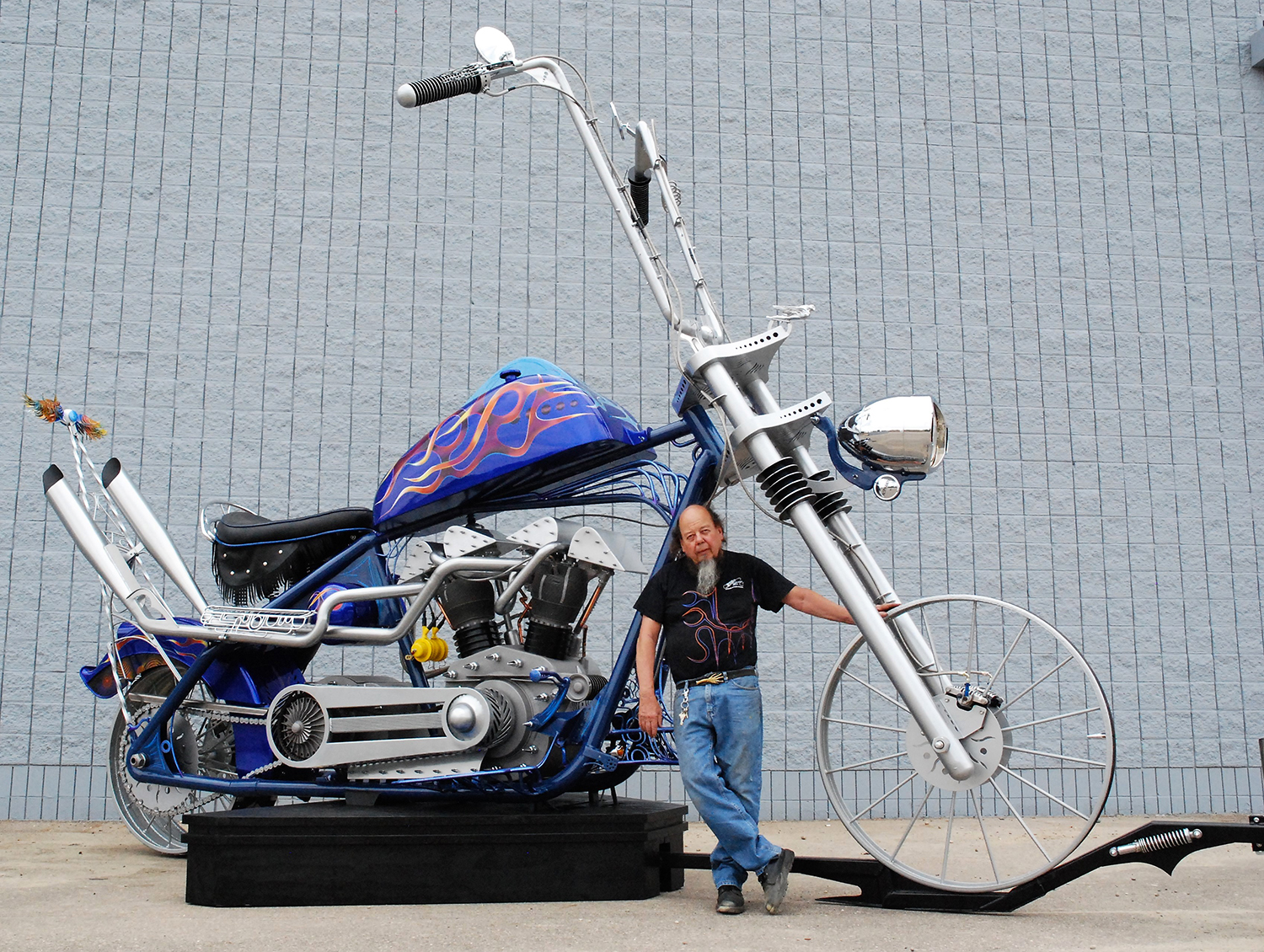 Flying Piston Benefit Custom Strider Class of 2020


The 2020 star Strider builders are Savannah Rose, WomenRidersNow Build Team, Lena Fairless, JoAnn Bortles, Ron Finch, Ashmore Ellis, and Cris Sommer Simmons.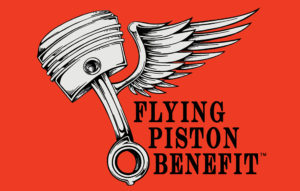 About Flying Piston Benefit: The Flying Piston Benefit is produced by Marilyn Stemp of Iron Trader News and Jeff Najar of Horsepower Marketing. The event and silent auction supports veterans issues and the motorcycle industry through fundraisers for non-profits and individuals.
Each Flying Piston Benefit provides a silent auction that is art-oriented and also includes unique and collectible items.
Each event also doubles as an industry get together where enthusiasts, businessmen and women, custom builders, athletes, and artists come together to socialize, enjoy breakfast and support a worthy cause.
To get involved, contact Marilyn Stemp at our contact page or text her at 828-205-8482.
Watch the Flying Piston Facebook page for our latest updates.
About Flying Piston Custom Striders: The Custom Strider Program is an initiative of The Flying Piston Benefit produced by Marilyn Stemp of Iron Trader News and Jeff Najar of Horsepower Marketing to raise awareness and funds for vets and the motorcycle industry through fundraisers for non-profits and individuals in the biker community. Each year a new class is unveiled at the Flying Piston Benefit Builders Breakfast at the Sturgis Buffalo Chip during the first Sunday of Sturgis Rally. Contact: Marilyn Stemp, 828-205-8482, marilynstemp@gmail.com or Flying Piston Benefit.
About Strider: Strider designs lightweight bikes that build two-wheeled balance, coordination, and confidence in children. Strider is helping kids learn to ride and developing new motorcycle riders through the AllKidsBike movement which makes bike-riding a part of the kindergarten curriculum. www.allkidsbike.org, www.striderbikes.com.
Words by Marilyn Stemp – Ron Finch Strider Custom Builder                                                                                                                                                                                                                                                                                                                                                                                                            
Photos compliments of Strider Sports