Meet Custom Trike, Harley, and Strider Bike Builder & Racer Rodney Smith
Rodney Smith owns Southeastern Customs in Holden Beach North Carolina. He has been building motorcycles for about 15 years and has had fun doing it.
He grew up around and worked in his Dad's custom upholstery shop where they built custom cars and vans.
"My style is not to borrow from other builders but to come up with different ideas. I get inspiration from all kinds of influences, like the furniture world for colors, the automotive world for design, and the industrial world for shapes. So I like to borrow from many different places."
We were southeastern division champs in the truck class in International Show Car Association (ISCA).  They also did the upholstery on a national championship 1931 Lincoln.
Rodney does all of his own fabrication, design, paint, and assembly. He has won the Daytona Rat's Hole trike class and has been featured in several magazines.
His trikes are outstanding and have a muscle car theme.
Plan on attending the 2022 Sturgis Flying Piston Benefit Builder Breakfast on August 7th and meeting Rodney Smith in person!
To see his work, check out his Instagram Page –  @southeasterncustoms.
Also, Meet Featured Artists Darren McKeag & Billy Lane
New for 2022, our headliners include artist Darren McKeag and steel artist Billy Lane.  Get a free hero card and you can even get a picture on their custom choppers.
Check out our Headliners' Darren  Mckeag and Billy Lane:
More Details:
About The Flying Piston Benefit Builders Breakfast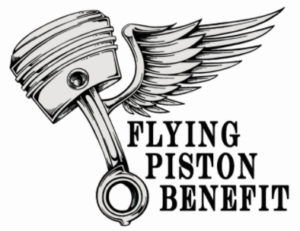 The 2022 Sturgis edition of the  Flying Piston Benefit Builders Breakfast is produced by Marilyn Stemp of Iron Trader News and Jeff Najar of Green Forest Brand.  Our work raises awareness and funds for non-profits and individuals in the motorcycle community, vets, and kindergartners.
For more information, please contact marilynstemp(at)gmail.com, 828-205-8482. To get involved with the Piston, click here.