Paul Yaffe's 2018 Custom Strider Project built for the Flying Piston Benefit Builder Breakfast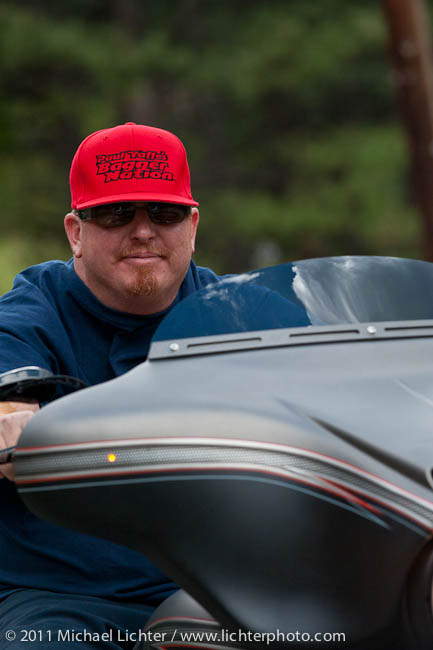 When Paul Yaffe texted me a picture of Low Brow's peanut gas tank and asked if I could procure one for his Strider custom, it threw me off at first. I politely confirmed that he was aware of the fact that Strider balance bikes didn't have engines (yes, he'd noticed) – then reached out to Tyler at Low Brow.
Well, you can see where Paul was going with the concept: a Captain America-style chopper Strider had to have a gas tank, right?
If only for the classy red, white & blue paint scheme. And as you'll see from the pictures, Paul was flat out stoked about the project, no holds barred.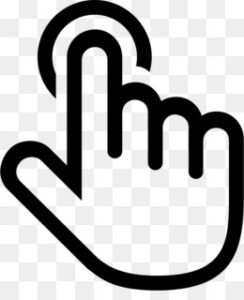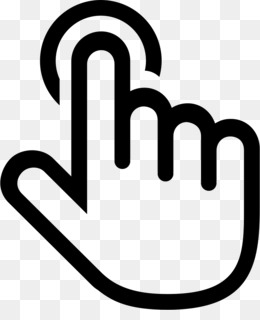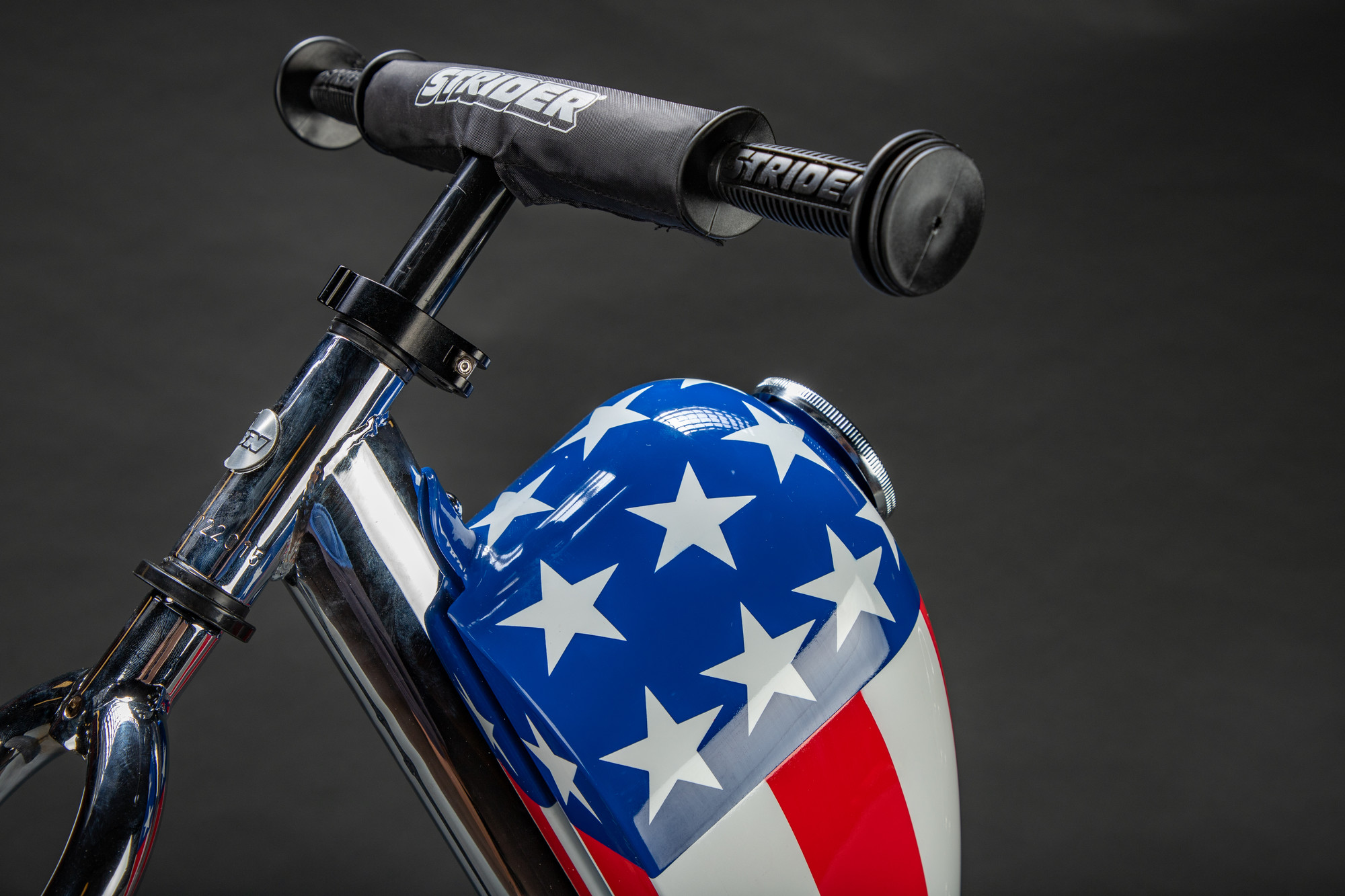 He started out by cutting the stock bike into pieces, then stretched the frame with an extra length of channel. He sourced a spoked front wheel, then fabricated the front end, fender and sissybar. Research showed that Strider once offered spoked wheels, one of which would match the front, and Strider kindly provided it. After chroming and assembly, the Low Brow tank went out for paint and Paul reached out to LePera for the miniature king and queen seat, complete with studs, of course.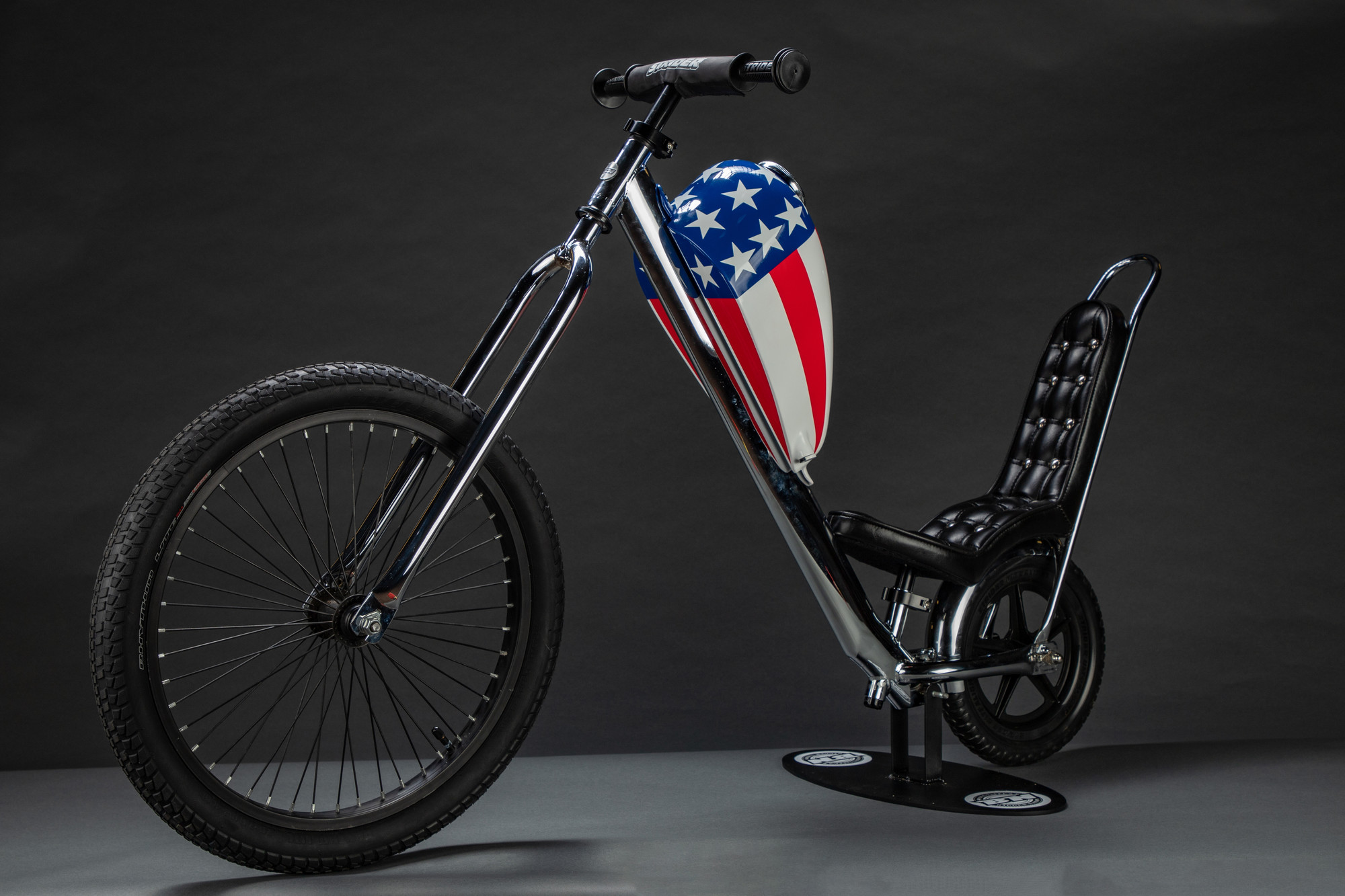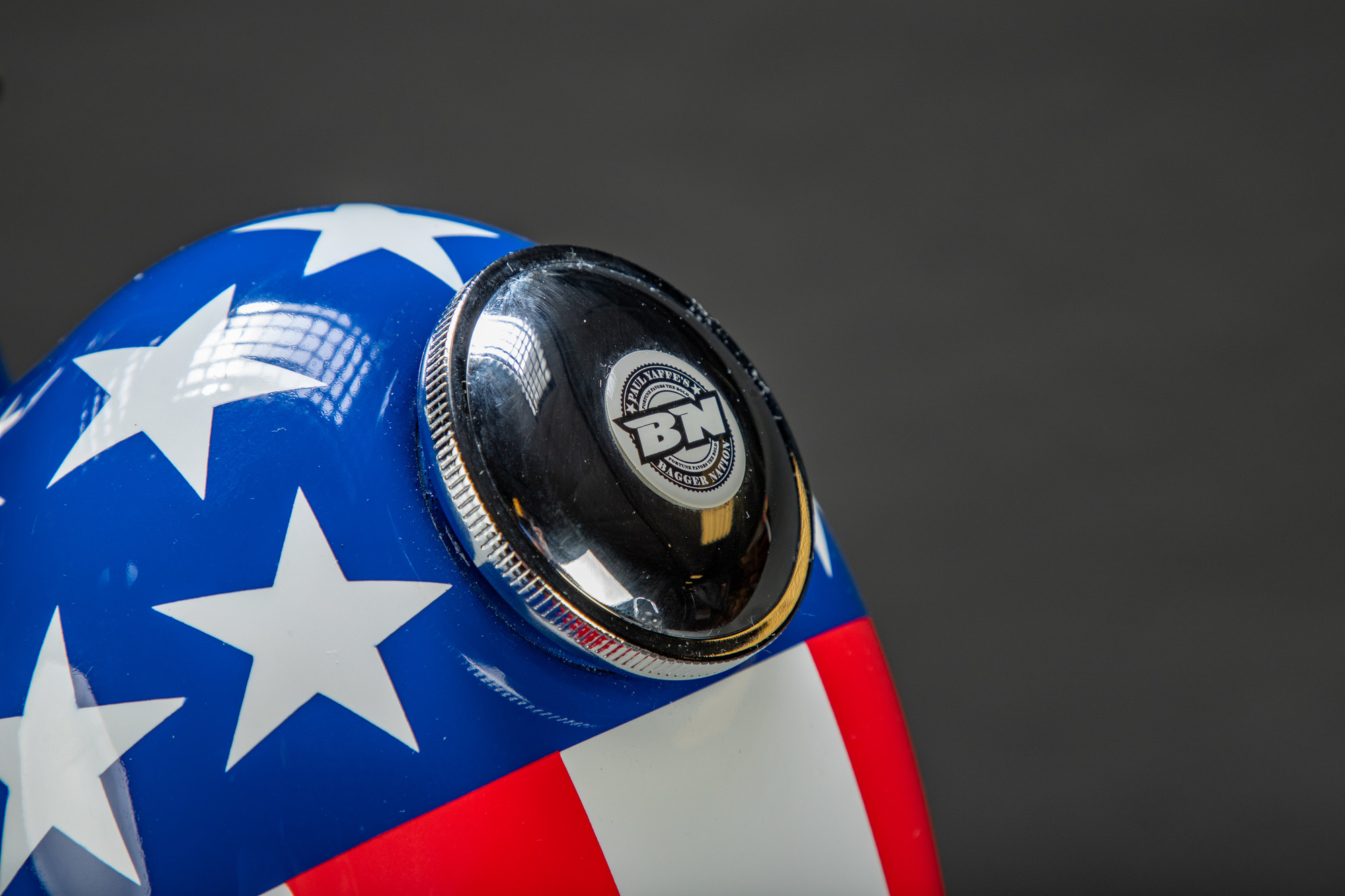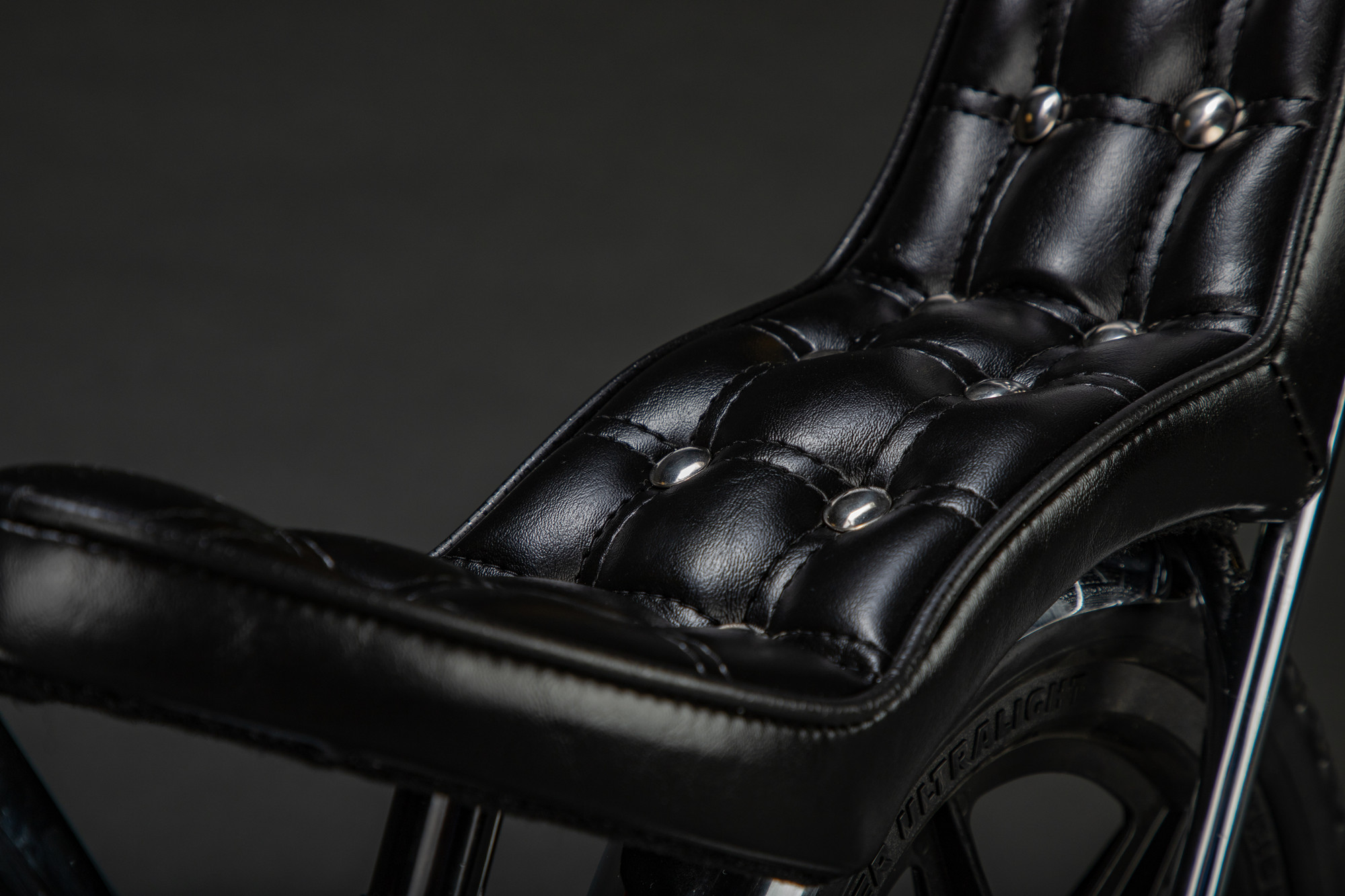 Yep, it's a chopper, baby! And definitely one of a kind!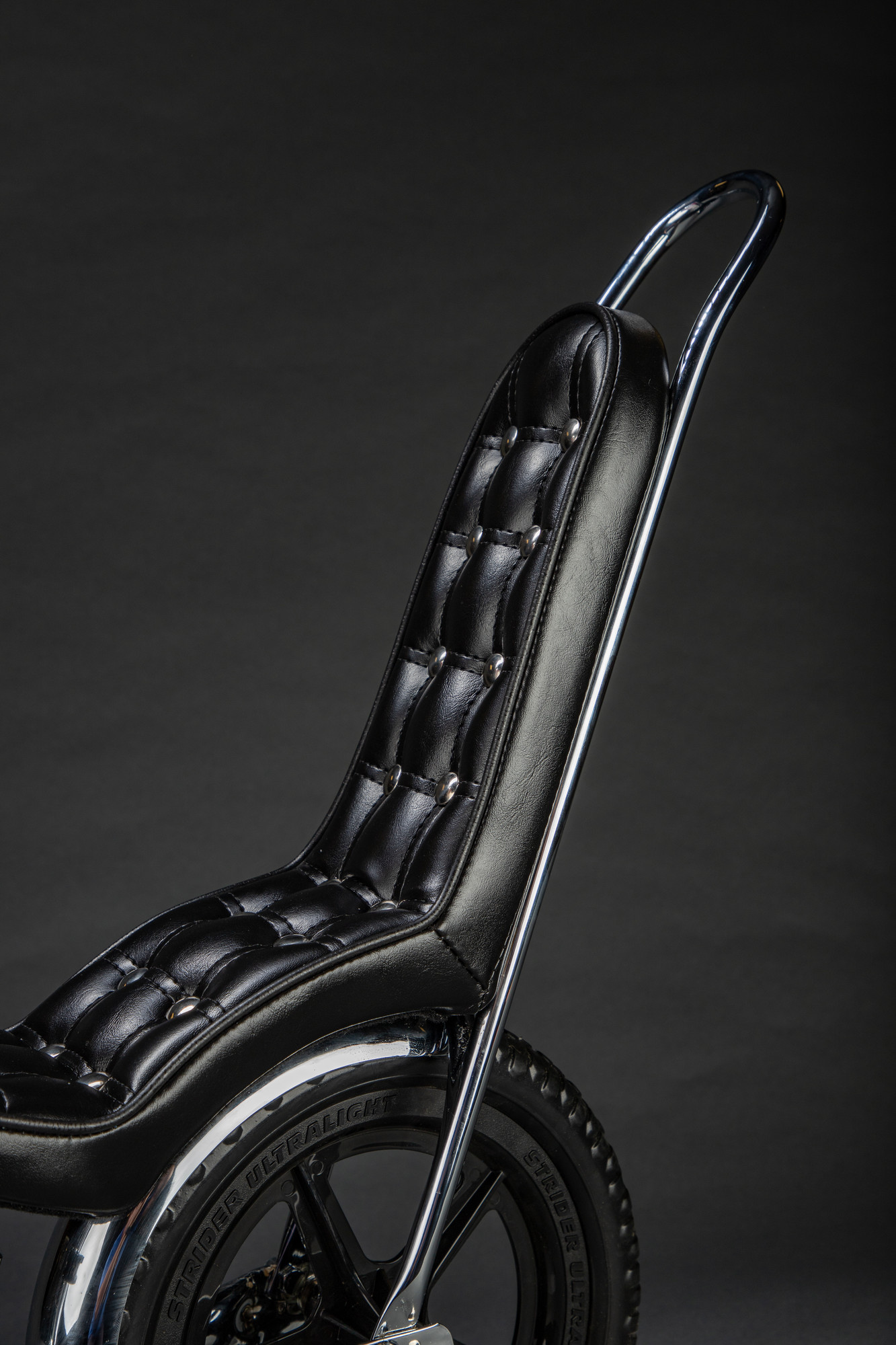 Flying Piston Benefit Custom Strider Class of 2018
The 2018 Strider builders are Rick Fairless, Brian Fuller, Paul Yaffe, Jody Perewitz, Kirk Taylor, Pat Patterson, and Motorcycle Missions.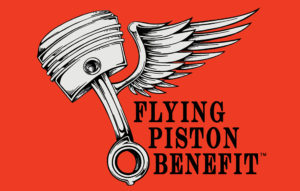 About Flying Piston Benefit: The Flying Piston Benefit is produced by Marilyn Stemp of Iron Trader News and Jeff Najar of Horsepower Marketing. The event and silent auction supports veterans issues and the motorcycle industry through fundraisers for non-profits and individuals.
Each Flying Piston Benefit provides a silent auction that is art-oriented and also includes unique and collectible items.
Each event also doubles as an industry get together where enthusiasts, businessmen and women, custom builders, athletes, and artists come together to socialize, enjoy breakfast and support a worthy cause.
To get involved, contact Marilyn Stemp at our contact page or text her at 828-205-8482.
Watch the Flying Piston Facebook page for our latest updates.
Auctioned Off at Mecum Auctions
The 2018 class of Strider Rider Customs were auctioned off in January by Mecum Auctions during their Las Vegas event. (www.Mecum.com) The 2019 class of builders started after the auction. The list is here.