Bikernet.com Reports On Custom Strider Bike build by Edge, the Smokeout Rally Producer, for the 2022 Flying Piston Benefit
Greg "Edge" Scheuer delivers for world-famous Flying Piston Builder's Breakfast
"The entire take on my build was to recreate the famous picture of Marlin Brando from the 1953 film, "The Wild One." Using one of my grandchildren as a stand in for Brando. I have two grandkids that are both about three so the timing was good.
Luckily, I had a build team which is the only reason the bike is finished.
The photo shoot with my two grandsons', Wilder and Finn, was a hoot but eventually, we got there. Special thanks to Prince Najar for the opportunity to work with the Flying Piston Benefit.
See you in Sturgis!"
— Edge
>>>> CLICK HERE FOR THE FULL WRITE UP <<<<
About: Strider Bike & Flying Piston Benefit Breakfast
Visit: bikernet.com
More Information: Click here for more Info on the 2022 Sturgis Flying Piston Benefit Breakfast
DON'T MISS THE BUILDER BREAKFAST
Join us Sunday, August 7th: 8:30 – 11AM at the Buffalo Chip
Meet Billy Lane & Darren Mckeag
About The Flying Piston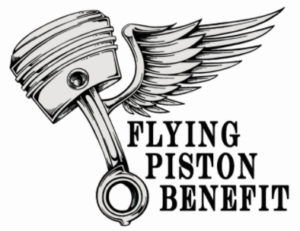 The Flying Piston Benefit loves to donate Bikes to Ormond Beach Elementary.
The 2022 Sturgis edition of the  Flying Piston Benefit Builders Breakfast is produced by Marilyn Stemp of Iron Trader News and Jeff Najar of Green Forest Brand.  Our work raises awareness and funds for non-profits and individuals in the motorcycle community, vets, and kindergartners.
For more information, please contact marilynstemp(at)gmail.com, 828-205-8482. To get involved with the Piston, click here.