Big Frig Sponsors Flying Piston Benefit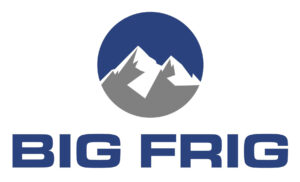 A new partnership brings another artistic element to the Flying Piston Benefit Builders Breakfast in Sturgis this August. Flying Piston producers are pleased to be working with Big Frig, based in Sioux City, SD.
Big Frig is providing their large, stainless steel tumblers to artists across the nation to be individually customized. Expect to see a wide variety of styles, designs and especially colors on the finished tumblers, each one a unique work of art that won't be seen anywhere else.
Watch the Flying Piston website and facebook page as the artists send progress pics between now and the Builders Breakfast, scheduled for Sunday, August 7th at the Sturgis Buffalo Chip Big Engine Bar. Click it for the FLying Piston Tickets.
Adding these tumblers to the custom painted skateboards and leather-wrapped flasks expand our offerings for our Breakfast guests and auction bidders. It also allows us to amp up the ultimate charitable benefit.
"We're delighted to be partnering with a company of this caliber and based in South Dakota.  Big Frig products are top quality and their stainless steel tumblers make excellent canvasses for the artists stepping up to grace them with original work."

Marilyn Stemp, Event Producer
About the Big Frig 30oz Tumbler
The tumbler's design has been engineered from the inside-out to ensure it's ready for any challenge you throw at it. Corrosion-resistant 18/8 stainless steel (a.k.a. 304 stainless steel for you fabricators out there) is cold worked for durability and vacuumed sealed for superior insulation.
The inner wall is copper lined for more even temperature distribution within your beverage of choice.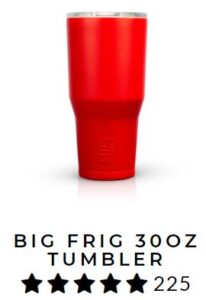 5+ Hours Hot
50+ Hours Cold
Fits Most Cup Holders
Dishwasher Safe
Sliding Lid Included
Limited Lifetime Warranty
These tumblers are striking yet timeless, elegant yet rugged. The lids are easy to get on and off. They fit perfectly in the car cupholder.
About the Big Frig
Big Frig provides high-quality, stainless steel, double-wall, vacuum-sealed tumblers as well as high-quality rotomolded coolers.
About The Flying Piston: The Flying Piston Benefit produces two charity breakfasts, one in Sturgis and one in Daytona Beach. The team behind the scenes includes Marilyn Stemp of Iron Trader News and Jeff Najar of Horsepower Marketing.  Their passion is to raise awareness and funds for non-profits and individuals in the motorcycle and veteran's community. Visit www.flyingpistonbenefit.com or contact: marilynstemp@gmail.com, 828-205-8482.
To get connected with the Piston, click here To see everything that is happening at the breakfast, click here.