Hailing from Ukraine, Yamasha stated that despite Kustom Kulture not being strong within communities, she was introduced to the subculture by her husband, who taught her to look beyond the machines and see artistic value.
"He taught me to see machines from the other side and this totally changed my life. I tried different fields; advertising design, handcrafted art fair organizer, art studio director, and later on, painted for clients on various subjects like architecture, landscapes, and still-life. I realized this was not my thing," she stated.
Yamasha looked deeper into kustom kulture, realizing the depth of designs and builds, which enabled her to research and study other artists that devoted their talents to the subculture.
Words By Jeff Alexander
Kustom kulture's reach has no bounds, and its taken different paths with every builder and artist seeking to make their mark. With GNARLY's sponsorship of the Art on Deck: Flying Piston Benefit charity, we were privy to unique designs from across the globe. Yamasha earned the distinction of winning this year's skate deck art competition, proving that despite struggling within war-torn Ukraine, an artist's spirit cannot be silenced.
"It hurts to talk about the war; every day for us can be the last. I never thought that at my age I would be able to say I heard fighters and know how different missiles sound. I don't want anyone to go through what we are going through for one minute!" shared Yamasha.
Yamasha shared she was the first Ukranian kustom kulture artist and took a big chance to follow her passion and refine her style. She reflected on her initial challenges and how she worked to transcend them.
"People around me didn't understand; many said, 'Why did you draw it?' and I was often judged and misunderstood. Thanks to my faith in myself and love for what I do, and my husband, I gained the confidence of being on the right track. Day by day, I worked for it. The beginning period seemed to be the lowest of my career. I painted work from my room the first two years, but I wasn't able to advertise and was just starting to develop as an artist."
To read the entire article, logon to Gnarly Magazine – Yamasha: The Triumph of Kustom Kulture Art in War-Torn Ukraine
About The Flying Piston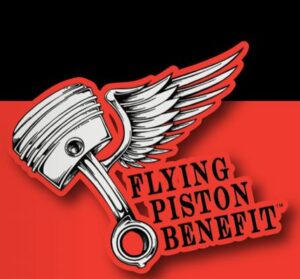 The 2023 Sturgis edition of the  Flying Piston Benefit Builders Breakfast is produced by Marilyn Stemp of Iron Trader News and Jeff Najar of Horsepower Marketing.  Our work raises awareness and funds for non-profits and individuals in the motorcycle community, vets, and kindergarteners.
For the Flying Piston Interview with Yamasha entitled: A brush with… Masha:2023 Flying Piston "Art On Deck" Artist, click here.