2022 Trip to Flying Piston at the Sturgis Buffalo Chip in Pictures
Producing the 2022 Flying Piston Benefit Builders Breakfast is no easy task. Even when you have Marilyn Stemp as co-producer, there are a lot of moving pieces. We couldn't have done it without our sponsors and volunteers.
What was easy, was the ride to Sturgis. I was invited to ride along with Hamsters from S.C. We all collected at the US Space and Rocket  Center to start our 1,700-mile ride to S.D.
Article: Jeff Najar
Media: Edge & others
1st Stop – US Space and Rocket Center
Huntsville, Alabama is home to the largest space museum in the world: the U.S. Space & Rocket Center.
Not only is America's space program on exhibit in Huntsville, it was forged in Huntsville. They're known as "Rocket City" because Huntsville is where rockets were developed that put men on the moon.
When you visit this attraction, you can't help but feel the anticipation Dr. Wernher von Braun and his team must have felt as they prepared to put man on the moon.
The U.S. Space & Rocket Center's permanent museum collection  covers everything from:
The first American satellite, Explorer I
Original capsule trainers for the Mercury and Gemini programs
Design modules for the International Space Station
Next generation vehicles, such as Sierra Nevada's

 

Dream Chaser
Current models for SLS
The Saturn V was one of the most complex and important things America built in the 20th century. The Apollo program it supported created 400,000 jobs at 20,000 firms and universities before it was finished.
Multi-Axis Training
 While walking around the facilities, we found a Multi-Axis Training unit. The only one that was brave enough was Phil Thompson.
The Multi-Axis Training simulates a spacecraft/aircraft tumble. Our man Phil road strapped and suspended in a chair assembly inside three rotating rings.
On the Road to Sturgis
Cañon City, CO
We stopped in Cañon City to see Mike "Hammer" Allen and his lovely wife Terri. Mike relocated from North Carolina to this area of 17,141 residents. His Softail that he rides on the Smoke Out's Long Road has over 100,000 miles.
Cañon City straddles the easterly flowing Arkansas River and is a popular tourist destination for sightseeing, whitewater rafting, and rock climbing. The city is known for its many public parks, fossil discoveries, Skyline Drive, The Royal Gorge railroad, the Royal Gorge, and extensive natural hiking paths.
It's hard to describe Skyline Drive, it's perched on top of a mountain with no guard rails and a huge drop off. It automatically puts your heart in your throat.
Motorcycle as Art Exhibit
World-famous motorcycle photographer Michael Lichter has curated the Buffalo Chip's Motorcycles as Art exhibit for 13 years. His 2022 edition is called Emergin' Virgin.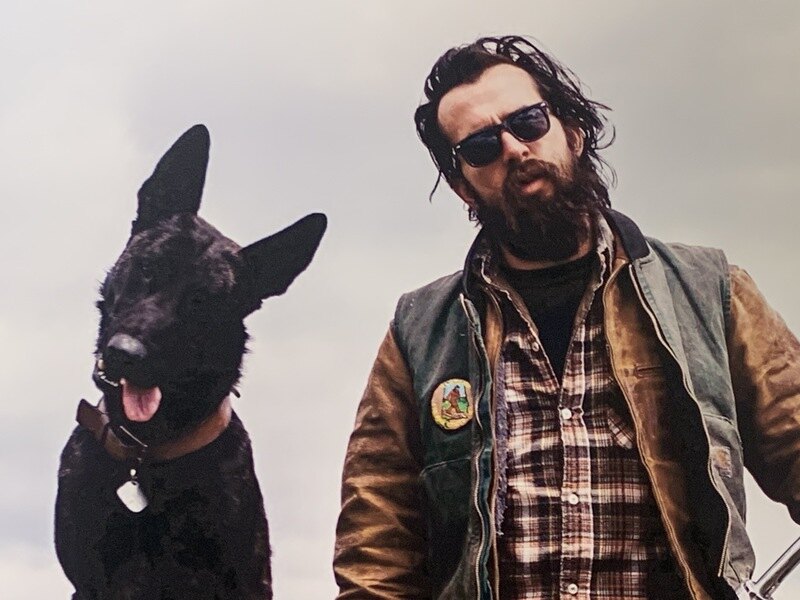 ART: A boy and his dog…
Flying Piston Benefit Breakfast
The 2022 Sturgis edition of the  Flying Piston Benefit Builders Breakfast is produced by Marilyn Stemp of Iron Trader News and Jeff Najar of Green Forest Brand.  Our work raises awareness and funds for non-profits and individuals in the motorcycle community, vets, and kindergarteners. 
Note: The Skate Deck was designed by Mike Richarson of Rebel Soul Studio  in Wake Forest, NC –  @rebelsoulstudio
Wall Drug
Wall Drug drew weary travelers into the small-town drug store to enjoy a refreshing break. Today, more than 2 million visitors a year stop at the popular roadside attraction for a meal or activity, 5 cent coffee, and ice water – which is free.   
We all know that oil and gas comes from fossilized dinosaurs. At least that's what they thought back in 1759 as the term "fossil fuel" was first used by German chemist Caspar Neumann. It turns out that oil formed from the remains of marine plants and animals that lived millions of years ago, even before the dinosaurs. Banannas!
Weapon of Choice
I originally planned to ride the DYNA with the large Leatherworks Inc saddle bags. So, a month before blast off, I sent it to a local custom bike shop. They found the front plug would foul after 8 miles. They changed out the ignition twice, coil, plugs and plug wires. No Joy. So I decide on the 2007 Nightster.
Lee Wimmer of Wimmer Custom Cycle decided to give me the Iron Butt Award. It goes with a hardy handshake and a slap on the back. So I have that going for me, which is nice!
Good Night, and have a Pleasant Tomorrow
We had an excellent time in Sturgis, a successful Flying Piston Silent Auction, and an outstanding ride to the Black Hills. Looking forward to 2023.