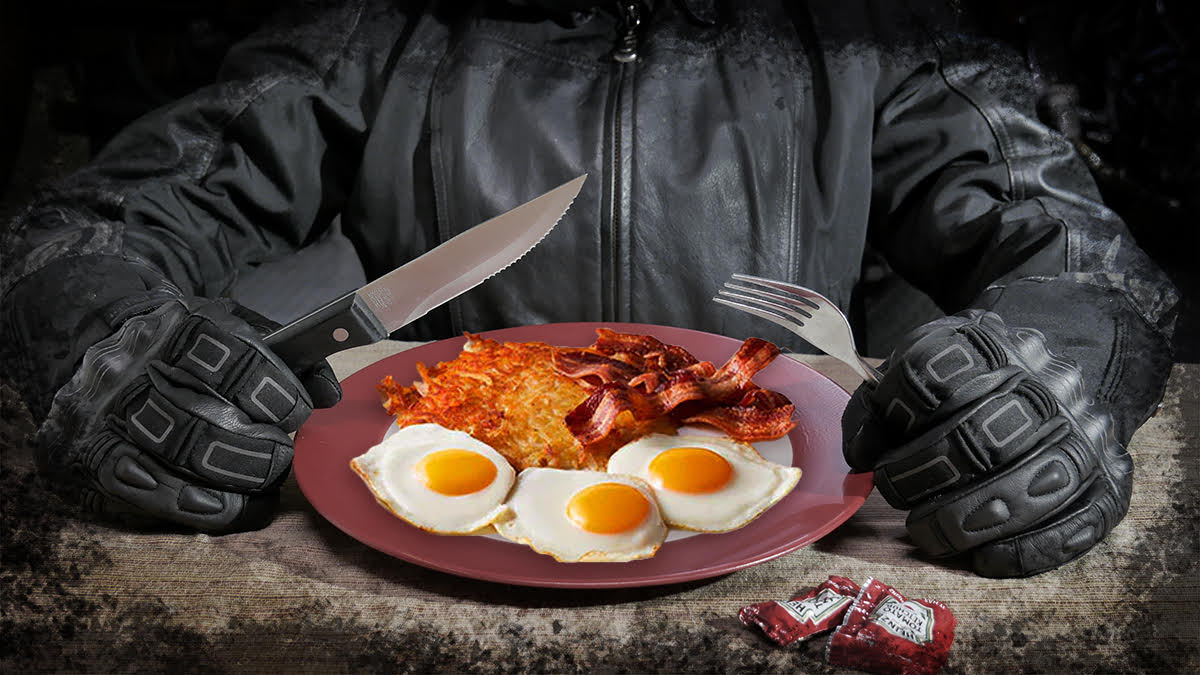 NEED TO FUEL UP? We Got You With Our 2022 Buffalo Chip Food List
In addition to beer and cocktails—and 80s hair metal bands—this rally shines the spotlight on local South Dakota food staples including buffalo, wild game, and steak tips.
There's no place like the Chip, so it should come as no surprise that while you're at The Best Party Anywhere® you can enjoy the most excellent biker chow of almost every variety. The following is the list of the 2022 Buffalo Chip Food Choices.
From fresh produce to pulled pork parfaits and everything in between, the amazing food vendors at the Chip will make sure your tank is never running on empty.
Flying Piston Benefit at Buffalo Chip's FREE-access CrossRoads
This charity event is a Breakfast Event that kicks-off at 9AM Sunday, August 7th: 8:30 – 11AM at Buffalo Chip – Proceeds go to All Kids Bike & Motorcycle Missions
Menu
Strong Coffee
Breakfast Burrito
Fruit
Juices
The Flying Piston Benefit Builders Breakfast began organically, as many efforts. But the event has evolved, bringing a firm goal into focus: to bring more riders into motorcycling. So your breakfast helps us provide bikes and bicycles to Kindergartner P.E. classes across the country. Last year we trained over 70,000 kiddos. Order your ticket today.
The Sturgis Buffalo Chip is a South Dakota campground surrounded by the state's famed Black Hills, and located about five miles from the town of Sturgis. For 10 days in August, this patch of land plays host to one of America's biggest parties one of America's biggest parties
Buffalo Chip's Food Vendors Located in the Amphitheater
BISON GRILL – Located in the Amphitheater
Enjoy the healthiest and greatest tasting Buffalo products around that will make you regret buying beef. Serving 100% pure Buffalo products the Buffalo Grill is the premier stop for any Buffalo Chip rider. Catering is offered to large groups as well.
Menu
Buffalo Burgers
Beef Burgers
Corn on the Cob
Frisbee Nachos on a souvenir frisbee.
BONAFIDE FOODS – Located in the South 40, next to the Wild Gypsy Tour.
Chef inspired- unique recipes, made from high quality ingredients prepared from scratch, with love. We are committed to locally sourced, farm-fresh all natural ingredients whenever possible! Come try our smoothies, award-winning donuts and signature Bombass Burritos!
CARAMEL CREATIONS – Located in the Amphitheater
Stop by Caramel Creations and bite into paradise with a Whiskey Apple. Making another return to the amphitheater, Caramel Creations offers different types of caramel apples with different toppings making each unique apple a masterpiece of flavor.
Menu
Caramel Apples
Jumbo Caramel Rolls
Jumbo Breakfast Burritos
Deli style foods
Fruit Cups
Premade sandwiches
Popcorn
Special
Caramel Apple Combo:
"Sweet & Salty" caramel apple with a bag of hot popcorn
THE COFFEE CRIB – Located in the Amphitheater
Start the night off right with a nice cup of coffee. Enjoy a nice place full of relaxation and tales of the greatest stories from other riders. Grab your wake-up-call by the Buffalo Chip Amphitheater.
Menu
Freshly brewed coffee and espresso drinks.
DOMINOS – Located in the Amphitheater
Dominos makes another return to the Buffalo Chip with their worldly renowned pizza to give riders a slice of Italy. Serving their famous pizza to satisfy any hunger day or night.
Menu
Off The Hook – Located in the Amphitheater.
Menu:
Crab cake sandwich
Shrimp poboy
Jambalaya
Crawfish etouffee
Fish tacos
Beignets
Banana fosters
Key lime pie
Alligator seafood steam pots
OLD SKOOL CONCESSIONS
Located at the CrossRoads
Making another return to the Legendary Buffalo Chip with the mouth-watering Indian Tacos, the Old Skool Concessions offers your mouth a treat it won't soon forget. With the distinctive taste and rich texture, this is a must-have for any rider.
Menu
Indian Tacos
Fry Bread smothered with Ranch Beans, Taco Meat, Lettuce, Cheese, Salsa, Onions,
Sour Cream, and Jalapeno Peppers.
Loaded Nachos
Tortilla Chips loaded with Taco Meat, Cheese, Salsa, Onions, Black Olives, Sour Cream, and Jalapeno Peppers.
1/4lb All Beef Hot Dogs
Bratwurst
Tater Tots and Cheese Tots
Pepsi, Diet Pepsi, Mt Dew, Diet Dew, 7Up, A&W Root Beer, Iced Tea, Sweet Tea, and Bottled Water
Also Serving Breakfast from 8:00 – 11:00 or so|
Biscuits and Sausage Gravy
Breakfast Burritos
Coffee
PHILLY TED'S CHEEZSTEAKS – Located at Crossroads and in the Amphitheater
Menu
Steak
Cheezsteak
Chicken
Chicken Cheezsteak
Chicken Wings
Nathon's Hot Dogs
Chicken Nuggets
Fries
PORKY'S BBQ – Located in the Amphitheater & Crossroads
Why not treat your taste buds to glistening BBQ and fall off the bone meats? After a long day of riding, this BBQ house is a critical stop for hungry riders. Visit each location full of different choices to satisfy any rider.
Menu
BBQ Stand
Pulled Pork Sandwich
Pork Tenderloin Sandwich
Beef Brisket Sandwich
Beef Tri-Tip Sandwich
Brisket Melt Sandwich
Smoked Prime Rib
2" Jumbo Pork Chops
Ribs (Full Slab)
Ribs (1/2 Slab)
Rib Tips
Turkey Leg
½ Chicken
¼ Chicken White
¼ Chicken Dark
Pork Kabob
Chicken Kabob
Pork Parfait
Stuffed Baked Potato
Stuffed Sweet Potato
Side Options: Baked Beans, Cole Slaw, Mashed Potatoes, Cream Corn, Macaroni & Cheese
SANTA LUCIA – Santa Lucia Mediterranean Grill – Located in the Amphitheater & Crossroads
Santa Lucia features a tasty variety of Mediterranean-style gyros on pita break – a full meal of lean meat and vegetables that tastes as good as it looks. You can also whet your whistle with a berry smoothie during those hot summer days.
Menu
Pita Sandwiches
Beef/Lamb gyros
Chicken Milano
Mediterranean Grilled Sausage
Seafood Milano
Veggie Delight
All pita sandwiches served on warm pita break with grilled veggies. All combination platters are served with home-cut, Santa Lucia seasoned fries.
Greek Salads
Cesar Salads
Add chicken or beef
Frozen Smoothies
Strawberry – Pina Colada
Frozen Lemonade
Kabobs
Chicken skewered and broiled, served with rice pilaf and salad
Corn Dogs
Baklava – Greek Pastry
Speakeasy
Menu
Steak:
Steak and fries
Steak and mash potatoes
Steak and cheetoo Mac and cheese
Steak and broccoli
Seafood:
Salmon and broccoli
Salmon and mashed potatoes
Catfish
Flounder
Butterfly shrimp
Grilled shrimp
Catfish Sandwich
Sandwiches:
Philly Cheesesteak and fries
Delux Philly Cheesesteak
Chicken Cheesesteak
Delux chicken Cheesesteak
Sides:
Sweet potato fries
Onion rings
Steak fries
Waffle fries
Fries
Asparagus
Baked potato
Mixed Vegetables
Appetizers:
Mozzarella sticks
Buffalo wings
Lemon pepper wings
Old Bay wings
Honey old bay wings
STAGE WEST CAFE – Located in the Amphitheater
Take a break from enjoying your favorite band and stop by the Stage West Café for VIP-quality food. Each night boasts a different specialty item on their menu making each night a truly different experience. Rumor has it that Stage West Café makes the best Prime Rib around, but don't take our word for it, check it out for yourself.
Breakfast Menu
BIKER'S SPECIAL—3 Pancakes or 2 French Toast, 3 sausage Links, and Scrambled Eggs
THE HOG—-Hashbrowns With Onions, peppers, ham, scrambled eggs and cheese with toast
FAT BOY—Scrambled Eggs, Hashbrowns, Bacon, Served with Toast
OLD LADY—-Bagel with Egg, Ham and cheese Served with Hashbrowns
SOFT TAIL——2 Biscuits and Gravy, Served with Hashbrowns
Dinner Menu
Breaded Chicken
Chicken Breast
Ham
Roast Beef
Roast Pork
Meatballs
All meals served with baked potato, vegetable and dinner roll
STURGIS RIDER CAFE – Located in the Amphitheater
Join us for breakfast every day starting at 6:00am! Breakfast burritos, eggs, sausage, ham and bacon! Pancakes, biscuits and gravy and fruit bowls too! Special chicken tenders and Rocky Mountain oysters served daily. Come by for our Woody's Dollar Dogs and Drafts, as well as FOOT LONG corn dogs! Wash it down with a drink and don't forget to save room for dessert: Funnel cakes, deep fried oreos, deep fried twinkies and more!
Open daily from 6:00am – 2:00am
Menu – Breakfast:
Oatmeal
Biscuits and Gravy and Coffee
Scrambled Eggs, Bacon, Toast with a coffee
Waffles
Waffles with bacon and eggs
Breakfast Drinks:
Milk/Chocolate Milk
Orange Juice
Coffee
Bloody Mary
Lunch/Dinner :
Hotdogs
Hamburger and Fries
Footlong Corndog
Franks Buffalo Chicken Sandwich w/fries
Philly Cheese and fries
Sweet Tacos
Frito Bowls
Super Nachos w/ chili
Nachos
Salad Bowl
Fruit Bowl
Lunch/Dinner Drinks:
Sodas
Water
Lemonade
Spiked Lemonade
Margaritas (Custom cup) – Strawberry, Lime, and Blood.
Deserts:
Funnel Cakes
Deep fried oreos or Twinkies
Ice Cream Cones
TACO CHIP – Located in the Amphitheater
Think you can handle the heat? You better hope so because the Taco Chip is serving up their newly developed tacos that will make any weak man run for the hills. Offering a variety of Tacos and spices for everyone, this food stop is a must.
Menu – Breakfast starting at 7am:
Breakfast Burritos
Breakfast Tacos
Biscuits and gravy
Breakfast Potatoes
Lunch and Dinner:
Specialty items:
Double Layered Taco
5 Layer Burrito
Taco Burgers
Homeslice Pizza & VooDoo Cajun – Both located at Bikini Beach
Buffalo Chip's FREE-access CrossRoads – CrossRoads Vendors & 2022 Buffalo Chip Food
Acres of paved vendor shopping await you at the Buffalo Chip's FREE-access CrossRoads destination. Listen to the live entertainment from the CrossRoads Stage as you browse items ranging from furs to firearms, get a tune up or trick out at the Buffalo Chip Garage or test ride brand new motorcycles!
Aces CBD
All-Bout Customz – Air Shocks, Cleaning Products, Electric Center Stands, Zeus Lock, Handlebars and MORE!
America's Mighty Warriors – America's Mighty Warriors mission is to honor the sacrifices of our troops, the fallen and their families by providing programs that improve quality of life, resiliency and recovery.
American Veterans Travelling Tribute – American Veterans Traveling Tribute (AVTT) is a multi-division, nationally recognized Veteran owned and operated small business. AVTT prides itself on the support of our Armed Forces and continues our mission of Honor Respect Remembrance for our fallen and serving men and women in uniform. Additionally, AVTT allows those without the means or ability to travel to our great national memorial sites to pay respect and share in the experience of honoring our heroes.
Armatac – Located in the Buffalo Chip Military Charity building with America's Mighty Warrior. Armatac is committed to producing the world's first high capacity feeding device that can be used as a replacement for heavy belt fed weaponry in the role of the light machine gun.
Badass Beard Care – Our beard oils and beard balms are designed with all natural ingredients to leave your glorious face jacket looking, feeling, and smelling great! Plus so much more. We use the best premium oils and butters when hand crafting out products
Baja Jerky – Located in both Amphitheater and CrossRoads
If you're anything like us, you want variety and enjoy having choices that can help customize your flavor experience. We deliver a protein-packed snack that replenishes your outdoor life. Now experience the Fresh, Flavorful and Exciting depths of natural Baja inspired ingredient that truly produce the most flavorful jerky on the market.
Biker Nation Apparel – Classic apparel! Women's and men's clothing, accessories and headwear galore!
Little Coffee Cabin – Located at CrossRoads.
About The Flying Piston: The Flying Piston Benefit produces two charity breakfasts, one in Sturgis and one in Daytona Beach. The team behind the scenes includes Marilyn Stemp of Iron Trader News and Jeff Najar of Horsepower Marketing.  Their passion is to raise awareness and funds for non-profits and individuals in the motorcycle and veterans community. Visit www.flyingpistonbenefit.com or contact: marilynstemp@gmail.com, 828-205-8482. To get connected with the Piston, click here  To see everything that is happening at the 2022 Flying Piston Benefit Builders Breakfast, Click here.