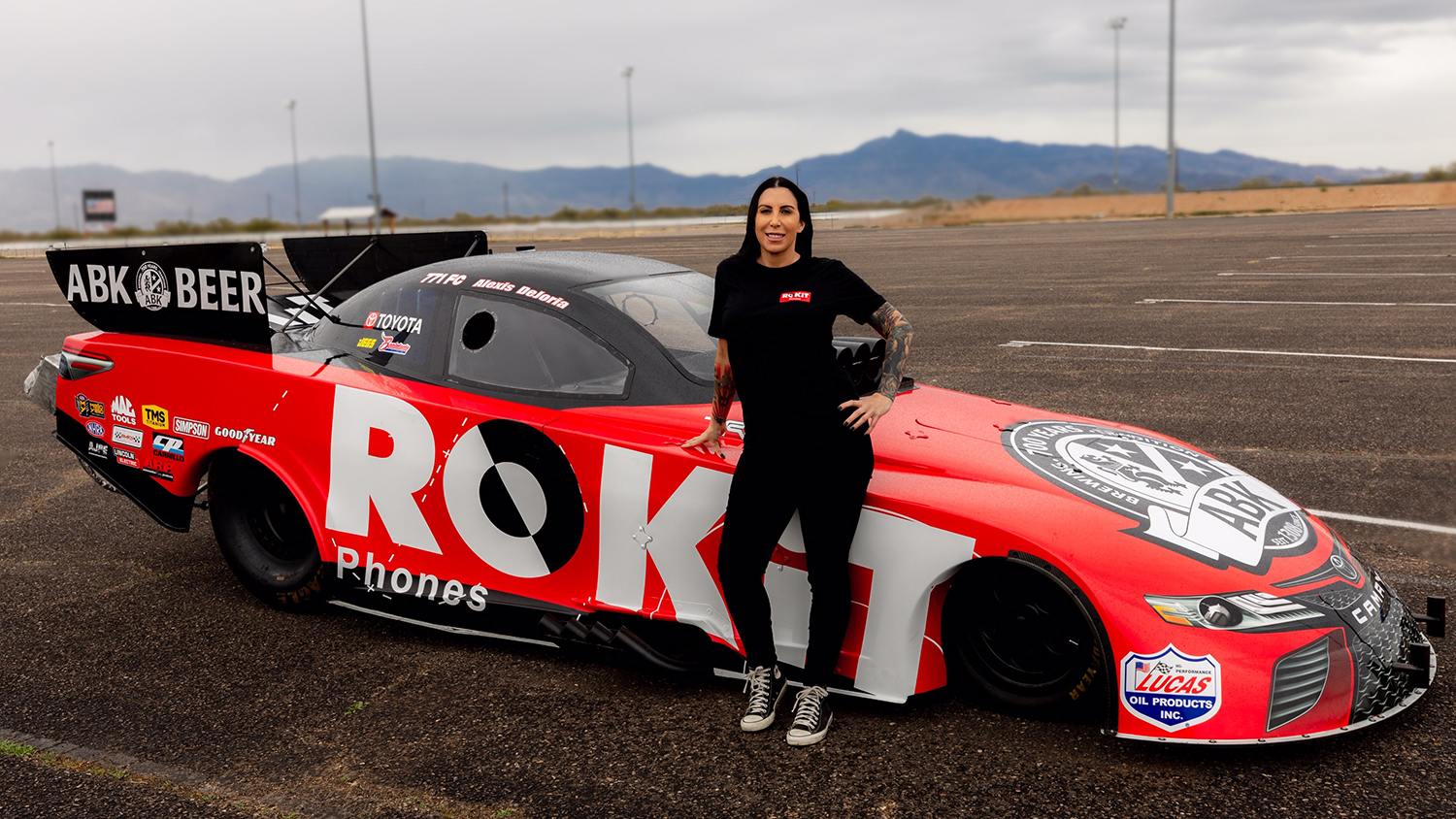 Pilot of one of the world's fastest and most powerful race cars, NHRA superstar Alexis DeJoria brings a different energy to the motorsports industry with her 'rock n roll' vibe.
As a top ten driver competing in the 24-race NHRA Mello Yello Drag Racing Series, DeJoria races her 10,000-horsepower Toyota Camry Funny Car at speeds over 330-mph.
DeJoria's nitromethane-burning Funny Car launches faster than a rocket ship, going from zero to 100-mph in less than one second as it covers the 1,000-foot drag strip in three quick seconds.
Now in her sixth year competing as a professional Funny Car racer, DeJoria's NHRA journey to the top began many years earlier.
DeJoria was bitten by the racing bug at 16 when a friend brought her to the famed Pomona, California drag strip. From the first time she laid eyes on the fire breathing monsters known as Funny Cars, DeJoria knew she would someday pilot one. DeJoria started learning the ropes and quickly worked her way through the NHRA's non-professional Sportsman classes.
She began her NHRA career in 2005, first competing in the Super Gas category and then moving into a rear engine Super Comp dragster. Within eight months of her NHRA debut, DeJoria advanced to two final rounds and went on to win the Sportsman Nationals in Fontana, Calif. Feeling comfortable with her success and looking to go faster, DeJoria moved into a Top Alcohol Funny Car (TAFC), spending two years with a two-car team, competing primarily on the West coast.  In 2009, DeJoria made a major commitment by building her own team, Stealth Motorsports. She co-owned and operated the team for three years and is one of the few females ever to do so.
While racing and operating Stealth, DeJoria made her way to four national event final rounds, won a divisional event, and raced her way to the Winners Circle at the 2011 NHRA Northwest Fall Nationals, claiming her first ever NHRA national event victory in the TAFC category. DeJoria was only the second woman to win a national TAFC event.
After a year of testing in a Funny Car, DeJoria made her highly anticipated leap from TAFC to Funny Car at the 2011 Texas Fall Nationals, joining the legendary Kalitta Motorsports team as their fourth member and second Funny Car driver.
During her 2012 rookie season, DeJoria impressed fans everywhere when she raced her way to a final round appearance at the NHRA Thunder Valley Nationals in Bristol, Tenn.
During her sophomore season, DeJoria raced to four semi-final finishes, but it was not until her third full year that she really caught her stride. In 2014 DeJoria enjoyed what can only be described as her 'breakout season.' In Pomona, Calif. during the NHRA Winternationals, DeJoria made history becoming the first woman to make a sub-four second run with a 3.997 second elapsed time. At the very next event in Phoenix, DeJoria achieved her goal of winning her first race in the Funny Car category. Just one month later, she picked up the second win of her professional career in Las Vegas. Adding more excitement to her third year, she later broke a track record at Atlanta Dragway while earning her first Number One qualifier position. Later that summer, she made history at Brainerd International Raceway when she ran the first sub-four second Funny Car pass recorded at the Minnesota racetrack. DeJoria then went on to win the highly coveted U.S. Nationals in Indianapolis, aka 'The Superbowl of Drag Racing,' and later, capped off 2014 with another No. 1 qualifier at the season closer. During the 2014 season, DeJoria qualified for her first Countdown to the Championship.
In 2015, DeJoria's fourth year as a professional Funny Car pilot, she reset her personal E.T. and speed records multiple times, and in September, qualified for her second Countdown to the Championship playoff run, finishing the season ranked 8th.
During the 2016 NHRA season, DeJoria became the first female to compete in 100 Funny Car events, won her fourth Funny Car event, added another No. 1 qualifying position to her ever-growing resume, and finished the season ranked in the top ten for the third consecutive year.
Now in her sixth season as the pilot of the Toyota Camry, DeJoria is looking to build on her success and add even more Wallys to her growing trophy collection.
DeJoria is currently the only driver to claim wins in each the Super Comp, Top Alcohol Funny Car, and Funny Car classes. She is one of just two women competing in the NHRA's Funny Car category and has her sights set on the ultimate career goal: becoming the first female in the sport's 60+ year history to win the NHRA Funny Car World Championship. Having the support of a dedicated team has helped DeJoria live her dream of competing at the highest level in NHRA Drag Racing.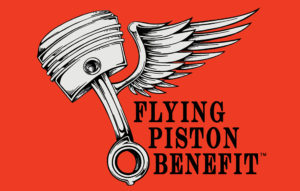 About Flying Piston Benefit: The Flying Piston Benefit is produced by Marilyn Stemp of and Jeff Najar from Horsepower Marketing, a marketing and promotions company to raise awareness and funds for non-profits and individuals in the biker community. Each year the Flying Piston Benefit hosts a builders breakfast at the Sturgis Buffalo Chip the first Sunday of Sturgis Rally. Contact: the team or Marilyn Stemp, 828-205-8482, marilynstemp@gmail.com or www.theflyingpiston.com for details.