NASCAR Great Rusty Wallace's Southern Country Customs
Builds Bad-Ass Custom Bagger Motorcycles

Hall of Famer Rusty Wallace is a typical Harley owner in many respects, except he and his son, Stephen, own Southern Country Customs, a premier builder of custom Harley-Davidson motorcycles.
The Wallace family is synonymous with racing as Rusty and Stephen have all found success on the track, including Rusty's 1989 NASCAR Cup Series championship and his 2013 NASCAR Hall of Fame induction. Southern Country Customs (SCC) operates from a 15,000 square foot facility and is based in the heart of NASCAR country in Mooresville, NC. They offer a range of services from full custom design and build to suspension and engine upgrades to tuning and paint.
Tour of the Shop

CSS Building Crazy Cool Baggers

The CSS crew built this 2021 Harley Davidson Road Glide Special that is packed full of features including
114 cubic inch engine, with upgraded cam, intake and custom SCC exhaust
Bolt on neck kit with SCC setup
Full air ride with electric center stand
26" front wheel in Stryker Orange
Tri-color paint: asymmetrical nardo grey base with vivid black and Stryker orange accents
Upgraded audio includes speaker lids, additional amps and 6×9 Iron from the guys at Soundz
Custom seat by Topstitch
Fatty handle bars with air ride switches
This CSS Bagger, from front to back, represents the type of bikes that come out of their Mooresville shop. This bike and the other premium bikes from CSS are unique and made for riders.
Rusty Wallace Brings his Motorcycles to the Flying Piston
If you like motorcycles and you like stories, then hanging with Mr. Wallace is some of the most fun and engaging time that you will have.
He is a regular at Daytona Bike Week and Sturgis Motorcycle Rally and for the last number of years he has supported the Flying Piston Benefit charity event by riding his custom baggers to the event and showcasing them during the breakfast.
Planning on attending the 2023 Sturgis Rally? Then include the Flying Piston on your itinerary.  Come out for breakfast and meet some interesting builders and artists—we have the details here.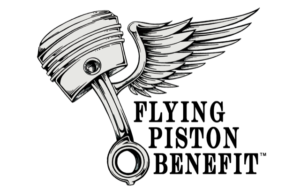 The 2023 Sturgis edition of the  Flying Piston Benefit Builders Breakfast is produced by Marilyn Stemp of Iron Trader News and Jeff Najar of Horsepower Marketing.  Our work raises awareness and funds for non-profits and individuals in the motorcycle community, vets, and kindergarteners. Our funds are directed to All Kids Bike and Motorcycle Missions.