Donny Devito, President and Chief Operating Officer of KIRSH Helmets, is the go-to guy for introducing the latest technology in helmets – the KIRSH'S CHM-1 Helmet Technology.
I met up with Donny at the 2022 Flying Piston Benefit during Daytona Bikeweek and discussed his latest product offering, the CHM-1, which features fluid displacement technology.
What is this Fluid Technology?
KIRSH's innovative liner features fluid, not Styrofoam. Because of its fluid, it performs better at both low and high-energy impacts, from any direction at any one point in time.
KIRSH says that the silicone and fluid construct mimic the body's natural protective functions. The brain sits in fluid in the skull. And now with this technology, the skull sits in the fluid within the helmet.
This allows for less mass, reducing impact torque, and a fluid buffer that more effectively protects the skull and brain… meaning that it has better brain protection.  And the malleability of the liner ensures that it conforms uniquely to each user's head, ensuring better protection and a custom fit, which means much greater comfort.
How does the CHM-1 Feel on a Ride?
I talked with Bill Brissette about his real-world road test.  Bill is a hardcore long-distance rider that within 4 months put 10,000 miles on a brand new bike wearing the CHM-1 helmet. Previous bikes clocked 112,000 miles in six years and 158,000 miles in nine years.
He said that in high wind conditions riding between 65 to 80mph the helmet acts like a gyroscope. "My head's never been so steady and stable," explained Bissette. "It's really bizarre. I don't know how else to describe it."
Bill also said that the gel shapes to the contours of your head and at the same time you can feel cooling because you feel the air circulating around your head.
And the fit? "They really fit snug nicely across the face so I don't have any strap smacking me or moving around or making a whiny noise in the wind," commented Bill.
6 Questions with Donnie Devito, President of KISH Helmets
Question: Why when everyone is sourcing products overseas is he building an American-made product.
Donnie Devito – We found out that v-twin riders really valued American-made products. And we know it is better for the United States.
Question: KIRSH Helmets employ veterans and Americans with disabilities. Why is that important?
Donnie Devito – Both veterans and Americans with disabilities show up. They work hard and care about the work they do. And they get excited about doing things to make a difference.
Question:  Why do you think that you get so much loyalty from your product?
Donnie Devito – The proof is in the ride. Riders come back and say how stable that helmet is. They experience the freedom of riding without having to think about the helmet. You don't have to think about buffeting and the discomfort that comes from that or neck strain or head wobble. You can look around and actually enjoy your ride and focus more on the experience of riding.
Question:  In Sturgis last year I saw a peculiar sight. At your booth, you were pulling helmets out of a refrigerator. Why?
Donnie Devito – It's probably one of the best features. Riders can chill the liner for 10 minutes and get a couple of hours of a cool head.
Question:  So what's your most popular color of helmet?
Donnie Devito – Matte black or gloss black, no surprise there. Also very popular is our hydro-dipped patriotic helmet.
Question:  Where can you get a helmet?
Donnie Devito – Check out the website at KIRSH Helmets. You can get it online from us or go to the dealer locator on the site. Also, check them out at the Indian Motorcycle Sturgis located at 2130 Main St, Sturgis, SD 57785.
Win a KIRSH Helmet at the Flying Piston Benefit
Experience the technology for yourself. A custom signed KIRSH helmet that features Billy Lane's Son of Speed racing is up for auction at the 2022 Sturgis edition of the Flying Piston Benefit.  Click here for the online Flying Piston Benefit silent auction.
About The Flying Piston Benefit Builders Breakfast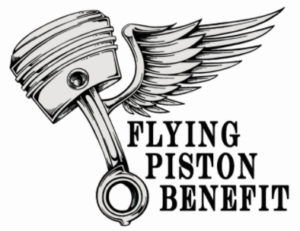 The 2022 Sturgis edition of the  Flying Piston Benefit Builders Breakfast is produced by Marilyn Stemp of Iron Trader News and Jeff Najar of Green Forest Brand.  Our work raises awareness and funds for non-profits and individuals in the motorcycle community, vets, and kindergarteners.
For more information, please contact marilynstemp(at)gmail.com, 828-205-8482. To get involved with the Piston, click here. 
Flying Piston Benefit Flyer