Professional Advice from Nick of NJValente Art on How to Paint a Skateboard
What you need to know: Nick Valente is a teacher. And he teaches around Florida and on the YouTube channel – check out his channel at NJValente Art.
What's New: He created a video on how he went about prepping the board and painting a skate deck for the Flying Piston Benefit that was held on March of 2023. We think his Lyon head is one of the coolest decks at our event.
About Nick: He has been creating art as a freelancer for almost 15 years. He lives on the Space Coast of Florida, and has taught various art workshops across the state and continues to teach people on his YouTube channel,
Video Instruction

Nick participated in the Art on Deck competition sponsored by Gnarly Magazine for the Flying Piston Benefit in Daytona. His participation was much appreciated and his deck was very popular at the auction.
If you are planning on attending an upcoming Sturgis Rally or Daytona Bike Week, then consider on meeting us at the Flying Piston Benefit Builders Breakfast. Check out our  past and future Flying Piston events here.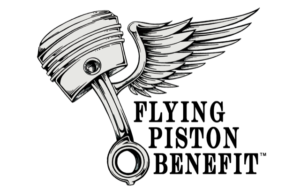 About the Flying Piston Benefit Team
The Flying Piston Benefit Builders Breakfast is produced by Marilyn Stemp of Iron Trader News and Jeff Najar of Green Forest Brand.  Our work raises awareness and funds for non-profits and individuals in the motorcycle community, vets, and kindergarteners. Our funds are directed to All Kids Bike and Motorcycle Missions.