Meet the Flying Piston Skateboard Artists
We love motorcycle art. Really, we can't get enough of it. From illustrations to paint to pinstripe to leather, it all has a satisfying experience. It looks good on the bike, at the office, in the bedroom, and in the shop.  That's why we came up with the Flying Piston Artists on Deck feature.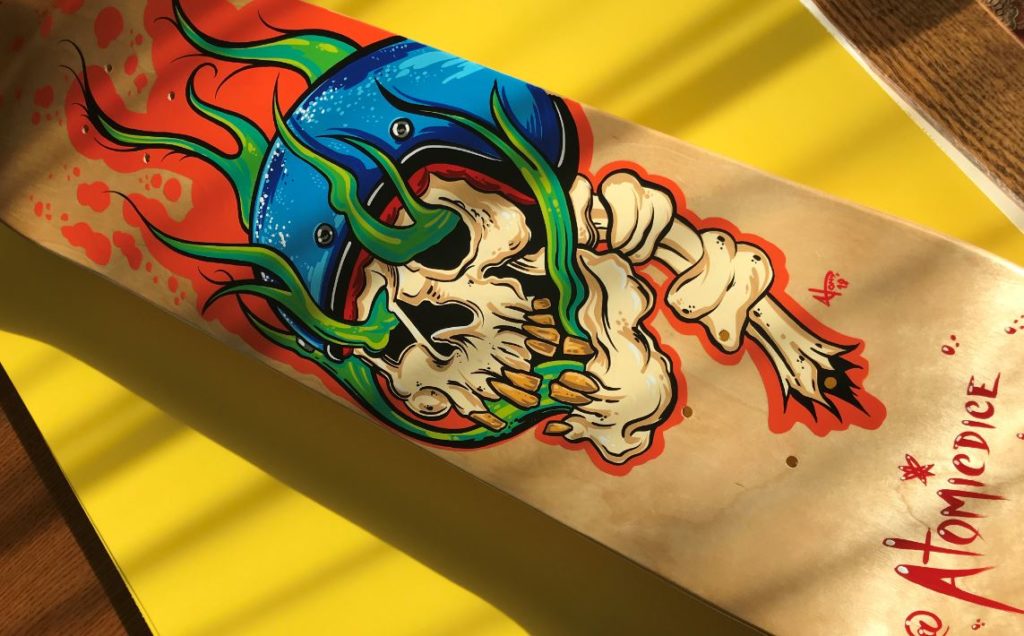 We supply a skateboard and each skateboard is painted by artists from across the country. We are excited that  Austin Andrella of Austin Martin Originals,  a premier custom bike builder, has agreed to create a Skateboard deck display for the project.
2020 Flying Piston Skateboard Artists
We are looking for additional artists to participate in the 2020 edition of the Flying Piston Benefit. We have just a few more slots to fill. If you are interested, please click here to reach out to the producers, Marilyn Stemp and Jeff Najar.
About The Flying Piston Benefit: The Flying Piston Benefit events are produced by Marilyn Stemp of Iron Trader News and Jeff Najar of Horsepower Marketing to assist in raising awareness and funds for non-profits and individuals in the biker community. New ridership and veteran's concerns are the focus.
In addition to Motorcycle Missions, Flying Piston Breakfast proceeds support AllKidsBike.org, a foundation that makes bike riding a part of the kindergarten curriculum in schools, with the goal to cover the nation.
The Builders Breakfast began organically, as many efforts. But the event has evolved, bringing a firm goal into focus: to bring more riders into motorcycling.
Where are the new motorcycle riders? Right now, they're in kindergarten!
To get involved with the Flying Piston Benefit, click here to connect with us.