Flying Piston Benefit Donates Bikes to Ormond Beach Elementary Through our Bike Week Charity Breakfast
The Flying Piston Benefit, working with Bruce Rossmeyer's Daytona Harley-Davidson and AllKidsBikes.org, donates Strider bikes and balance bikes to the Ormond Beach Elementary school.
Ormond Beach Elementary School is a public school located in Ormond Beach, FL, which is in a small city setting. This is the same elementary school that Shelly and Mandy Rossmeyer attended as kiddos. Test scores at this school are above the state average.
"Bikers are very generous people," Mandy Rossmeyer said. "… We had people coming from out of our area here to help raise money for a local school and for our community, which I think is great."
P.E. Teacher Ryan Moore is Excited About the Bike Program
"We are so excited to begin the 'ALL KIDS BIKE' program at OBE," explained Ryan Moore. "Our Principal, Shannon Hay, is 100% behind me implementing the new program as soon as possible and getting our kids riding."
With the help of the Flying Piston Benefit, the program has been funded nationwide in 563 schools, impacting over 78,000 students as of March 31. In the state of Florida, 18 schools are running the kindergarten PE program, meaning over 12,000 students will learn to ride a bike in school.
As a former PE teacher, Rossmeyer said she feels it's important for kids to go outside and be active. Knowing how to ride a bike is a step towards encouraging that, and the All Kids Bike program also provides helmets, as well as training and curriculum for teachers.
Kickoff of the All Kids Bike Program
School deliveries are super fun!
Overview of Ormond Beach Elementary School
The student population of Ormond Beach Elementary School is 245 and the school serves K-5. At Ormond Beach Elementary School, 62% of students scored at or above the proficient level for math, and 67% scored at or above that level for reading.
The school's minority student enrollment is 27%. The student-teacher ratio is 13:1, which is better than that of the district.
The student population is made up of 55% female students and 45% male students. The school enrolls 59% of economically disadvantaged students. There are 19 equivalent full-time teachers and 1 full-time school counselor.
About Bruce Rossmeyer's Daytona Harley-Davidson®
Established in 1994, Bruce Rossmeyer's Daytona Harley-Davidson® and its world-famous 109,000 square foot showroom located at Bruce Rossmeyer's Destination Daytona is the area's premier source for Genuine Harley-Davidson® motorcycles, MotorClothes®, official licensed products, parts, accessories, authorized service, rentals and Harley-Davidson® Riding Academy.
Family-owned and operated since its inception, Daytona Harley-Davidson® prides itself in providing the ultimate buying experience to the Harley-Davidson® enthusiast. Whether it's a new Bike purchase, an oil change, or choosing one of thousands of styles of Dealership t-shirts available. Along with New Smyrna Harley-Davidson® and its Main Street satellite store, Bruce Rossmeyer's Daytona Harley-Davidson® and all of its 100+ associates are dedicated to delivering "The Bruce Rossmeyer Difference."
About Strider and All Kids Bike
Strider designs lightweight, efficient, all-terrain bikes that build two-wheeled balance, coordination, and confidence in children. Strider is changing the paradigm of how kids learn to ride through AllKidsBike, which seeks to teach every kid how to ride a bike in kindergarten P.E. class. www.AllKidsBike.org, www.Striderbikes.com.
About The Flying Piston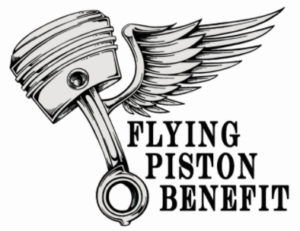 The Flying Piston Benefit loves to donate Bikes to Ormond Beach Elementary.
The 2nd Annual Flying Piston Benefit Builders Breakfast was held at the Pavilion on the grounds of Bruce Rossmeyer's Daytona Harley-Davidson at Destination Daytona in Ormond Beach, FL on Sunday, March 6, 2022. Participants enjoyed exclusive entry to the Destination Daytona Pavilion, access to the builder community and, of course, breakfast. Proceeds support All Kids Bike, a program of the Strider Education Foundation that's on a mission to teach every child in America to ride a bicycle as part of kindergarten PE class
Sponsors include: Bruce Rossmeyer's Daytona H-D, Rubenstein Law, STACYC, Strider, Kirsh Helmets, Hot Leathers, Klock Werks, Cometic, Sturgis Buffalo Chip, Atomic Bob, Adam Croft, Bass Metal Craft, Steve's Garage, Suspension Technologies, Flitz, Twisted Fork & Spoon, Bikernet, Cycle Source, Open Road Radio and Iron Trader News.
The 2022 Sturgis edition of the  Flying Piston Benefit Builders Breakfast is produced by Marilyn Stemp of Iron Trader News and Jeff Najar of Green Forest Brand.  Our work raises awareness and funds for non-profits and individuals in the motorcycle community, vets, and kindergartners.
For more information, please contact marilynstemp(at)gmail.com, 828-205-8482. To get involved with the Piston, click here.