Savannah Rose Goes Retro with the 2020 Flying Piston Strider Build
When Marilyn Stemp sent me a message asking if I wanted to build a custom Strider bike for the Flying Piston Builders Breakfast, I think I had the reply crafted and sent within .003 seconds.
After seeing last year's incredible tiny-bike build by Jessi Combs, who was a friend and a hero of mine, I knew that I had to build one, too. Jessi, in fact, taught me to MIG weld and was the inspiration in me learning to TIG weld, too. So, the driving forces in my builds have always been powerful women, like both Marilyn and Jessi, among many others.
When the stock Strider arrived at my door, just as snow began to fall in Wisconsin, I was elated. I immediately got it out of the box, put it together and attempted to ride it around. (NOTE: These little 12" tall balance bikes aren't exactly built for someone my size, and it was both hilarious and embarrassing to try..)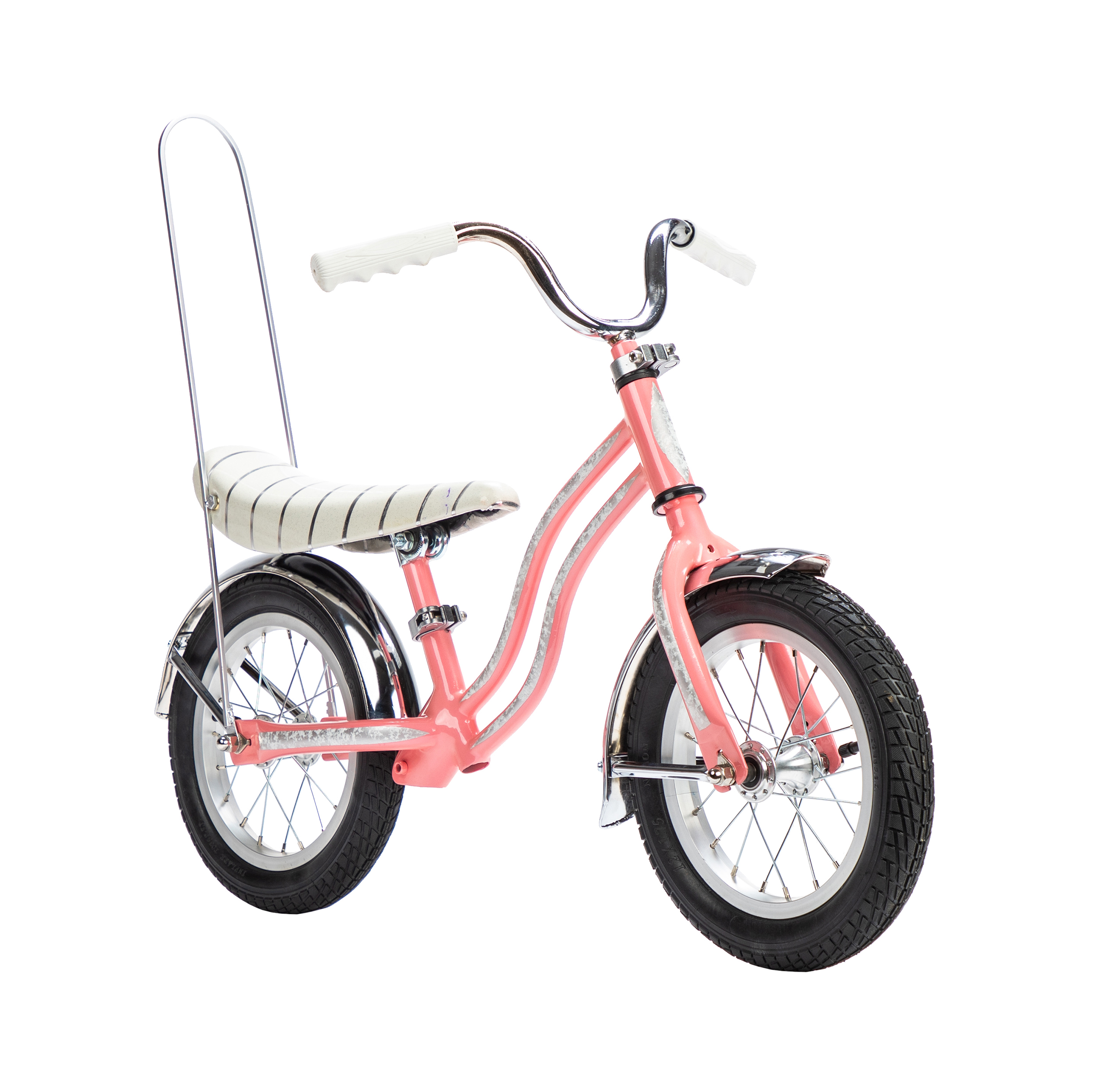 I then proceeded to stare at it. For days. Maybe even a week or three. I've always been a procrastinator, and that wasn't going to change for this build!
Finally it hit me – I knew what to do with the tiny pink balance bike. Having grown up in Long Beach, CA, I had always been close to the lowrider scene, but I never managed to actually own or build a lowrider of any sort, be it a car or a bicycle.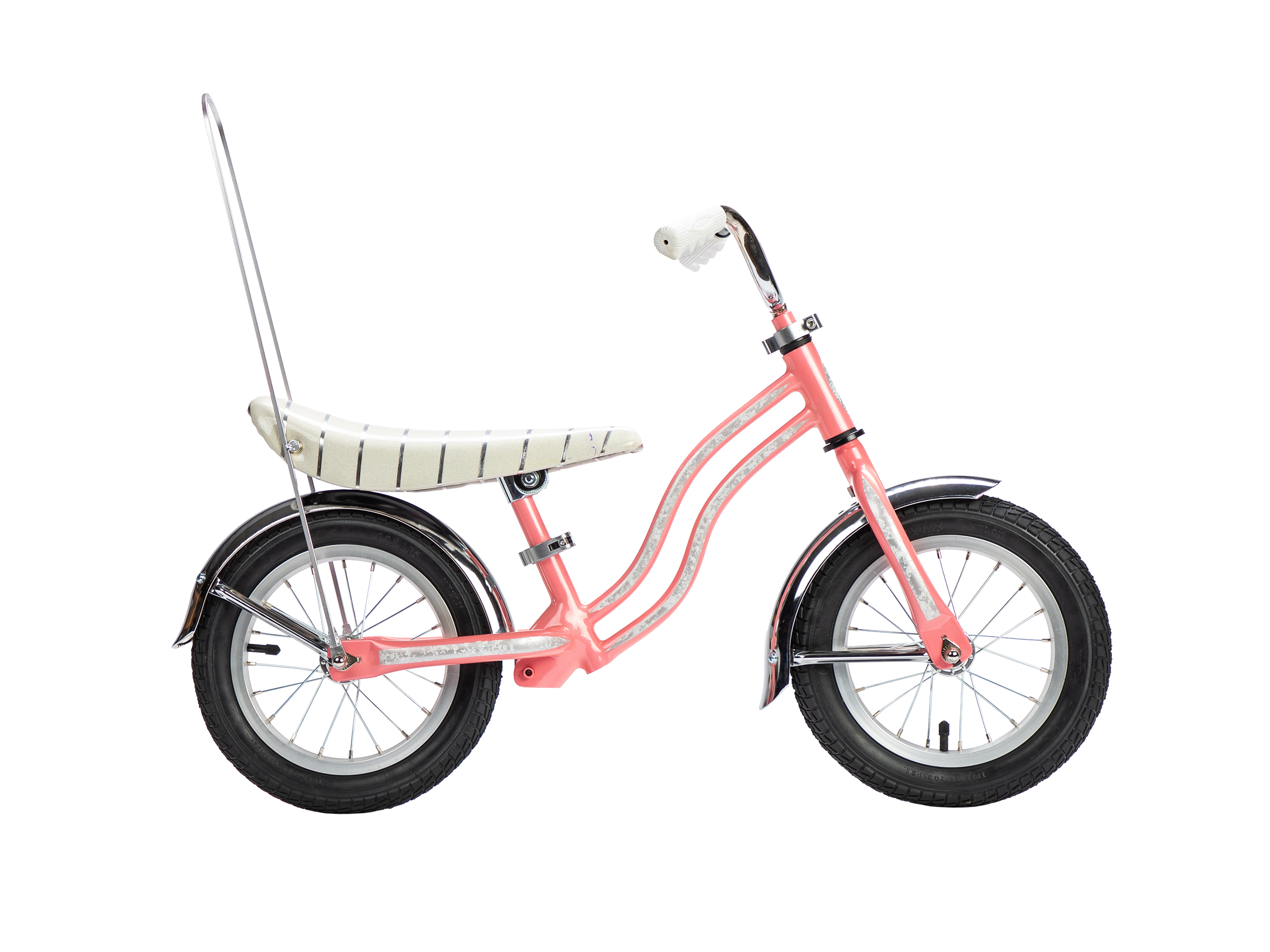 Lowriders first really appeared in the 60's in California, starting in vehicles and spreading to kids and their bicycles. Lowriders have always been about the artistic aspect, something that is SO important to me. Around the same era, custom choppers with similar looks also gained popularity – and if you see my Sportster, you'll definitely catch the 60's short chop vibe that also heavily influenced my Strider build.
Drawing on the Stingray trend, combined with the vibe of my H-D Sportster, I set out to build a 60's style balance bike. The pink had to stay, of course, as my favorite lowrider is the Gypsy Rose Impala built by Jesse Valdez, named after burlesque dancer Gypsy Rose Lee.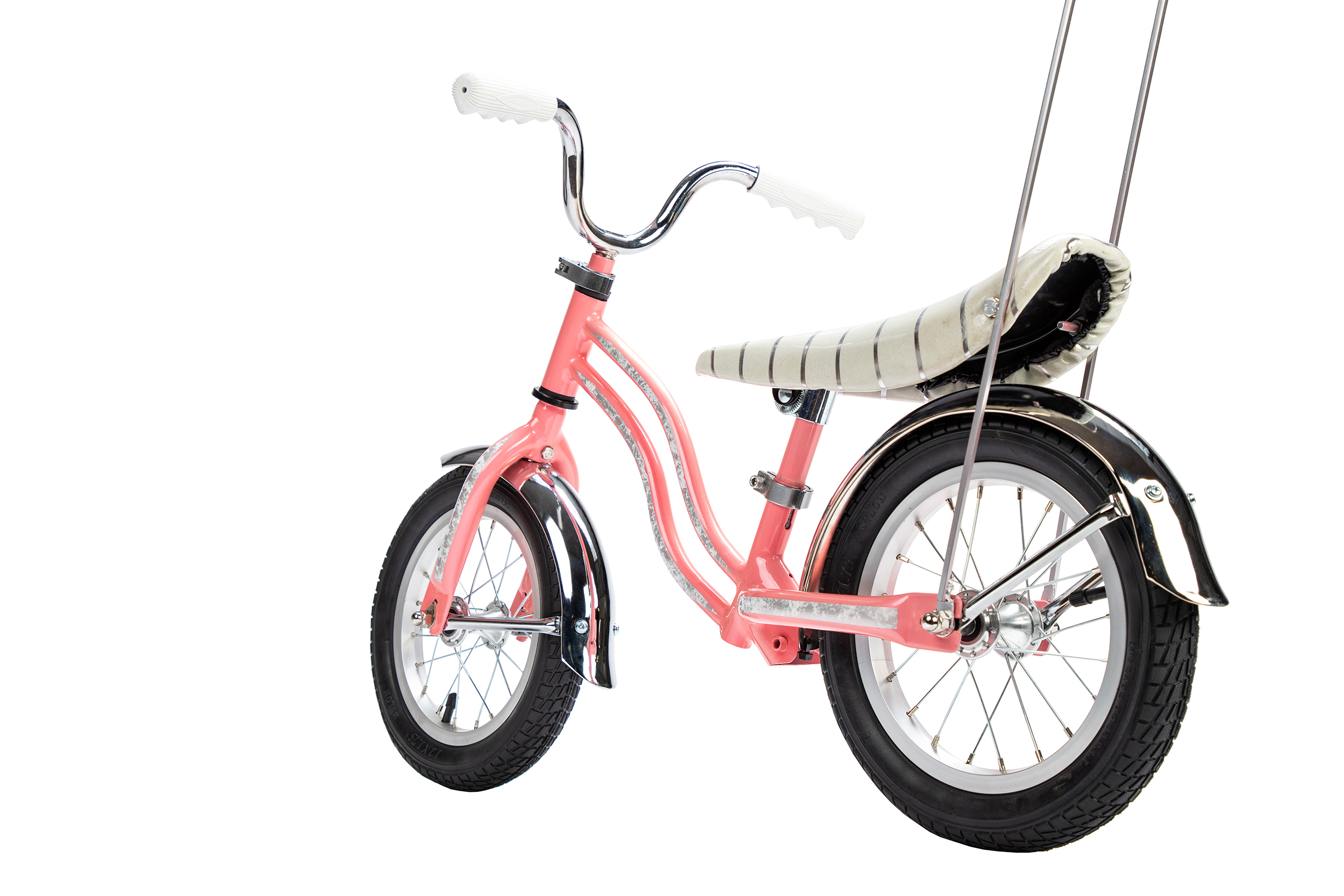 The first thing I did was take a grinder with a cut-off wheel to the frame. I removed the single chunky frame tube, keeping only the neck and the rear of the frame behind the seat post. In its place, I put my Lincoln Electric TIG 200 to work, and welded two swoopy tubes, reminiscent of the "girl's" FairLady bikes of the 60's. I kept the stock rake of the neck tube, just like I did on my Sporty.
I added quite a few parts too, including a handmade sissy bar that holds up the classic white banana seat. I replaced the "mag" style wheels with spoked ones, the kind any lowrider bicycle should have. Strider's spoke wheels fit the bill perfectly. Wrapping around each of these wheels is a chrome fender, because any lowrider needs as much chrome as you can throw at it. Up front, I replaced the stock T bars with a set of tricycle bars that best resembles my Sportster's handlebars.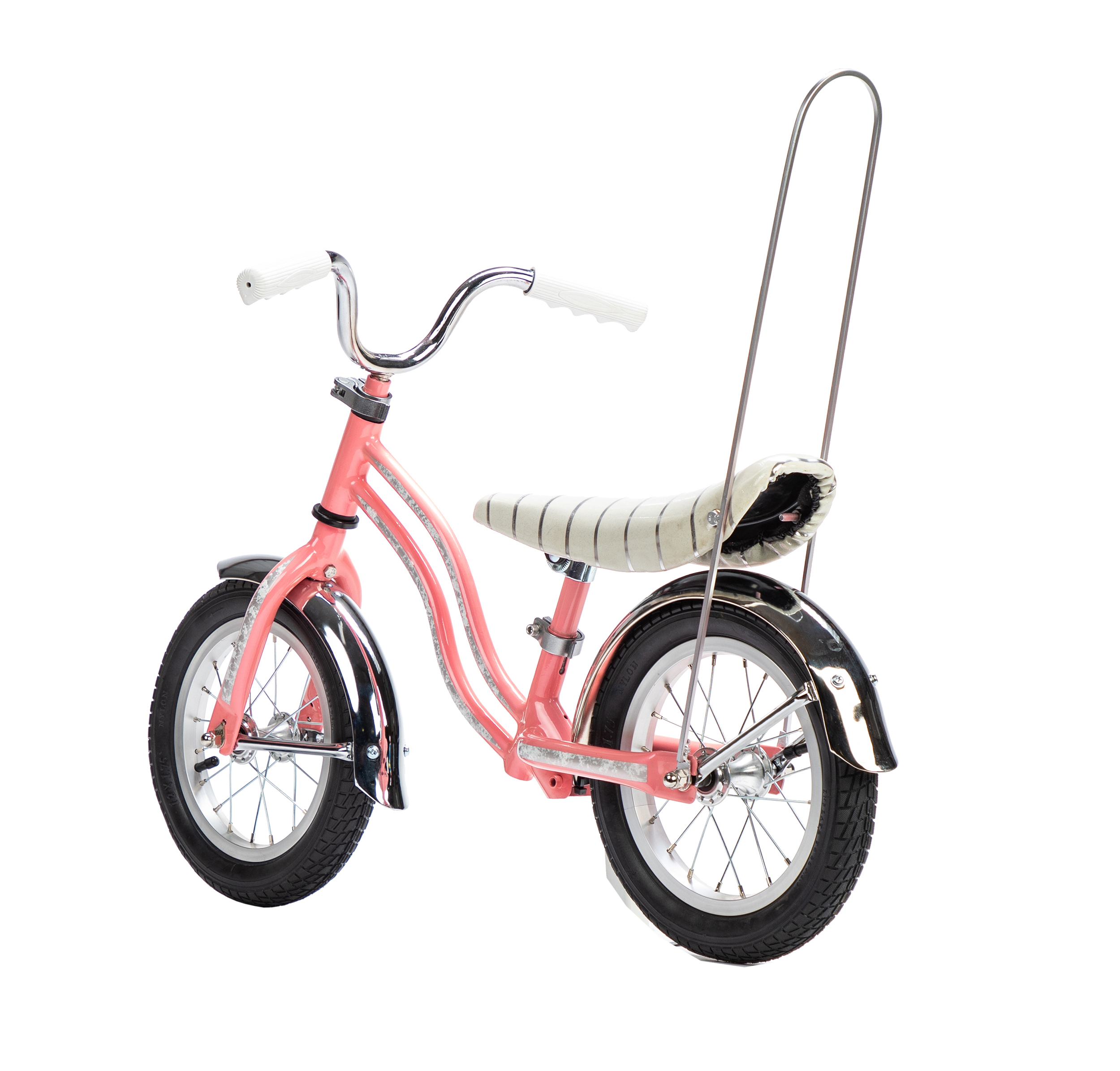 As for the paint, I decided to go with a solid warm bubblegum pink, closely resembling the Gypsy Rose. Unfortunately, I'm not so talented with a pinstripe brush, so rather than roses I settled on a white marble finish atop silver paneling. And of course, I had to add some pink pearl to the many layers of clear, because everyone knows, sparkly is always better!
As a Strider Ambassador, I wanted to be part of this project to influence more kids to ride, especially more little girls. I also hope to inspire them, and show them that they too can build cool customs. One day, I hope to see a ton of little girls learning to ride Striders, and hopefully learn to ride and build incredible custom motorcycles, too.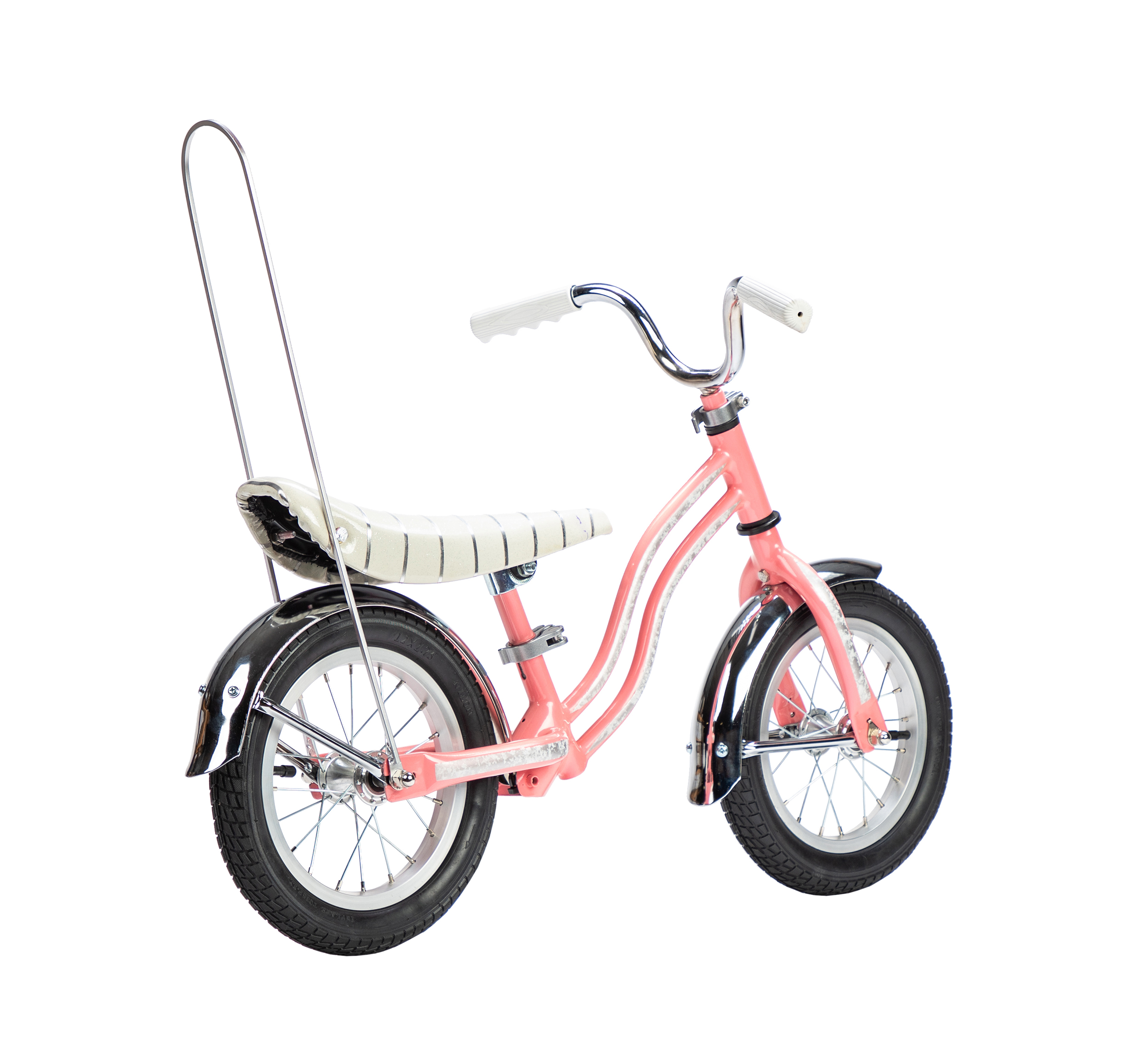 Flying Piston Benefit Custom Strider Class of 2020
The 2020 star Strider builders areSavannah Rose, WomenRidersNow Build Team, Lena Fairless, JoAnn Bortles, Ron Finch, Ashmore Ellis, and Cris Sommer Simmons.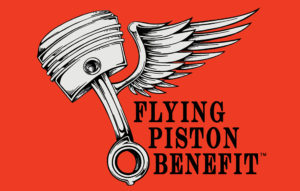 About Flying Piston Benefit: The Flying Piston Benefit is produced by Marilyn Stemp of Iron Trader News and Jeff Najar of Horsepower Marketing. The event and silent auction supports veterans issues and the motorcycle industry through fundraisers for non-profits and individuals.
Each Flying Piston Benefit provides a silent auction that is art-oriented and also includes unique and collectible items.
Each event also doubles as an industry get together where enthusiasts, businessmen and women, custom builders, athletes, and artists come together to socialize, enjoy breakfast and support a worthy cause.
To get involved, contact Marilyn Stemp at our contact page or text her at 828-205-8482.
Watch the Flying Piston Facebook page for our latest updates.
About Flying Piston Custom Striders: The Custom Strider Program is an initiative of The Flying Piston Benefit produced by Marilyn Stemp of Iron Trader News and Jeff Najar of Horsepower Marketing to raise awareness and funds for vets and the motorcycle industry through fundraisers for non-profits and individuals in the biker community. Each year a new class is unveiled at the Flying Piston Benefit Builders Breakfast at the Sturgis Buffalo Chip during the first Sunday of Sturgis Rally. Contact: Marilyn Stemp, 828-205-8482, marilynstemp@gmail.com or Flying Piston Benefit.
About Strider: Strider designs lightweight bikes that build two-wheeled balance, coordination, and confidence in children. Strider is helping kids learn to ride and developing new motorcycle riders through the AllKidsBike movement which makes bike-riding a part of the kindergarten curriculum. www.allkidsbike.org, www.striderbikes.com.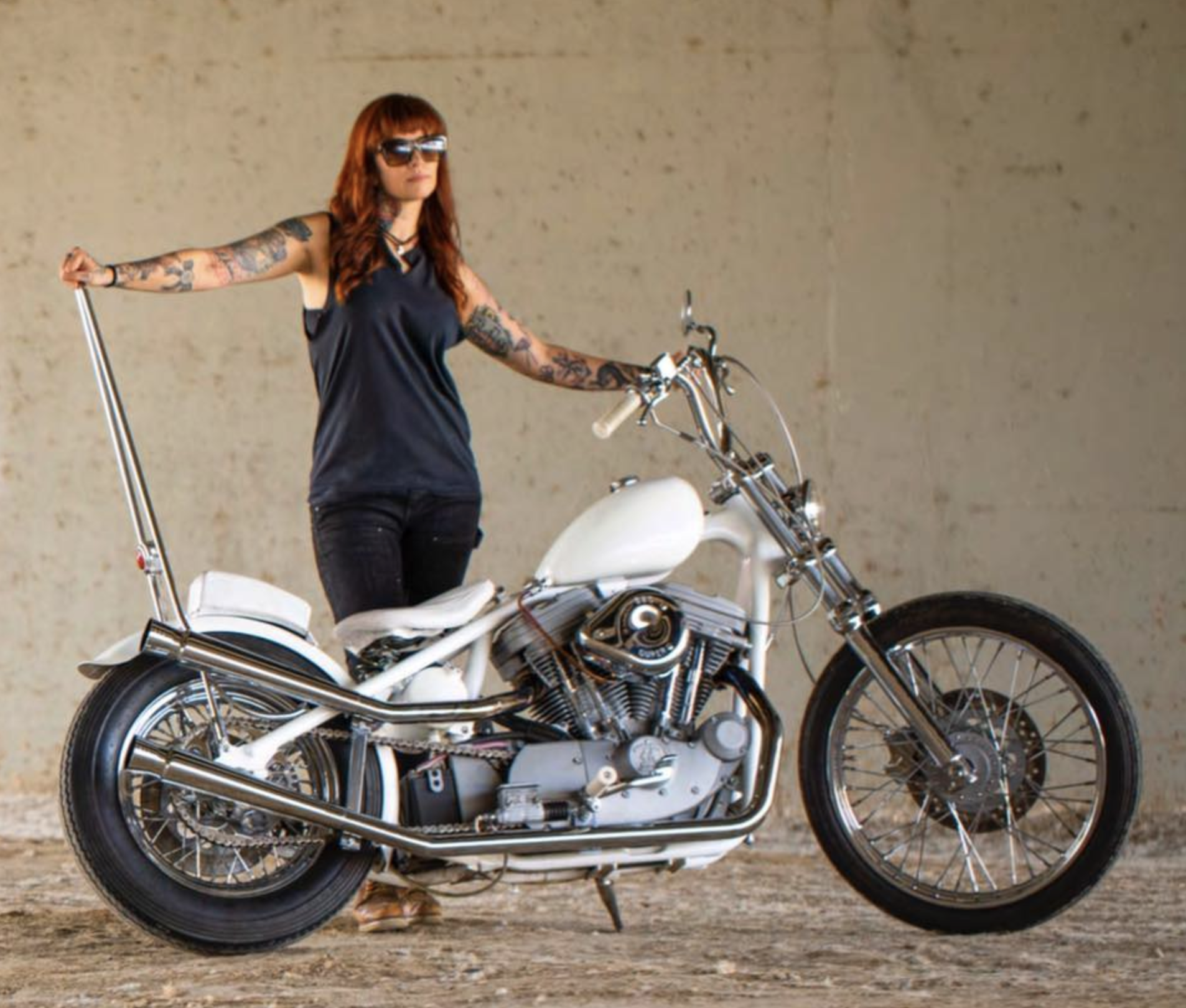 Savannah Rose is a creator of various things – from photography to welding, painting, and even creating a custom H-D Sportster chopper.
Primarily self-taught, Savannah has taken on a variety of different mediums of creation. Her main outlet is photography; you'll often find her at motorcycle shows with a large camera, often balancing in precarious places to get "the shot" she needs.
When she's not creating photos, she can often be found at home in the garage. After learning the basics of welding from another Flying Piston builder, Jessi Combs, she picked up her own Lincoln Electric welder, a TIG 200 machine, and set to learn the trade.
Before she had a garage, though, she set out to customize her Harley-Davidson Sportster. And without that garage, she tackled the build in her kitchen! The 1200cc machine was torn down and fully rebuilt – with a fresh frame and tins. She finished up the build with a white paint job with a violet pearl tint, in a simple, yet fun small-chopper package.
If she's not creating artwork, she's working on building riders – as an MSF Safety Course Coach, she teaches new riders the basics of how to ride a motorcycle, and getting more motorcycle riders on the streets.
Her latest venture is the Maiden Moto Art Show – an all female art & motorcycle show, which will be featured at various motorcycle events and rallies across the country, showcasing a variety of artwork, along with custom motorcycles built and owned by women.
Savannah is excited to follow in the footsteps of the previous Flying Piston builders by creating a unique, custom, yet still very functional Strider bike. She feels that getting kids on two wheels at a young age will cement their love for riding young, and eventually build more motorcycle riders in the future!
Words by Savannah Rose
Photos compliments of Strider Sports Int'l