Xavier Muriel Builds Custom Strider for the 2019 Flying Piston Strider Benefit
Xavier Muriel Builds Custom Strider which is a departure from  his work with Buckcherry. Xavier is best known for being a musician, but as of late, he has come into his own in the motorcycle industry at his Texas-based Providence Cycle Worx.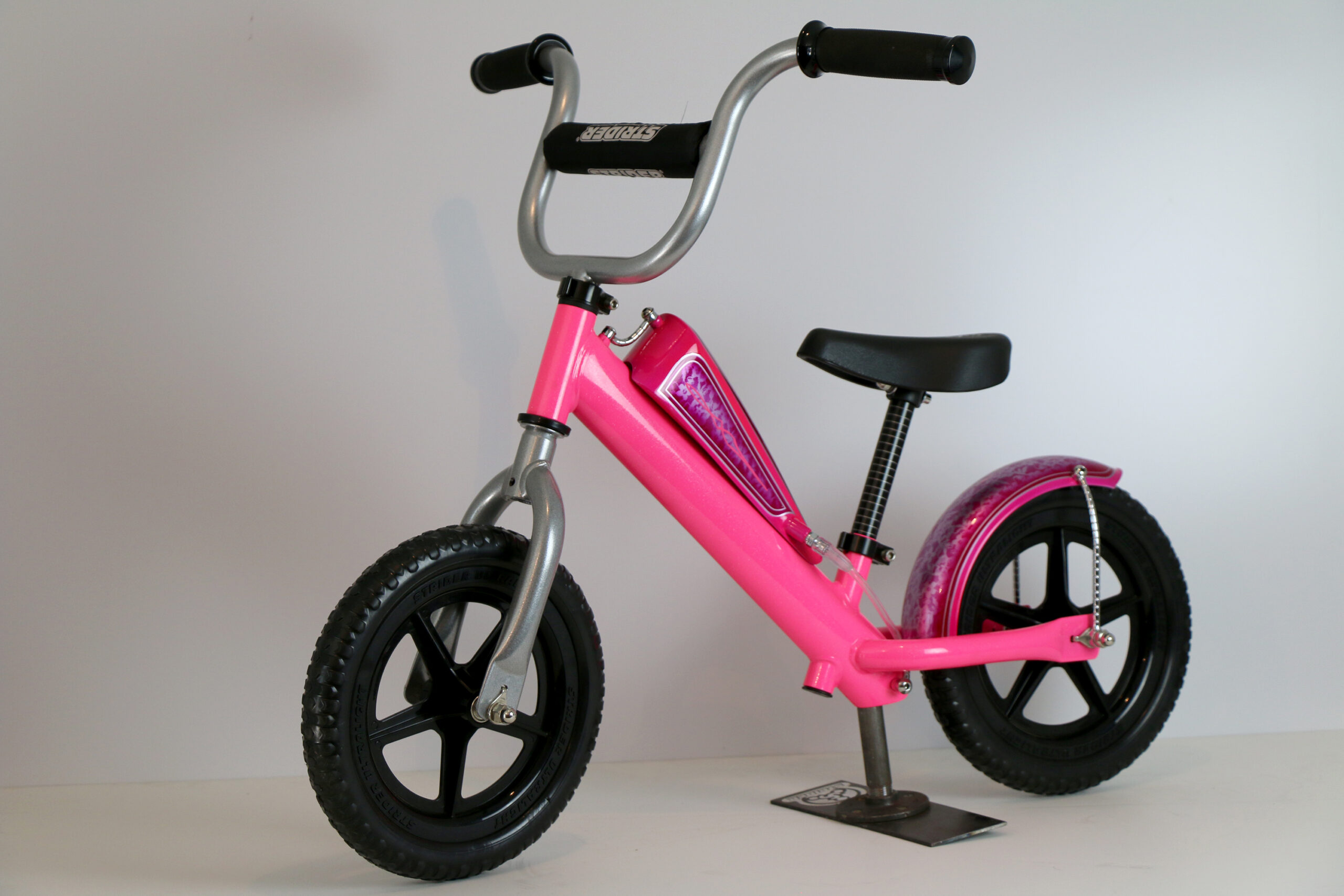 He's built a few notable bikes, among them a Pan/Shovel called "Grace" that was recognized as the Easyriders 2109 Bike of the Year, and he has twice been invited to the prestigious Sturgis Buffalo Chip's Motorcycles As Art Exhibition curated by Michael Lichter.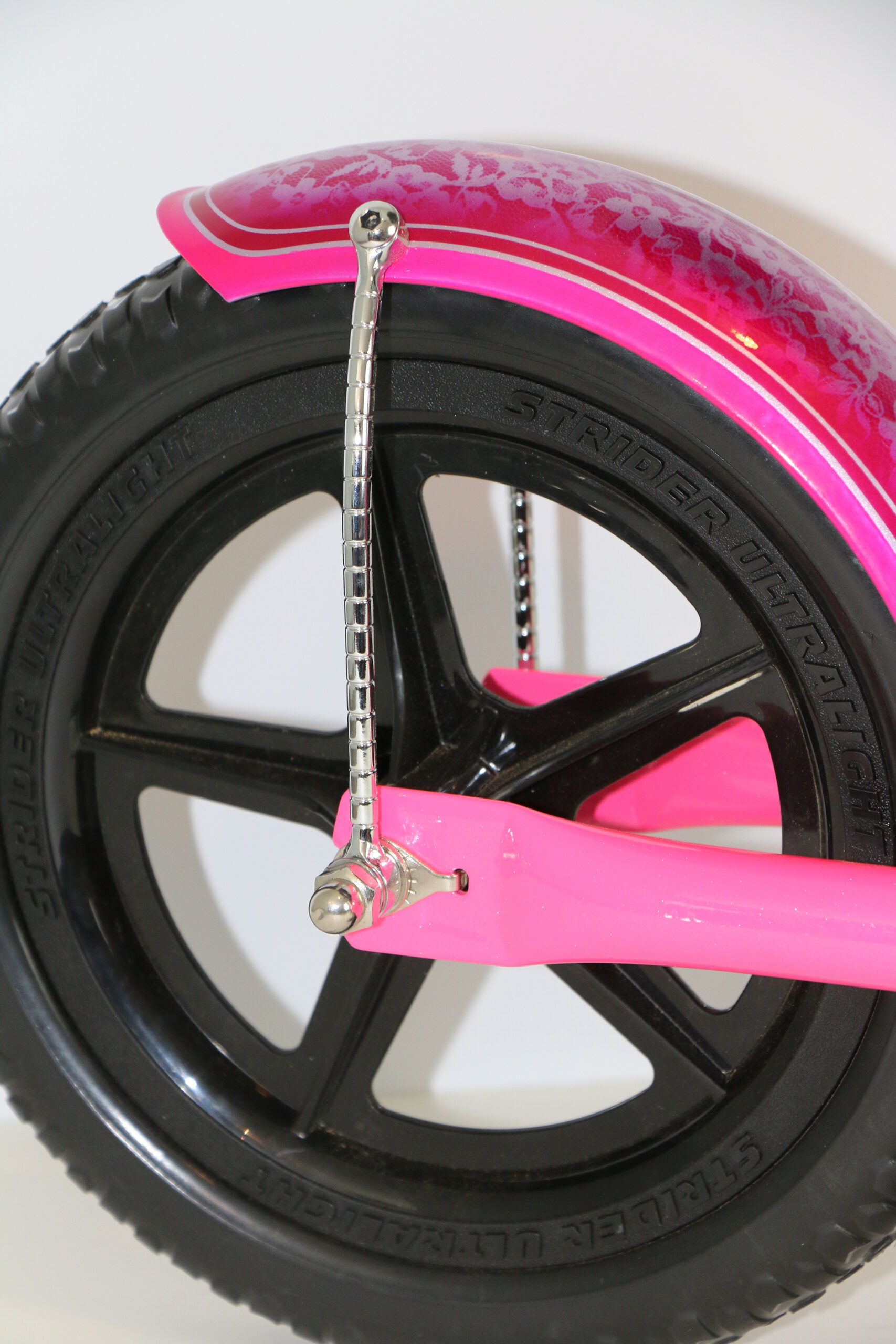 Xavier of Buckcherry fame, also known as "X", was honored to be asked to build a tiny Strider Custom, especially given the roster of builders he would be included with.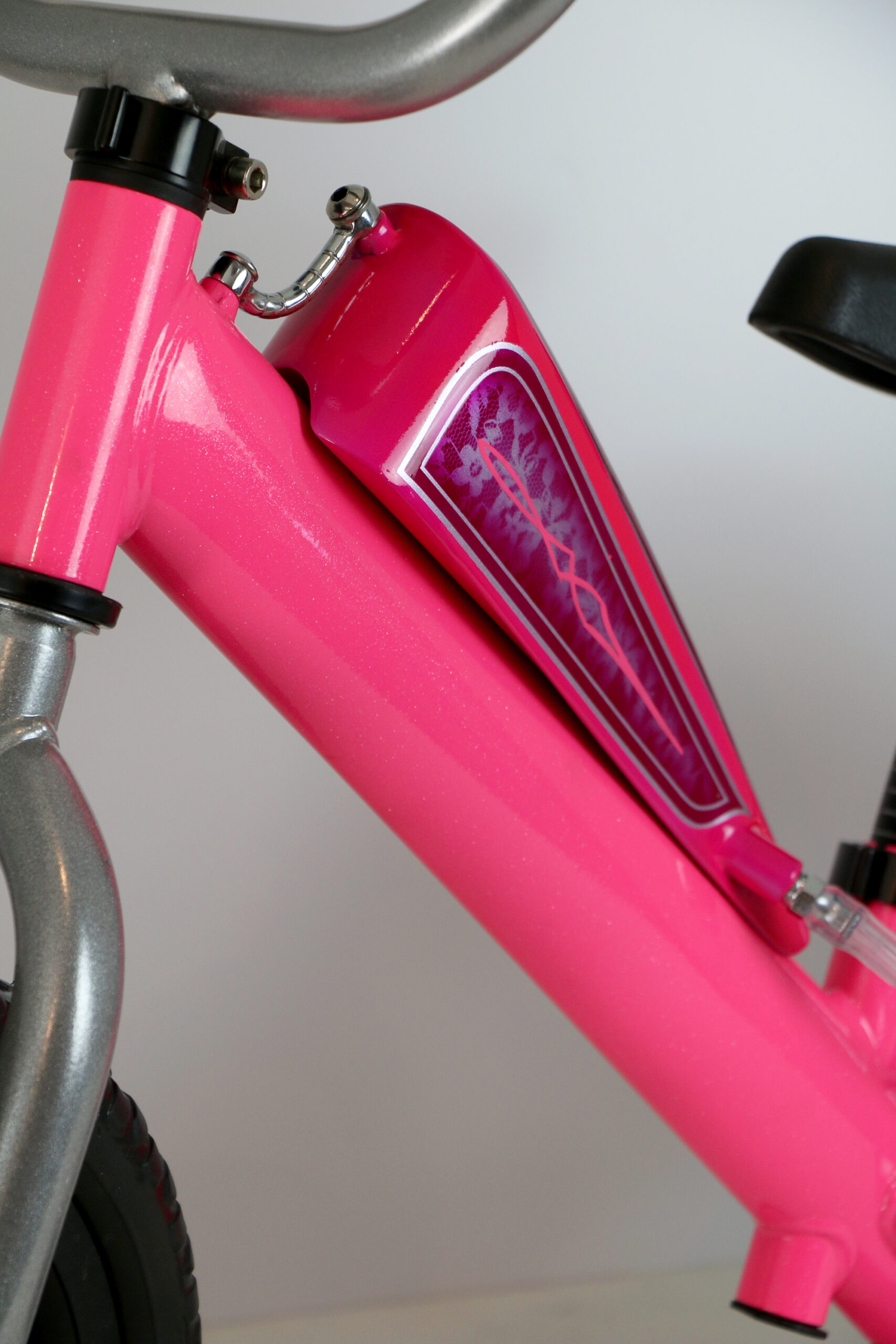 X noted that he wanted to build his Strider Custom bike for a little girl. He's a strong proponent of women in motorcycling, and he's also a believer in getting kids started young on two wheels.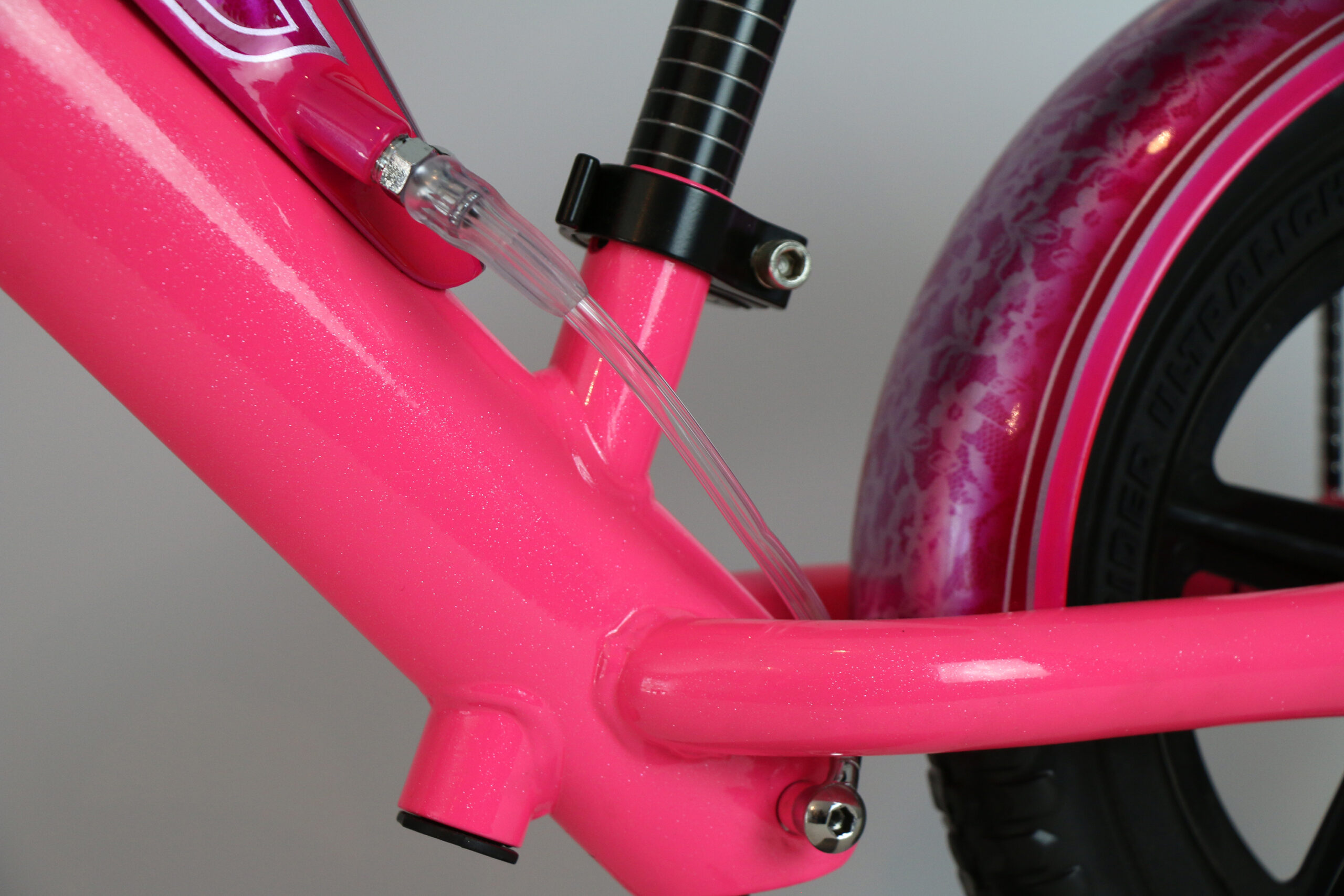 As far as the custom build, Xavier left the frame of the 12" balance bike stock, painting it hot pink while making a custom tank and fenders to match the profile of the Strider. The "tins" on the bike are also pink, with pink lace panels, pinstriping and tiny detailed fuel lines.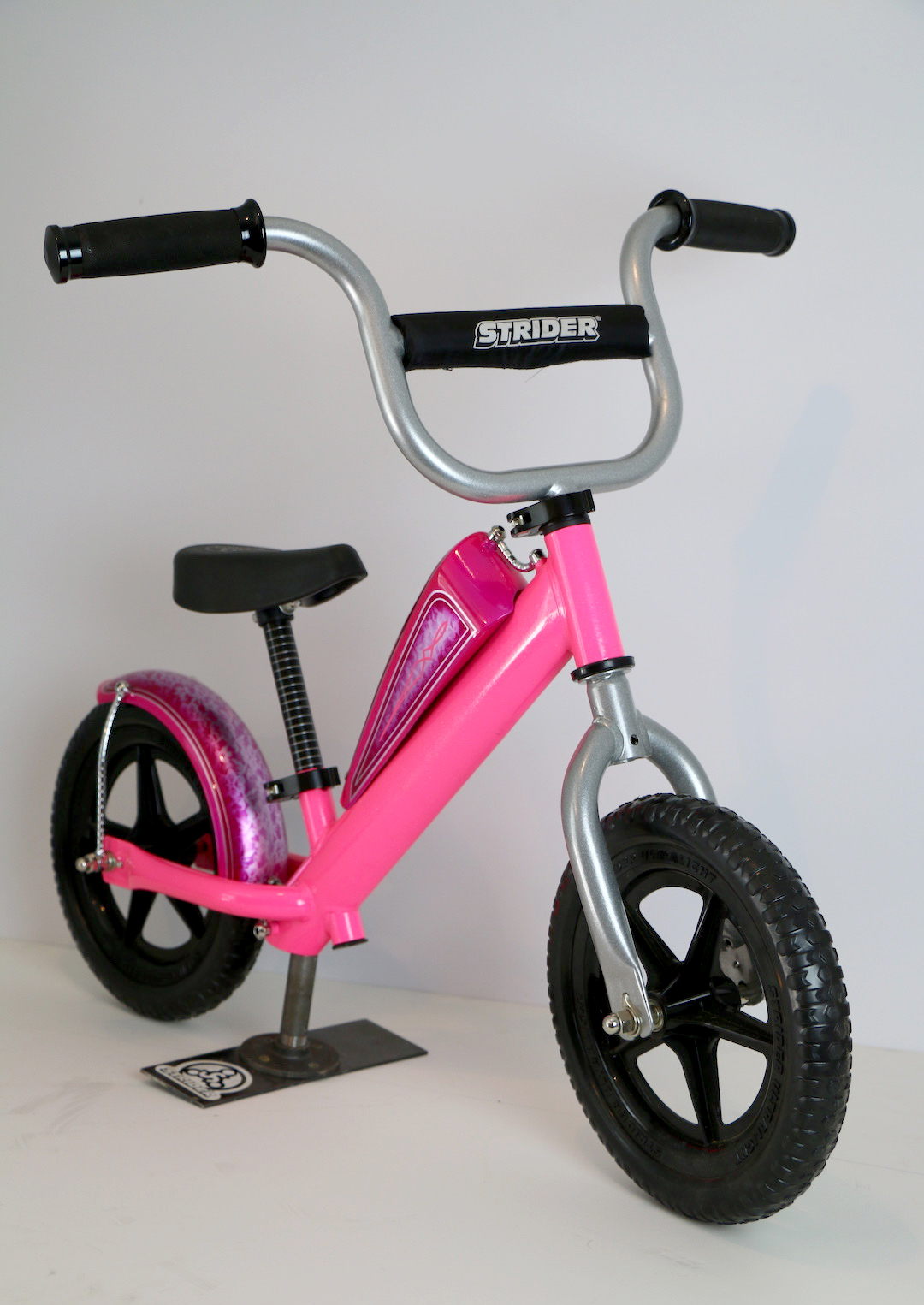 He made custom mini apes to give it a chopper feel and to allow the rider to grow into the bike. The low-profile fender has ribbed fender struts to match. He also used the same style tank mount as he did on an S&S shovelhead-style build he did last year.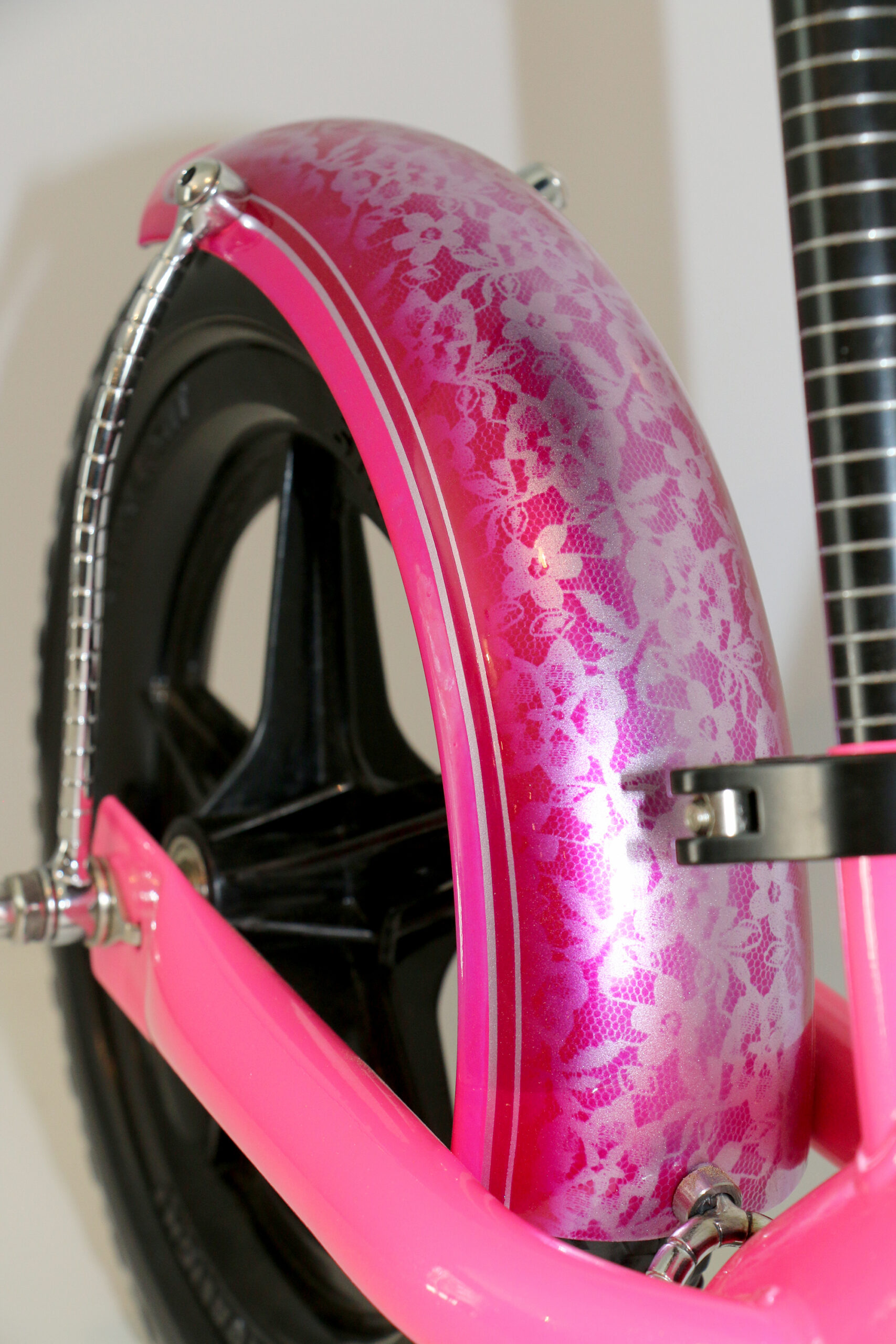 The little gem of a bike is clean and sparkling, just perfect for a first experience on two wheels and a striking example of pure eye candy – just the thing to attract new riders! The Flying Piston was delighted to have X join the 2019 Custom Strider Program.
Flying Piston Benefit Custom Strider Class of 2019
The 2019 star Strider builders are Steve Reed, Xavier Muriel, Devin Henriques, Brian Klock, Jessi Combs, Roy & Nikki Martin, Eric Hermann, Todd "Gilby" Gilberson, Count's Kustoms, James Washnock,  and Motorcycle Missions.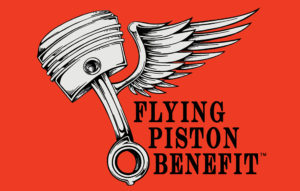 About Flying Piston Benefit: The Flying Piston Benefit is produced by Marilyn Stemp of Iron Trader News and Jeff Najar of Horsepower Marketing. The event and silent auction supports veterans issues and the motorcycle industry through fundraisers for non-profits and individuals.
Each Flying Piston Benefit provides a silent auction that is art-oriented and also includes unique and collectible items.
Each event also doubles as an industry get together where enthusiasts, businessmen and women, custom builders, athletes, and artists come together to socialize, enjoy breakfast and support a worthy cause.
To get involved, contact Marilyn Stemp at our contact page or text her at 828-205-8482.
Watch the Flying Piston Facebook page for our latest updates.
About Strider: Strider designs lightweight bikes that build two-wheeled balance, coordination, and confidence in children. Strider is helping kids learn to ride and developing new motorcycle riders through the AllKidsBike movement which makes bike-riding a part of the kindergarten curriculum. www.allkidsbike.org, www.striderbikes.com.
Auctioned Off at Mecum Auctions
The 2019 class of Strider Rider Customs were auctioned off by Mecum Auctions during their auto and motorcycle event. (www.Mecum.com) The 2020 class of builders started after the auction. Check them out here. 
Builder: Xavier Muriel
Story by Savannah Rose