Gilby Builds Custom Strider for the Flying Piston Benefit
Gilby clearly recalls the bikes of Big Daddy Rat and Arlen Ness he saw as a kid. That's why he doesn't worry about paint being scuffed, letting kids climb aboard his bikes hoping to ignite a spark. "It's okay. I know how paint works if I need to fix it," he said.
He does indeed. Starting from the family garage in 1989 with a pinstripping brush and a dream, Gilby honed his craft doing lettering on sheet metal and signage. He taught himself how to paint the sheet metal when the work he was seeing failed to meet his growing standards. Then he bought a late-60's Triumph to fix up and that was it.
Gilby learned metal-fab and bodywork from his dad but his ideas are organic. His exotic customs are not simply showpieces, either, they get ridden – a lot.
His shop, Gilby's Street Dept., does everything from service and storage to full custom fabrication and paint. As his way-out custom motorcycles prove, he realizes the value of being visible and doesn't tone down his work. But he's been consistently circumspect about his abilities. "People are digging it and I'm just having fun," he said.
Yes, it shows!
More about Gilby and the Street Department.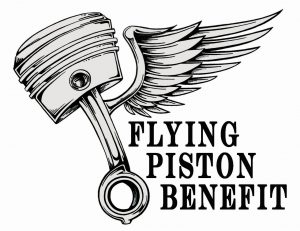 About Flying Piston Benefit: The Flying Piston Benefit is produced by Marilyn Stemp of Iron Trader News and Jeff Najar from Horsepower Marketing, a marketing and promotions company to raise awareness and funds for non-profits and individuals in the biker community. Each year the Flying Piston Benefit hosts a builders breakfast at the Sturgis Buffalo Chip the first Sunday of Sturgis Rally. Contact: the team or Marilyn Stemp, 828-205-8482, marilynstemp@gmail.com or www.flyingpistonbenefit.com for details.