Eric Hermann Studios' Eric Hermann Builds Custom Strider for the Flying Piston Benefit
Eric Herrmann, one of the pioneers of Motorcycle Art, has been creating paintings of motorcycles and the biker lifestyle for over 30 years. He exhibits his artwork at all the major rallies and races across the country. His highly sought-after originals grace museums, galleries, and garages in more than 40 countries worldwide.
An avid rider on both the street and dirt, Eric has been on a motorcycle since he was twelve years old. Having won his first art contest in fourth grade and riding at an early age, painting and drawing motorcycles was a natural for Eric.
For the Flying Piston Benefit charities, this was nothing short of fabulous. Eric's highly sought-after originals grace museums, galleries, and garages in more than 40 countries worldwide and his work is seen at all the major rallies and races. We were delighted – and grateful – to have Eric agree to use a tiny Strider bike as his canvas and the results are stunning. Multi-layered with distinctive hand work and variegated gold leaf, it's truly one of a kind.
Eric Hermann Builds Custom Strider
"The Strider custom project was very important to me," states Eric. "Gets kids riding and striding at an early age! Motorcycling has been very important in my life and has kept me focused for decades. I'm honored to be part of this important endeavor."
Eric Hermann Philosophy
"If it's loud and fast, I usually like it." That saying has guided me in my motorsport artwork for many years. I've been around fast bikes, cars, and racers my whole life. I've been fortunate to have painted NASCAR images for Jack Daniels & Richard Childress Racing. Barrett-Jackson, The Indianapolis 500, Several Street Machine's of the year and the best of the best have been my subjects for many years now.
I've noticed the biker's, racers, and builders I call my friends are a little more daring than most. So is my artwork. Lately I've decided to paint some new subjects, in addition to my motorsport art. You'll find my experiences and paintings to be "Loud and Fast" and a little more daring than most.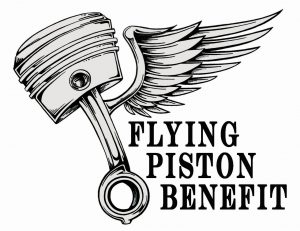 About Flying Piston Benefit:
The Flying Piston Charity Breakfast, presented by Russ Brown Motorcycle Attorneys, is a celebrity-strewn meet & greet held at the Sturgis Buffalo Chip by the Flying Piston Benefit. The Annual Breakfast brings together cutting-edge custom builders and motorcycle industry influencers to meet the public. Proceeds from the event have supported veterans suffering from PTSD and All Kids Bike, a program of the Strider Education Foundation whose goal is to teach all children to ride a bike as part of kindergarten P.E. class.
In 2018, an initiative with Strider Sports International sent stock, 12" Strider bikes to top name builders for customization. The Strider Customs were unveiled at that year's Breakfast during the Sturgis Motorcycle Rally. It was the first stop on their year-long tour that culminated at the prestigious Mecum Motorcycle Auction in Las Vegas where the tiny customs were auctioned to much acclaim. The program drew stellar attention both in and out of the motorcycle industry and custom builders lined up to participate.
A new class of Flying Piston Strider Customs is revealed each year at the Builder breakfast
The Flying Piston Benefit is produced by Marilyn Stemp of Iron Trader News and Jeff Najar from Horsepower Marketing, a marketing and promotions company to raise awareness and funds for non-profits and individuals in the biker community. Each year the Flying Piston Benefit hosts a builders breakfast at the Sturgis Buffalo Chip the first Sunday of Sturgis Rally. Contact: the team or Marilyn Stemp, 828-205-8482, marilynstemp@gmail.com or www.flyingpistonbenefit.com for details.