Providence Cycle Worx owner, Xavier Muriel Builds Custom Strider
Described by Modern Drummer magazine as, "a motorcycle-building kid from Texas who always dreamed of becoming a rock star," Xavier was born in San Antonio and at an early age moved with his family to Beaumont, Texas. It was there that he developed his passion for motocross, music and the drums.
By his teenage years, Xavier's family had moved to Round Rock, a suburb of Austin. It was here in the live music capital of the world that he found an outlet for his musical aspirations – and worked on Harleys to feed that dream. By 1987, Xavier had been in more than ten local rock acts, most notably the female-fronted band Onyxx.
Shortly after Onyxx disbanded, Xavier moved to Los Angeles where he landed a drumming gig with American Man, a Tommy Thayer project that was being managed by the legendary Gene Simmons of KISS. Subsequently, he performed on the album Harlow with members of American Man and DORO.
Xavier eventually made his way back to Texas and it was during this time that his Austin and Los Angeles lives merged. In 2005 Keith Nelson of Buckcherry asked Xavier to become a part of Buckcherry's return to the rock arena. Within days, Xavier was in Los Angeles recording the album 15. "Crazy Bitch" from the album garnered a Grammy nomination for Best Rock Performance. Buckcherry released Black Butterfly in 2008, All Night Long in 2010, Confessions in 2013, and Rock 'N' Roll in 2015.
Xavier realized another dream when he opened his Austin-based Providence Cycle Worx in 2017. He is a two-time invited builder to the prestigious Motorcycles As Art Exhibition at the Sturgis Buffalo Chip, and his custom Pan/Shovel named Grace was recognized as Easyriders 2019 Bike of the Year.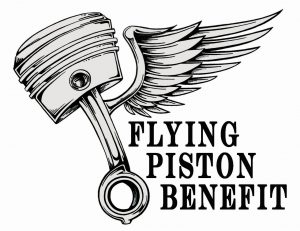 About Flying Piston Benefit:
The Flying Piston Charity Breakfast, presented by Russ Brown Motorcycle Attorneys, is a celebrity-strewn meet & greet held at the Sturgis Buffalo Chip by the Flying Piston Benefit. The Annual Breakfast brings together cutting-edge custom builders and motorcycle industry influencers to meet the public. Proceeds from the event have supported veterans suffering from PTSD and All Kids Bike, a program of the Strider Education Foundation whose goal is to teach all children to ride a bike as part of kindergarten P.E. class.
In 2018, an initiative with Strider Sports International sent stock, 12" Strider bikes to top name builders for customization. The Strider Customs were unveiled at that year's Breakfast during the Sturgis Motorcycle Rally. It was the first stop on their year-long tour that culminated at the prestigious Mecum Motorcycle Auction in Las Vegas where the tiny customs were auctioned to much acclaim. The program drew stellar attention both in and out of the motorcycle industry and custom builders lined up to participate.
A new class of Flying Piston Strider Customs is revealed each year at the Builder breakfast
The Flying Piston Benefit is produced by Marilyn Stemp of Iron Trader News and Jeff Najar from Horsepower Marketing, a marketing and promotions company to raise awareness and funds for non-profits and individuals in the biker community. Each year the Flying Piston Benefit hosts a builders breakfast at the Sturgis Buffalo Chip the first Sunday of Sturgis Rally. Contact: the team or Marilyn Stemp, 828-205-8482, marilynstemp@gmail.com or www.flyingpistonbenefit.com for details.