The owner of Steve's Garage, Steve Reed, Builds Custom Strider
Steve Reed, owner of Steve's Garage in Wilder, KY, is an avid rider who actively supports several charities within the biker community. Steve started riding dirt bikes at a young age and built his first old school chopper in his dad's shop at the age of 16.
With encouragement from his dad, Steve graduated from Purdue University as a Mechanical Engineer and went to work for Procter & Gamble. During his 25 years at P&G, Steve traveled and worked internationally but never stopped riding and building bikes whenever he could. Upon retirement from P&G, Steve decided to pursue his passion by opening Steves Garage in 2012.
Well, Steve's bike went full single-sided – from a single-sided front fork to the single-sided, fully functional swingarm. See, the "swingarm" portion of a stock Strider is fixed, so there's no suspension. Steve set out to change that, using a CAD design program and 3-D printer to mock up the parts, and finally a CNC machine to create the swingarm out of billet aluminum. He added a small shock to the rear as well.
The frame was sandblasted, then powder coated white. He then chose a fun character patterned print, which was applied to the frame with a process called Hydro Dipping. Steve wanted something different than just paint, and this is definitely it!
Steve said he was excited to work alongside the other builders, friends, and people he respects to further the same cause – building cool little bikes to promote new ridership through AllKidsBike.org. He remembers spending time on his bicycle from dawn till dusk as a kid, so he found it very fun and personally fulfilling to build a small bike for such a big cause.
About Steve – He soon became a stalwart supporter of biker-related charitable efforts, hosting events and furthering initiatives that encouraged upcoming custom builders and the industrial arts in education.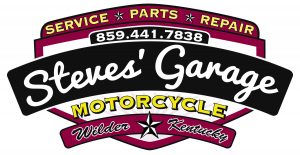 Steve's many long-distance rides have benefitted a variety of charities and his quiet but persistent mentorship of younger enthusiasts gracefully amplifies his love of motorcycling.
Steve says he is honored and humbled to be among the builders invited to support this year's Flying Piston Benefit Strider Custom program.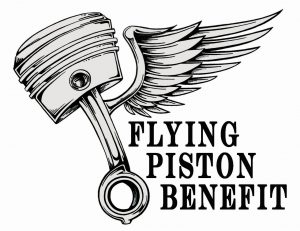 About Flying Piston Benefit:
The Flying Piston Charity Breakfast, presented by Russ Brown Motorcycle Attorneys, is a celebrity-strewn meet & greet held at the Sturgis Buffalo Chip by the Flying Piston Benefit. The Annual Breakfast brings together cutting-edge custom builders and motorcycle industry influencers to meet the public. Proceeds from the event have supported veterans suffering from PTSD and All Kids Bike, a program of the Strider Education Foundation whose goal is to teach all children to ride a bike as part of kindergarten P.E. class.
In 2018, an initiative with Strider Sports International sent stock, 12" Strider bikes to top name builders for customization. The Strider Customs were unveiled at that year's Breakfast during the Sturgis Motorcycle Rally. It was the first stop on their year-long tour that culminated at the prestigious Mecum Motorcycle Auction in Las Vegas where the tiny customs were auctioned to much acclaim. The program drew stellar attention both in and out of the motorcycle industry and custom builders lined up to participate.
A new class of Flying Piston Strider Customs is revealed each year at the Builder breakfast
The Flying Piston Benefit is produced by Marilyn Stemp of Iron Trader News and Jeff Najar from Horsepower Marketing, a marketing and promotions company to raise awareness and funds for non-profits and individuals in the biker community. Each year the Flying Piston Benefit hosts a builders breakfast at the Sturgis Buffalo Chip the first Sunday of Sturgis Rally. Contact: the team or Marilyn Stemp, 828-205-8482, marilynstemp@gmail.com or www.flyingpistonbenefit.com for details.