Colorado's Roy's Toys Customs' Roy + Nikki Martin Builds Custom Strider
Roy's Toys Customs is a family run business, started by Roy Martin in 1994 as a hobby. That was the year he tore down his own 1994 Heritage Softail Special to the frame – after riding it only 2000 miles – and built his first custom motorcycle.
Roy was born and raised in Denver and is a self-taught welder and fabricator who started working at a local machine shop right out of high school. He has over 35 years in the custom car scene and is also the Division Commander for the City of Glendale's Police Department.
Daughter, Nikki is the COO of the company, and son Tony is an apprentice builder. Roy's grandchildren, the triple A's, (Adrian, Atijana and Aiden,) have shown a growing interest in participating.
Roys Toys as part of the Warrior's Voice Bike Build, debuting their build at the 75th anniversary Sturgis Bike Rally. Roy's custom motorcycles have appeared in several AMD World Championship invitational competitions and the Kustom Kulture Artisan Show in Cherokee, NC. Nikki was invited by Michael Lichter to participate in the Sturgis Buffalo Chip's Motorcycle As Art Exhibition: Old Iron, Young Blood in 2017 as one of a select group of custom builders under 35.
Last June, Nikki Martin, and Roy competed in the first-ever Daughters of Custom Build-Off in Austin, TX, as part of one of the nation's largest motorcycle rallies, the Republic of Texas, but competing on the national stage wasn't new. In February of 2019 the pair were runners-up in the final round of the J&P Cycles Ultimate Builder Custom Bike Show in Chicago.
As a father, Lieutenant Roy Martin couldn't be prouder of his daughter's bike building abilities. "I've always wanted Nikki to follow in my footsteps, but she has gone farther than I have ever dreamed," he admits.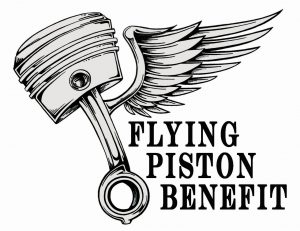 About Flying Piston Benefit:
The Flying Piston Charity Breakfast, presented by Russ Brown Motorcycle Attorneys, is a celebrity-strewn meet & greet held at the Sturgis Buffalo Chip by the Flying Piston Benefit. The Annual Breakfast brings together cutting-edge custom builders and motorcycle industry influencers to meet the public. Proceeds from the event have supported veterans suffering from PTSD and All Kids Bike, a program of the Strider Education Foundation whose goal is to teach all children to ride a bike as part of kindergarten P.E. class.
In 2018, an initiative with Strider Sports International sent stock, 12" Strider bikes to top name builders for customization. The Strider Customs were unveiled at that year's Breakfast during the Sturgis Motorcycle Rally. It was the first stop on their year-long tour that culminated at the prestigious Mecum Motorcycle Auction in Las Vegas where the tiny customs were auctioned to much acclaim. The program drew stellar attention both in and out of the motorcycle industry and custom builders lined up to participate.
A new class of Flying Piston Strider Customs is revealed each year at the Builder breakfast
The Flying Piston Benefit is produced by Marilyn Stemp of Iron Trader News and Jeff Najar from Horsepower Marketing, a marketing and promotions company to raise awareness and funds for non-profits and individuals in the biker community. Each year the Flying Piston Benefit hosts a builders breakfast at the Sturgis Buffalo Chip the first Sunday of Sturgis Rally. Contact: the team or Marilyn Stemp, 828-205-8482, marilynstemp@gmail.com or www.flyingpistonbenefit.com for details.