Count's Kustoms; Horny Mike Builds Custom Strider
For Michael Henry, a.k.a. Horny Mike, airbrushing is at the core of his creative existence. "It has taught me to work on anything: cars, bikes, walls, helmets, etc.," he said. "I have airbrushed every surface you can imagine!"
Then, after years of making custom horn helmets by hand, Horny Mike's entrepreneur side kicked in and he decided to take his horn helmets to the next level by mass producing horns for the public.
"What took me on this horny journey is my love of airbrushing," he said. "But as an artist, I'm never satisfied and always need new challenges. His most recent new challenge is 3D printing. "I believe with 3D there is no limit to what you can do, it's all up to your imagination. And I have a very big imagination!"
One glance at Horny Mike's interpretation of a Strider Bike Custom confirms that!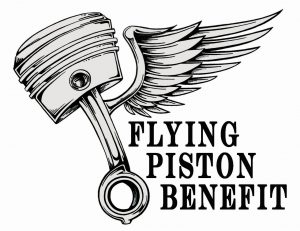 About Flying Piston Benefit:
The Flying Piston Charity Breakfast, presented by Russ Brown Motorcycle Attorneys, is a celebrity-strewn meet & greet held at the Sturgis Buffalo Chip by the Flying Piston Benefit. The Annual Breakfast brings together cutting-edge custom builders and motorcycle industry influencers to meet the public. Proceeds from the event have supported veterans suffering from PTSD and All Kids Bike, a program of the Strider Education Foundation whose goal is to teach all children to ride a bike as part of kindergarten P.E. class.
In 2018, an initiative with Strider Sports International sent stock, 12" Strider bikes to top name builders for customization. The Strider Customs were unveiled at that year's Breakfast during the Sturgis Motorcycle Rally. It was the first stop on their year-long tour that culminated at the prestigious Mecum Motorcycle Auction in Las Vegas where the tiny customs were auctioned to much acclaim. The program drew stellar attention both in and out of the motorcycle industry and custom builders lined up to participate.
A new class of Flying Piston Strider Customs is revealed each year at the Builder breakfast
The Flying Piston Benefit is produced by Marilyn Stemp of Iron Trader News and Jeff Najar from Horsepower Marketing, a marketing and promotions company to raise awareness and funds for non-profits and individuals in the biker community. Each year the Flying Piston Benefit hosts a builders breakfast at the Sturgis Buffalo Chip the first Sunday of Sturgis Rally. Contact: the team or Marilyn Stemp, 828-205-8482, marilynstemp@gmail.com or www.flyingpistonbenefit.com for details.