Krystal Hess' Motorcycle Missions Charity Builds Custom Strider for the 2019 Flying Piston Benefit
Motorcycle Missions, a 501(c)3 non-profit corporation – www.MotorcycleMission.com, that helps veterans and first responders who deal with PTS(D) and suicidal ideation find hope and healing through motorcycles.
When dealing with post-traumatic stress disorder (PTSD), the need for purpose, camaraderie, and adrenaline is of the utmost importance. So Motorcycle Missions strives to instill a passion for riding and building motorcycles, that will help PTSD sufferers enjoy a happy, healthy, and balanced lifestyle after trauma.
The Flying Piston Benefit is proud to support Motorcycle Missions through the Strider custom program, the Builders Breakfast at the Sturgis Buffalo Chip during the Sturgis Rally, and other friend-raising benefit events. According to Flying Piston co-organizers Marilyn Stemp and Jeff Najar, the goals of Motorcycle Missions align with the Flying Piston Benefit's; teaching industrial arts and skills to inspire new people to bring their creativity to the motorcycle industry.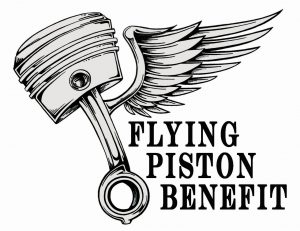 About Flying Piston Benefit:
The Flying Piston Charity Breakfast, presented by Russ Brown Motorcycle Attorneys, is a celebrity-strewn meet & greet held at the Sturgis Buffalo Chip by the Flying Piston Benefit. The Annual Breakfast brings together cutting-edge custom builders and motorcycle industry influencers to meet the public. Proceeds from the event have supported veterans suffering from PTSD and All Kids Bike, a program of the Strider Education Foundation whose goal is to teach all children to ride a bike as part of kindergarten P.E. class.
In 2018, an initiative with Strider Sports International sent stock, 12" Strider bikes to top name builders for customization. The Strider Customs were unveiled at that year's Breakfast during the Sturgis Motorcycle Rally. It was the first stop on their year-long tour that culminated at the prestigious Mecum Motorcycle Auction in Las Vegas where the tiny customs were auctioned to much acclaim. The program drew stellar attention both in and out of the motorcycle industry and custom builders lined up to participate.
A new class of Flying Piston Strider Customs is revealed each year at the Builder breakfast
The Flying Piston Benefit is produced by Marilyn Stemp of Iron Trader News and Jeff Najar from Horsepower Marketing, a marketing and promotions company to raise awareness and funds for non-profits and individuals in the biker community. Each year the Flying Piston Benefit hosts a builders breakfast at the Sturgis Buffalo Chip the first Sunday of Sturgis Rally. Contact: the team or Marilyn Stemp, 828-205-8482, marilynstemp@gmail.com or www.flyingpistonbenefit.com for details.