Racer, Fabricator, TV Host and Personality – Jessi Combs Builds Custom Strider
The fearless Jessi Combs was born for everything automotive. Her passion to get in the driver seat and behind the wheel of nearly anything with a motor has led her through some amazing and unusual achievements.
With a degree in custom automotive fabrication, Jessi has reached out to millions with her build skills on TV shows such as All Girls Garage, Mythbusters and Overhaulin' to name a few, as well as through community and educational outreach.
About Jessi – She is an American professional racer, television personality, and metal fabricator. She set a women's land speed class record (four wheels) in 2013 and broke her own record in 2016. She was known as "the fastest woman on four wheels."
As the fastest woman on four wheels, first "Queen" of the Hammers, Ultra4 National Champion, and a Baja 1000 podium finisher, she empowers many through the act of simply leading by example. Her desire to show more women (and men alike) that they too can build their ideas, go fast, get dirty, have fun, and still be feminine shines through everything she does in life.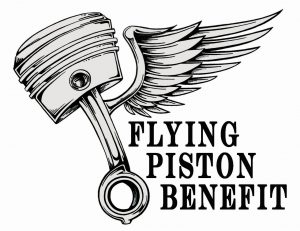 About Flying Piston Benefit: The Flying Piston Benefit is produced by Marilyn Stemp of Iron Trader News and Jeff Najar from Horsepower Marketing, a marketing and promotions company to raise awareness and funds for non-profits and individuals in the biker community. Each year the Flying Piston Benefit hosts a builders breakfast at the Sturgis Buffalo Chip the first Sunday of Sturgis Rally. Contact: the team or Marilyn Stemp, 828-205-8482, marilynstemp@gmail.com or www.flyingpistonbenefit.com for details.