Baggster and Blackout Motors Owner, James Washnok, Builds Custom Strider
James Washnok is a South Dakota motorcycle builder. Motors have been a part of Washnok's life, as far back as he can remember. He built his first custom bike in his early 20s; competing and winning his first industry accolades at the following Sturgis Motorcycle Rally. James, along with his wife Katie, opened their custom shop, Blackout Motors in 2012 and expanded into the manufacturing side of the industry with their purchase of Baggster LLC, in 2018.
Washnok prides himself on bringing a unique and innovative eye to his designs while staying rooted in the classic heart of motorcycle culture. He strives to bring his signature brand of South Dakota work ethic to every project; not simply meeting expectations but exceeding them.
James Washnok Builds Custom Strider with Bags
James and Katie are expecting a daughter in late 2019. Their three-year-old son Jett is the inspiration and head of R&D behind this custom Strider build.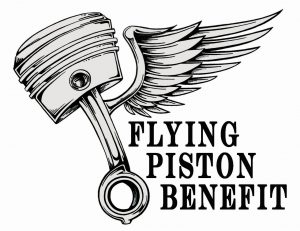 About Flying Piston Benefit: The Flying Piston Benefit is produced by Marilyn Stemp of Iron Trader News and Jeff Najar from Horsepower Marketing, a marketing and promotions company to raise awareness and funds for non-profits and individuals in the biker community. Each year the Flying Piston Benefit hosts a builders breakfast at the Sturgis Buffalo Chip the first Sunday of Sturgis Rally. Contact: the team or Marilyn Stemp, 828-205-8482, marilynstemp@gmail.com or www.flyingpistonbenefit.com for details.